Amidst a sea of New Year's resolutions being formed all over the world in preparation for a better year than the previous one, individuals, investors, and gurus alike are making predictions for what 2014 holds in store for us all. Most stock market predictors fall flat on their face and the favored few whose predictions fall somewhere in the vicinity of what the market actually does, find their timing is so far off that the average investor can't make use of it. So, let me start with two fundamental truths to successful speculation that can make you a better trader in the year to come and more profitable if you take them to heart. One, be an interpreter of the market's price action, not a predictor, and, two, watch the performance of the first five trading days.

Stock market predictions are an intellectual game that traders like to play. This is comparable to trying to blindly stick a poker card on your forehead with a group of friends to try and bluff your way to winning a wager. However, when your money is at risk, trading on predictions is like running around a dynamite factory with a lit match.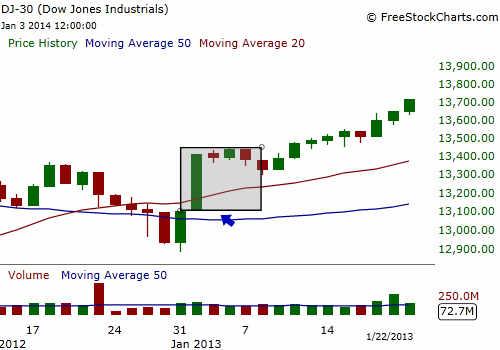 Figure 1: In early 2013, the January 5-Day Trading Rule signaled bullish for the year and let you know to prepare a bullish strategy for 2013.
Graphic provided by: www.freestockcharts.com.
Professionals look to put the odds in their favor, control risk, even minimize risk -- not shoot from the hip.

And this is why you want to start the new year right by putting the odds on your side by using the January 5-Day Trading Rule.

According to the Stock Trader's Almanac, the first five trading days of January overwhelmingly indicate if the year will be bullish or bearish. According to the rule, the year will end positive if the first five trading days end positive.

The first five trading days' performance has successfully called the S&P 500's direction 34 out of the 40 years where the January 5-Day Trading Rule condition was met, or 84.6% of the time. Average annual gains over the last 40 years have been around 13.6%.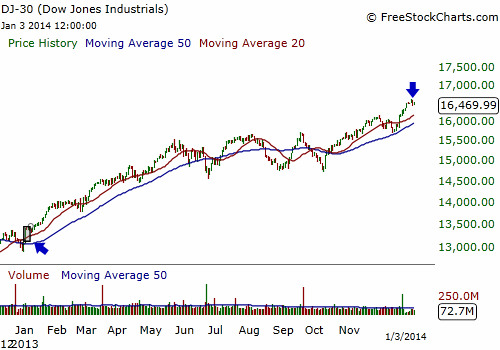 Figure 2. The Dow went on to climb from 13,104 to 16,588, a gain of over 3,484 points, an almost 27% return for the year.
Graphic provided by: www.freestockcharts.com.
Last year, at the beginning of 2013, the S&P 500 registered its 5-Day Rule at 1,457 and confirmed a bullish signal for the year, projecting and end-year return at 1,655, and actually coming in at 1849.44 instead.

And, for 2013, conservative projections for the Dow Jones, based on it having completed its 5-day rule at 13,328, indicated the Dow would end the year at 15,140 based on the pattern's average. Busting its average returns, the Dow ended 2013 at 16,588.25.


The January 5-Day Trading Rule signaled a winning year for 2013 and has been a powerful indicator to forecast the upcoming year for traders and investors alike.

While the rule is not a substitute for solid technical analysis or good research, it is a strong signal to help you develop a strategy for 2014 and beyond. We are just days into 2014 and it will soon give us a signal as to how to prepare for the next year, so watch closely and plan accordingly.