For longer-term investors, owning — and holding — shares of Krispy Kreme Doughnuts (KKD) since June 2012 has been nothing less than a sweet deal; from the ashes of its major multicycle low set on June 4, 2012 (at $5.86/share) the stock melted higher at a blistering pace until it finally peaked six weeks ago (on November 6, 2013) at a high of 26.40. A 350% gain like that over the course of a 17-month period equates to an average monthly return of 20.6% (perhaps just a bit better than a bank CD or money market fund). But now, in the wake of a major shock sell-off after making that recent all-time high, the prospects for KKD to return to its bull-market mania mode are bleak. Here's a look at the most likely near-term pathway for KKD to follow over the next few months, if not longer.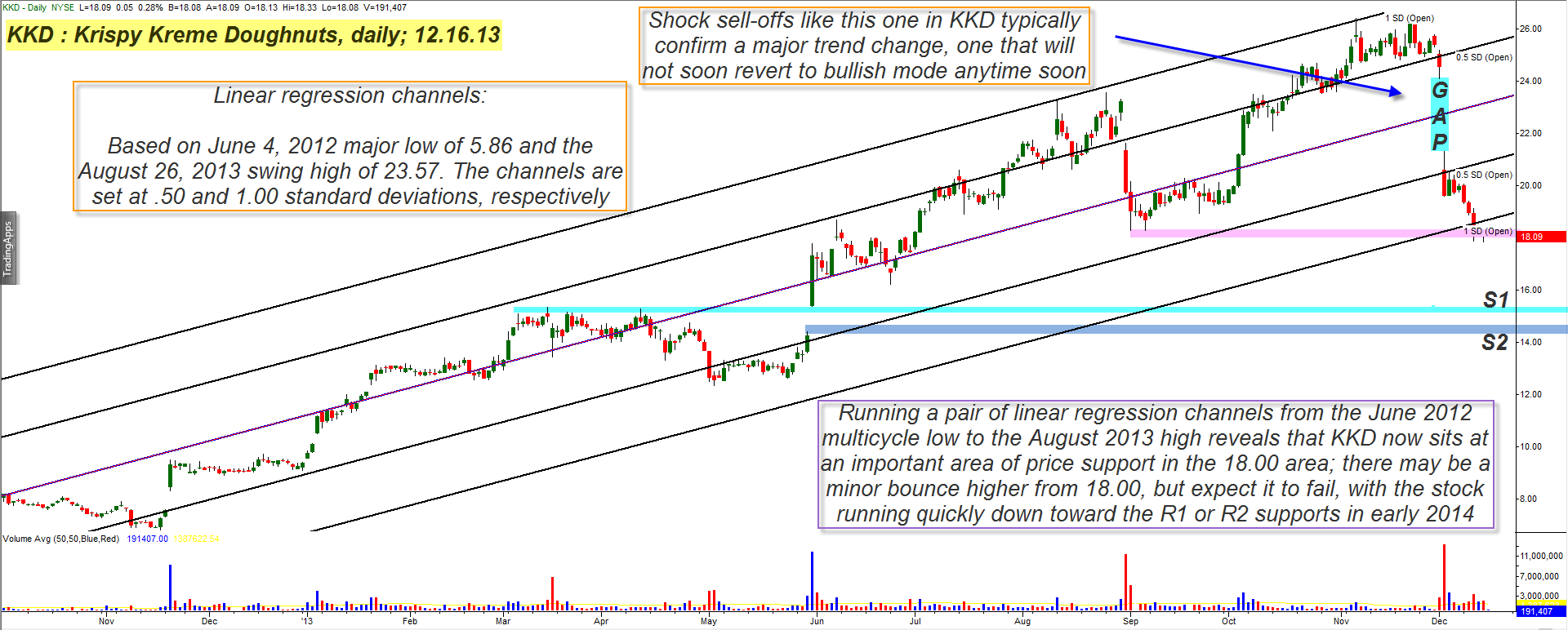 Figure 1. With both its standard deviation channels now taken out by the bearish reversal, Krispy Kreme (KKD) shares appear to be destined to test support near S1 and S2 sometime in early 2014.
Graphic provided by: TradeStation.
Bull market manias are wondrous things to behold, especially for those who have been holding well-timed long positions in such stocks or ETFs enmeshed in such upward moves; however, the ever-present danger to those holding such nice open gains is that they may be tempted to believe that such consistent gains can continue indefinitely before a major bearish turn manifests. In KKD's case, long-term money flow analysis (not shown) confirmed that the "smart money" had been steadily selling out of their holdings in the stock for five months before the horrific bearish gap of December 3, 2013, leaving the bulk of the final buying surge to latecomers and ill-informed market participants who believed the stock could soar ever-higher as 2013 ended. Now that such latecomers have been smacked upside their heads it's time for opportunistic bears to capitalize on this recent downdraft in KKD shares.

First off, notice the speed and severity of the decline in KKD over the past two weeks, one that has wiped out all of the gains made since July 1, 2013 (Figure 1). Anytime a two week sell-off in a stock is able to wipe out all open gains made during a four-month long rally, you can be pretty sure that it is now firmly in the grasp of a bear market. Given that KKD is now at the lower end of its one standard deviation channel (which also coincides with a prior resistance area from early June 2013) there is a decent chance that we will see a minor bounce in KKD over the next few trading sessions, especially since the halfway point of the bearish open gap is right between the price of the November 2013 high and the current reading of 17.85. KKD could make an attempt to rally back toward the lower end of the open gap near 20.00 to 21.00, after which it should fall sharply once again, taking out 17.85 on the way down toward the next set of support levels near R1 (15.20) and R2 (14.50). For value investors, seeing KKD back down around 15.00 per shares could prove to be an attractive buy point, and that's what swing traders should be waiting for before they attempt to time any new long trades in this stock.



Figure 2. The February '14 KKD $18.00 put option has a decent bid-ask spread, modest daily time decay and an open interest figure of nearly 400 contracts.
Graphic provided by: TradeStation.
Graphic provided by: TradeStation Option Analysis.
Speculative bears that are convinced that KKD is destined to hit R1 or R2 fairly soon may want to look at buying the February '14 KKD $18.00 put option; this put has a reasonable bid-ask spread, daily time decay (theta) of $1 per day/per contract and also has an open interest figure of 388 contracts. The idea here is to wait for a minor bullish bounce to play out in KKD and for the stock to decline below 17.85 again before buying the puts. Ideally, the bounce higher should fail to reach the lower end of the open gap, after which it should begin to decline quickly. The first profit target is R1, and conservative traders might want to book all profits there, assuming KKD drops that far. More aggressive traders could take half profits near R1 and then look for further downside toward R2, at which point the entire trade should be liquidated. One of the key success factors in this trade setup will be the price action in the major US stock indexes, all of which are running on borrowed cyclical, Elliot Wave and price pattern timing and are all ripe for a sizable correction heading into early 2014. If the broad markets decline as anticipated, KKD should also fall like an apple from a tree right into the R1 and R2 support zones, after which the technical dynamics will need to be re-evaluated.

Risk no more than 2% of your account value on this continuation move trade and be sure to take any extraordinary open gains that a sudden move south in KKD may soon give to you. Trade wisely until we meet here again.