The market is trading near its high revealing that the bulls are in control of the trend and that they are trying to push the market higher in a "Christmas rally" to close out 2013. A year ago, the market was riddled with anxiety but the beginning of 2013 started off strong and indicated that if historical patterns held true that the Dow Jones Industrial Average would close up over 15,000 and here we are today with the Dow having traded over 16,000. A big part of that rally was Biotech and medically related stocks that helped give the general market a much needed boost going into the end of the year. And, today, one stock is still going strong and showing lots of promise of continuing that momentum into 2014.

Actavis PLC (ACT) is an integrated specialty pharmaceutical company that develops, manufactures, markets, and distributes pharmaceutical products in the United States, Canada, and internationally.

Since mid-2011, ACT has been see-sawing back and forth while going from periods of low-volatility price contraction to brief periods of price expansion (Figure 1). During periods of contraction, volume drops and price action is stagnant with neither the bulls nor bears able to take control of the trend.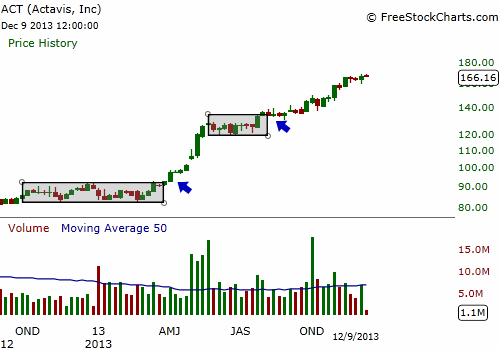 Figure 1. ACT has been a strong trending stock that has offered a series of contracted price periods followed by periods of expansion. At each point of transition, low-risk buy entries were available that led to large gains.
Graphic provided by: www.freestockcharts.com.
You can see this during the second quarter of 2012, where ACT experienced a period of price contraction that formed a four-weeks-tight pattern which is an actionable buy signal as price trades up through the resistance level of the price high established during this time. Price broke free of the tight trading range but within just a couple of months settled back into a contraction period, this time, longer and more pronounced than before.

Yet, it set the stage for ACT to trade higher when on April 3, 2013, ACT broke out again through its upper resistance level when price gapped higher on higher volume at around $95.

By late May, price pulled back after gaining almost 31% in just six weeks. This quick gain kicked in the eight-week rule which states that if a stock breaks higher and gains a quick 20-25% gain in less than eight weeks, then you need to move your stock to break even and sit tight. The reason behind this is that stocks that ratchet up quick gains in two months after their initial breakout can go on to gain 50% to 100% or more and become a potential home run.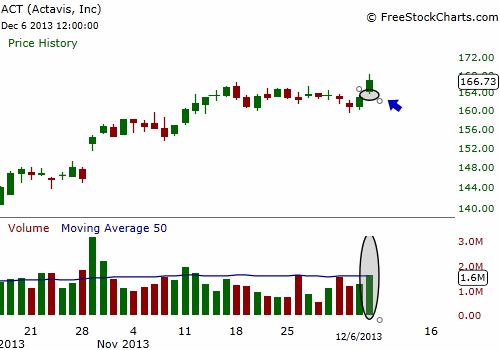 Figure 2. ACT has formed a three-weeks-tight pattern where a buy point was triggered on December 6, 2013 on higher volume. This is a strong entry that can ride the "Christmas rally" into 2014, but you have to be careful of overstaying your visit in an artificial rally that may fizzle out.
Graphic provided by: www.freestockcharts.com.
After ACT hit its price high on May 20, 2013 at $125.93, it pulled back and settled into another period of price contraction until July 26, 2013. At that point, price broke above resistance on volume more than 100% of its 50-day daily average and gained another 41 points plus, a 32% gain.

After price peaked on November 18, 2013 at $166.32, ACT pulled back slightly and settled into another contracted trading range. At this level, it formed a three-weeks-tight pattern, an actionable buy pattern that was triggered on December 6, 2013 (Figure 2).

ACT has been a strong trending stock that has been a near picture-perfect example of a stock moving from contraction to expansion and offering defined entry points along the way. The stock is a buy at this level but you need to set a stop loss no less than 7% from your entry at this level.


Also, a note of caution that you need to be prepared to lock in gains rather quickly and ignore the eight week rule if this stock takes off as the "Christmas rally" takes effect. The reason is you have a seasonal pattern taking root in the market, which is not the normal rally that takes place during the rest of the year. So you don't want to be caught holding a position after an artificial rally fizzles out.