PRINT THIS ARTICLE
ELLIOTT WAVE
---
EI DuPont de Nemours & Co.
11/11/13 04:32:22 PM
---
by Koos van der Merwe
---
Here's a company that is saying "buy me" when the overall market looks weak.
Security:
DD
Position:
N/A
We all know that the best time to buy a stock is when everyone out there is selling. This past week, the Dow did look as though it was in a correction, and let's face it, even "Dr. Doom", Nouriel Roubini, known for accurately predicting in September 2006 that the real estate bubble would burst, has called for a strong market correction. So, when the market corrects, what do you buy? DD is one share that you should keep on your watch list.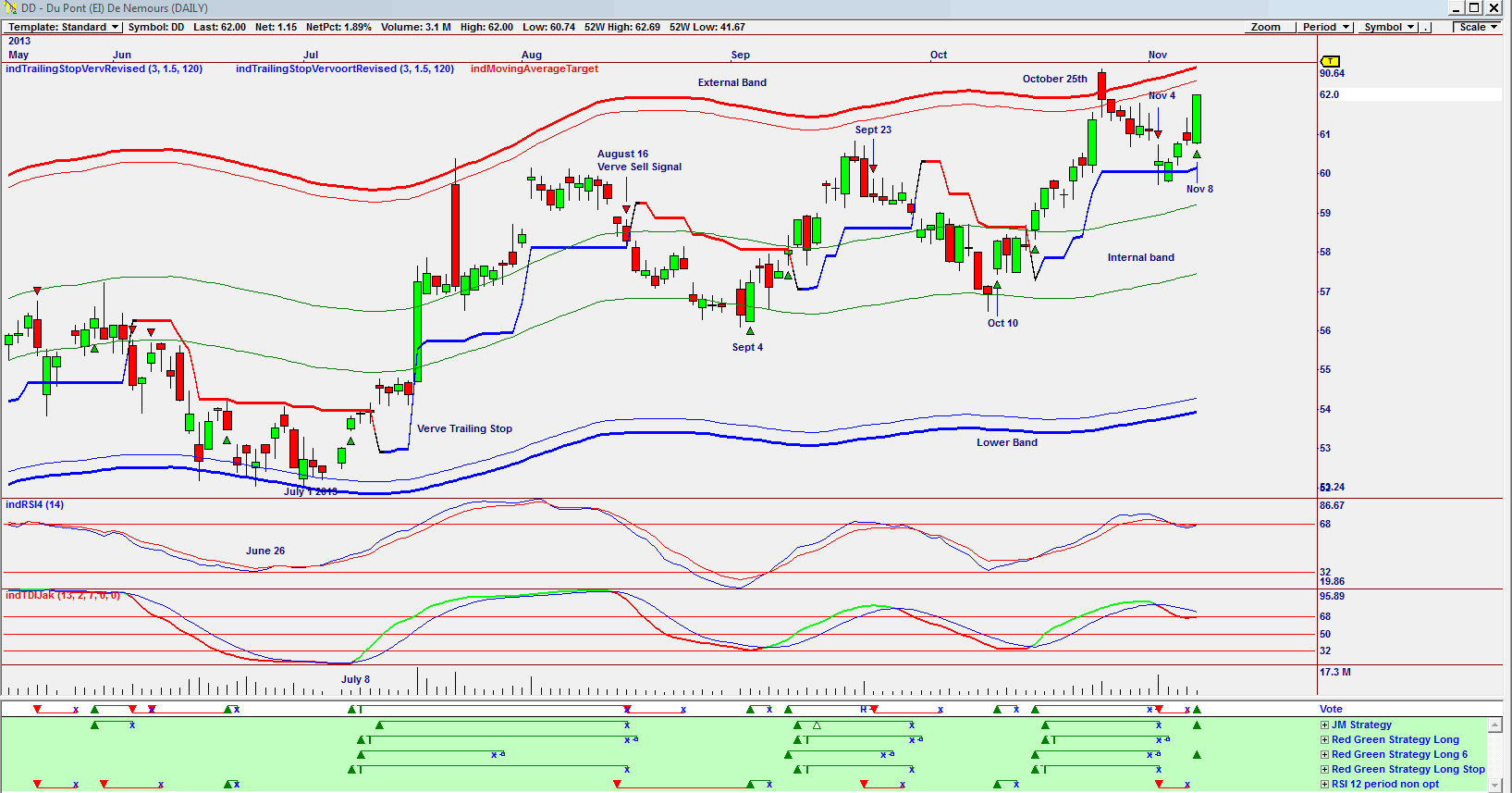 Figure 1. Omnitrader DAILY chart of DD suggesting a VOTE line BUY signal.
Graphic provided by: Omnitrader.
The chart in Figure 1 is an Omnitrader chart that has given a buy signal on the vote line based on the JM Strategy and the Red Green Strategy Long 6 shown in green below the Vote line. On July 1, 2013 the share price flirted with the lower band, suggesting that a buy signal was in the offing. The Vote line gave a buy signal on July 8, 2013, the same date that the TDIJak indicator gave a buy signal. The RSI gave a buy signal on June 26, 2013. All the signals would have been profitable with a sell signal given when the price broke below the Verve trailing stop on August 16, 2013. A fresh buy signal was given on September 4, 2013 as the price played with the lower internal band line. Another rise, with a Vote line sell based on the 12-period RSI non opt strategy was given on September 23, 2013. On October 10, 2013 a buy signal based on all the strategies shown in green below the vote line was followed by a sell signal on November 4, 2013 after the share price hit the upper band on October 25, 2013. On November 8, 2013 a buy signal was given based on the JM strategy and the Red Green Long 6 strategy, both shown in the green area below the vote line. The RSI indicator is above the 68 level, and the TDIJak indicator has not given a buy.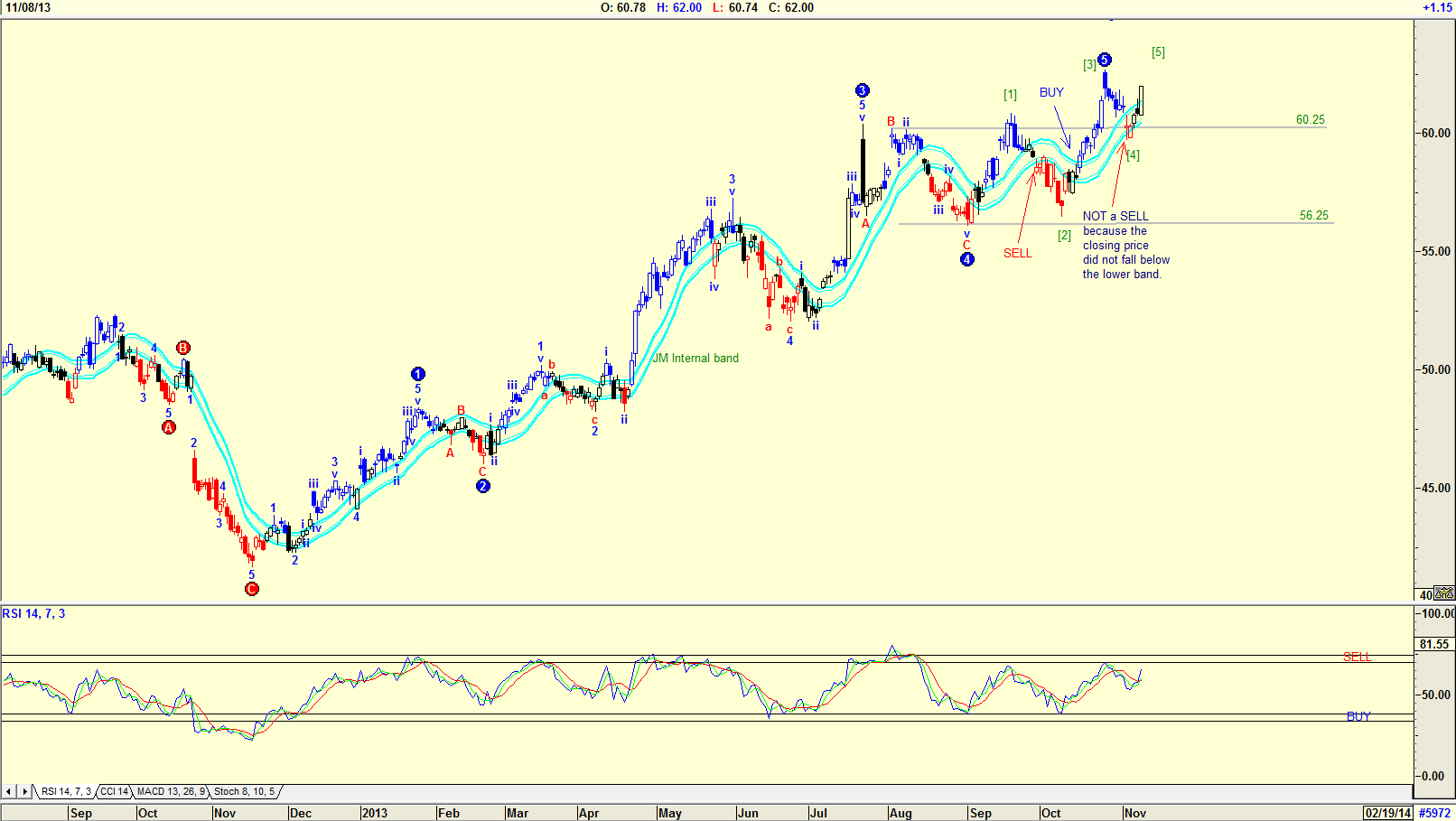 Figure 2. Elliott Wave count for DD.
Graphic provided by: AdvancedGET.
The chart in Figure 2 is an Elliott Wave count of DD, and suggests that the share price has completed a WAVE 5 and should correct somewhere between $60.25 and $56.25, the 4th wave of lesser degree. Note that the RSI indicator has not given a sell signal, suggesting that the price could go higher. The WAVE 5 shown on the chart also does not look correct, and is suggesting that an alternate count shown in brackets is a strong possibility. The price is currently also in a JM Internal Band buy. A JM Internal Band is a 15-period simple moving average offset by 2% positive and 2% negative. A break above the upper band is a buy and a move below the lower band is a sell.

I would not be a buyer of DD at the present level, but would wait for a more definite Elliott Wave count with an RSI below the 32 level and giving a buy. This share is on my watch list.


---
Koos van der Merwe
Has been a technical analyst since 1969, and has worked as a futures and options trader with First Financial Futures in Johannesburg, South Africa.
| | |
| --- | --- |
| Address: | 3256 West 24th Ave |
| | Vancouver, BC |
| Phone # for sales: | 6042634214 |
| E-mail address: | petroosp@gmail.com |
---
Click here for more information about our publications!
PRINT THIS ARTICLE