PRINT THIS ARTICLE
TECHNICAL ANALYSIS
---
CAT
10/25/13 04:20:59 PM
---
by Donald W. Pendergast, Jr.
---
Shares of Caterpillar Inc. gapped sharply lower after Q3 earnings miss estimates by nearly 14%.
Security:
CAT
Position:
N/A
A stock's quarterly earnings trend can give traders and investors an edge, no matter if they swing trade for a week or two or prefer to hold a position for a substantial amount of time. With Caterpillar (CAT) now reporting its fourth consecutive quarterly loss during calendar year 2013, the longer term outlook for this industrial giant appears to be bearish. However, swing traders may still be able to cash in on a bounce off a major support level in the stock within the next seven to ten trading sessions. Here's a closer look.



Figure 1. Caterpillar (CAT) shares had the largest bearish open gap of all S&P 500 stocks on October 23, 2013.
Graphic provided by: TradeStation.
Graphic provided by: TradeStation RadarScreen.
For the past six months, CAT shares have been mired in a relatively constricted trading range (81.00 to 89.00), with market participants being buffeted with differing opinions regarding the impact of its slowing construction machinery sales on its stock price (Figure 1). CAT had been trading at nearly 100.00 in early February 2013 but managed to dip below 81.00 by late April 2013 — no doubt due to its having endured two consecutive quarterly earnings misses. While it's still trading above its April 2013 lows, the stock has had two more earnings misses since then, making it four misses in a row. This latest miss was large — nearly 14% below analyst expectations ($1.45 per share actual vs. $1.68 per share estimates) and that was more than enough to cause a 3.8% plunge at Wednesday's open — with three times the average volume of the last 50 days. Until CAT gets a handle on its declining sales growth in formerly hot global markets, long-term investors are probably going to wait for the stock to be discounted further before deciding to buy again for the longer haul, even though the shares do pay a decent annual dividend yield of 2.69%. Swing traders, however, may have a great opportunity to play CAT for a decent bounce from support soon:

1. Notice that the two-day RSI is heading straight down; once it drops below a level of 5.00 you want to be watching for signs of an impending short-covering rally.

2. Notice the two meaningful daily chart support levels near 82.50 and 81.00 (violet and gold shaded zones); either one could be strong enough to allow for a tradable bullish bounce, although the 81.00 area appears to be a bit stronger, with more volume having been generated near that price level on previous declines.

3. Once CAT hits either support zone (or even overshoots either one by a modest amount) monitor both its 60-minute and daily chart for signs of a key reversal bar (a dip below the prior down bar's low, followed by a close back above the prior bar's high) and then prepare to go long for a two to five day bounce. You might consider putting on a small position based on the action on the 60-minute chart and then stepping up the size once the daily chart's reversal bar high is exceeded. The profit targets for either entry are as follows:

A. If going long on a reversal off the 81.00 support level, take half profits near 82.50 and manage the balance with a two-bar trail of the daily lows. Take all profits if the lower end of Wednesday's gap at 84.65 is reached, as that will surely be a big battleground as the bears try to reassert control again.

B. If the reversal appears after an 82.50 support test, use the same gap target of 84.65 for the entire position, again managing the position with a two-bar trail of the daily lows.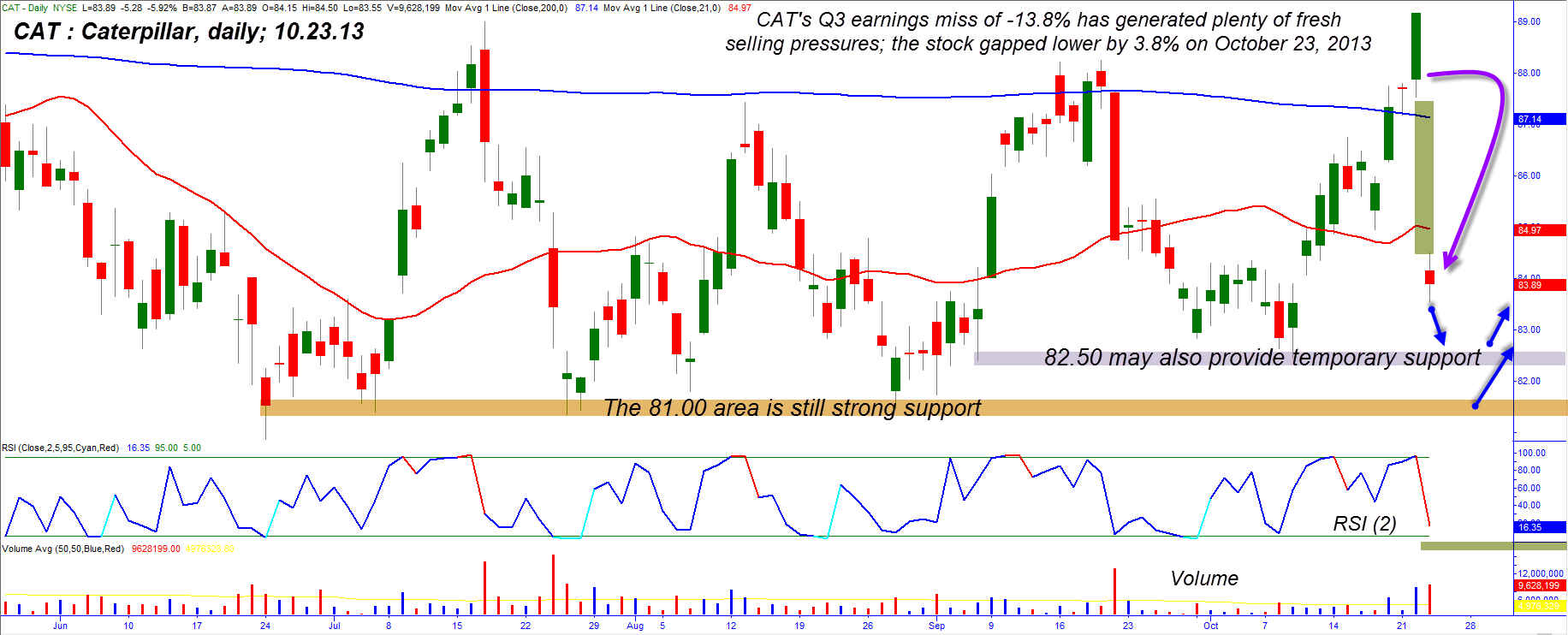 Figure 2. Despite the negative Q3 earnings and subsequent bearish gap in CAT shares, either of the two support areas shown may still be able to produce a tradable short-covering rally within the next seven to 10 trading days.
Graphic provided by: TradeStation.
Overall, these should be relatively low risk reversal plays, mostly because it is still caught in the larger trading range (81.00 to 89.00) mentioned earlier. As with all reversal-type trades, keep your per-trade account risk to no more than 1% and be sure to set fairly close initial stops just below the appropriate support level. Longer term, once the major 81.00 support level gives way, CAT should continue down into the lower 70.00/upper 60.00 area without much in the way of support to hold it back. Watch the quarterly earnings trend in CAT and you will have a better handle on what the intermediate- to long-term trend may be in the shares of this industrial giant in 2014 and beyond. Trade wisely until we meet here again.


---
Donald W. Pendergast, Jr.
Freelance financial markets writer and online publisher of the Trendzetterz.com S&P 500 Weekly Forecast service.
Title:
Market consultant and writer
Company:
Trendzetterz
Address:
81 Hickory Hollow Drive
Crossville, TN 38555
Phone # for sales:
904-303-4814
Website:
trendzetterz.com
E-mail address:
support@trendzetterz.com

Traders' Resource Links

Trendzetterz has not added any product or service information to TRADERS' RESOURCE.
---
Click here for more information about our publications!
Comments
Date:
 10/26/13
Rank:
 3
Comment:
PRINT THIS ARTICLE