PRINT THIS ARTICLE
SUPPORT & RESISTANCE
---
PCG: Important Support Test At Hand
10/01/13 02:56:09 PM
---
by Donald W. Pendergast, Jr.
---
Shares of PG&E may soon have the opportunity to test two important support levels as October approaches.
Security:
PCG
Position:
N/A
Down by more than 15% since August 1, 2013, shares of PG&E are close to testing a key pair of support levels now that it has completed the second wave down of a powerful bearish continuation move — one that launched after the stock broke down from a well-formed wedge pattern a few days before the stock's 13- and 38-day simple moving averages staged a bearish crossover. Is the worst of selling done for now, or does this key electric utility stock still have some more down side work to do until finding a new support level? Here's a closer look (Figure 1).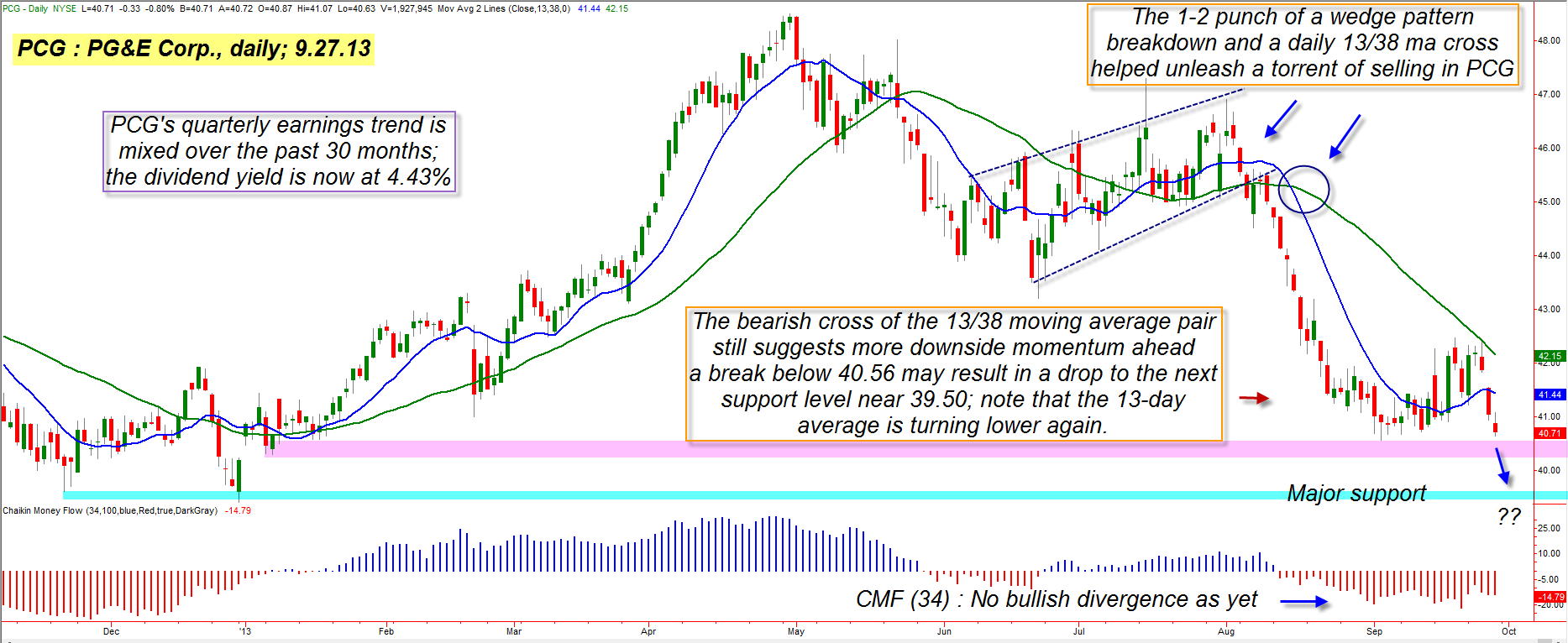 Figure 1. While the worst of the selling may now be over in PCG, only a successful retest of the pink and/or blue support zones will be able to give the bulls the reassurance they need to consider going long again.
Graphic provided by: TradeStation.
Utility stocks aren't the fastest moving equities, but they can, and do, manifest the same kind of chart patterns and trending/consolidating characteristics of their higher-volatility large-cap brethren in the S&P 500 index (.SPX). One stock with decent trending/swing tendencies is PCG; the stock is at or nearing the end of a robust continuation move — of the bearish kind — and is now attempting to re-test the recent swing low seen at the end of the second wave of the pattern. That low was made on September 3, 2013 (at a price of 40.56). Typically, a major continuation move (note how similar the length of the first wave — the one heading down into what would become a bearish wedge pattern — is almost identical to the length of the bearish wave that erupted once the wedge finally broke down) like this one will exhaust a great deal of selling (buying) pressure, and all a savvy trader needs to look for is the following if planning on taking any reversal setup that appears:

1. First, an attempted retest of the continuation move low (high).

2. Second, a bullish price/money flow and/or price/money flow divergence; preferably on at least a 34-day basis, using the Chaikin Money flow histogram (CMF)(34) or a 10 to 12- day RSI indicator.

While PCG is moving lower, close to retesting the early September low, you also see that there is as yet no bullish price/money flow divergence apparent. This suggests that the "smart money" has not yet begun to build a large enough position in the stock that would be easily identified by the money flow histogram. Thus, the line of least resistance — for now — in PCG must be assumed to be toward lower prices. If PCG soon descends below 40.30, expect a fast drop down toward the pink shaded support line near 39.50; look to see if there is a bullish divergence on the (CMF)(34) and you'll be in much better position to begin scaling into this high-dividend paying utility stock (pays 4.43% annualized — not bad at all).



Figure 2. PCG has been underperforming the .SPX over the past 4-, 13-, 26- and 52-week periods.
Graphic provided by: TradeStation.
Graphic provided by: TradeStation Radar Screen.
Once signs of a bullish divergence are firmly in place, simply look for a key reversal bar — one that shows a wide daily range and a close above the previous session's high — as one of the tip-offs that a bullish entry is soon to appear. Use you favorite mechanical system/trigger to help time your entry after the final low is made and then manage your trade wisely by doing the following:

1. Limit your maximum account risk to 1%.

2. Use a fairly close initial stop, one based on the average daily volatility of the stock.

3. Trail the stock based on an exponential moving average (a 5 to 9-period EMA can be effective) or a volatility-based trailing stop.

If the federal budget/health care law mess gets resolved within the next week, there could be a modest bullish reversal in many sectors of the market, so this potential for a reversal in PCG is definitely worth watching out for. Trade wisely until we meet here again.


---
Donald W. Pendergast, Jr.
Freelance financial markets writer and online publisher of the Trendzetterz.com S&P 500 Weekly Forecast service.
Title:
Market consultant and writer
Company:
Trendzetterz
Address:
81 Hickory Hollow Drive
Crossville, TN 38555
Phone # for sales:
904-303-4814
Website:
trendzetterz.com
E-mail address:
support@trendzetterz.com

Traders' Resource Links

Trendzetterz has not added any product or service information to TRADERS' RESOURCE.
---
Click here for more information about our publications!
PRINT THIS ARTICLE