PRINT THIS ARTICLE
TECHNICAL ANALYSIS
---
DRQ: Fading Money Flows
09/18/13 03:26:00 PM
---
by Donald W. Pendergast, Jr.
---
Dril-Quip, Inc. shares are bumping into a strong area of statistically significant resistance, even as short- and long-term money flows are waning.
Security:
DRQ
Position:
N/A
Shares of Dril-Quip, Inc.(DRQ), have been in a long term bull market since November 2008, up by more than 675% in less than five years. Mid-cap stocks like DRQ certainly tend to be more volatile than their large cap brethren, but this particular performance is simply astounding. Long term fundamentals for DRQ still look very attractive, but at the moment the stock appears to be at or very near to making a significant cycle high prior to another pullback. Here's a closer look (Figure 1).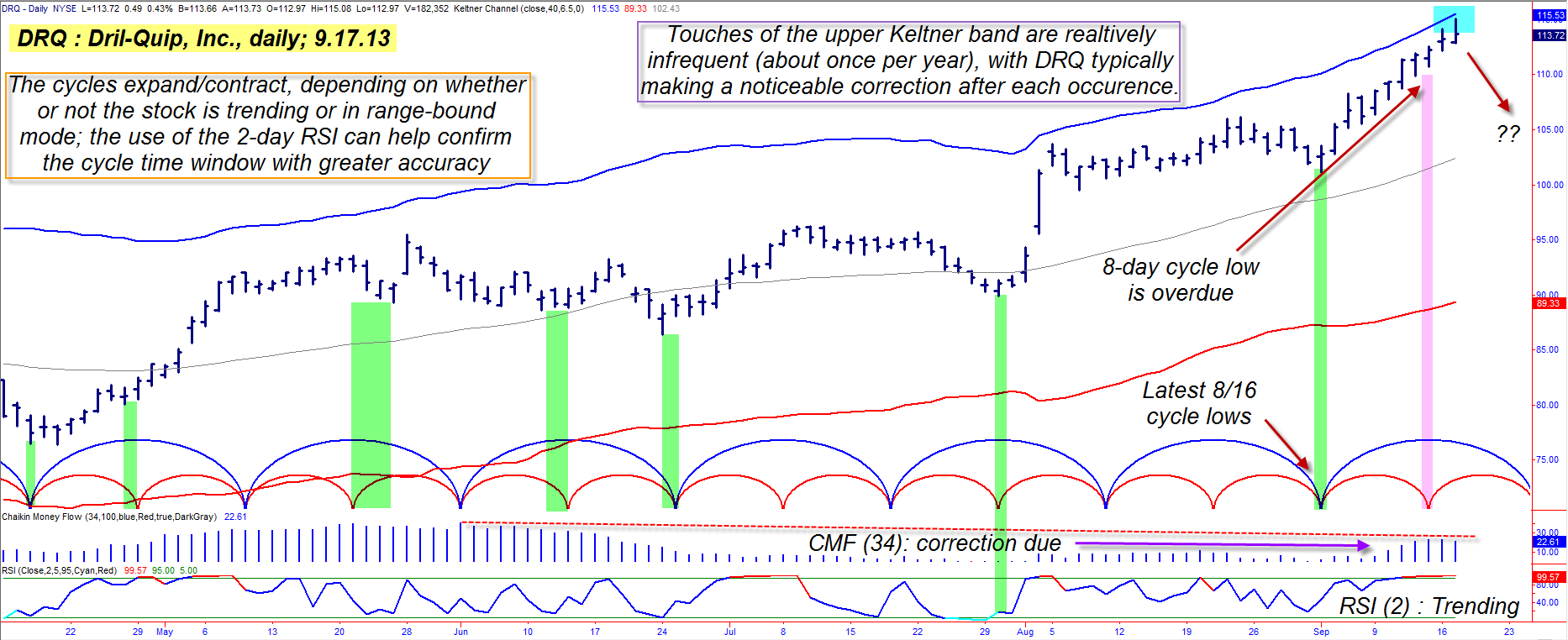 Figure 1. Dril-Quip's eight-day cycle is more reliable than its 16-day cycle, but when both are in agreement and the two-day RSI is at a very low level, the odds of identifying a significant market reversal are greatly increased.
Graphic provided by: TradeStation.
DRQ has a repeating eight-day and 16-day cycle (measured between significant swing lows), with the latest set of combined cycle lows occurring on September 3, 2013. Prices have been rallying strongly since then and are up by more than 13% in just two weeks, and at first glance it would seem the bulls have firm control on DRQ's continued bullish trajectory. There are, however, two key technicals that are warning that a correction is due shortly:

1. DRQ has touched/exceeded its upper Keltner band on only six occasions since 2007, with a noticeable pullback not long after interacting with this statistically powerful resistance zone. The bands are set at 6.5 average true ranges (ATR) away from a 40-period simple moving average of the daily closing prices of the stock.

2. The short-term and long-term money flows are confirming that the "smart money" is scaling out of their long positions, allowing lesser informed traders and investors to do more of the buying on the latest rally. The money flow histogram for the 34-day Chaikin money flow clearly shows a pattern of distribution in place, one that savvy traders and investors should already be well aware of.

3. The eight-day cycle low (see red cycle arc on chart) has not occurred yet and is slightly overdue and the 16-day cycle is expected to see a major high in place by the end of this week. Once DRQ finally begins to correct, the downside force of the cycles should correct DRQ back down toward the 108.00-109.00 area by the time the 8/16 cycle pair make their next combined low, sometime around late September or early October 2013.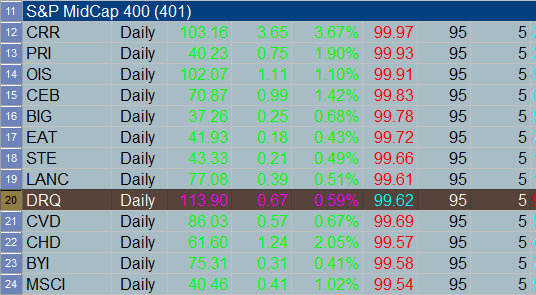 Figure 2. Dril-Quip's two-day RSI reading is close to its maximum upper range ay 99.62.
Graphic provided by: TradeStation.
Graphic provided by: TradeStation Radar Screen.
Existing longs in DRQ should already have either a trailing stop and/or protective put option strategy in place, given DRQ's propensity to reverse lower after each collision with the upper Keltner band. Speculative bears may just want to watch for DRQ to break back down below 112.97 before shorting the stock on a high probability decline into the upcoming 8/16 cycle lows. Use a two-bar trailing stop of the daily highs and keep your account risk small on this trade, being a reversal-style trade entry. Long put options are not advised in this trade, as the bid-ask spreads in DRQ puts are a mile wide, providing no edge for traders or investors to capitalize on. Trade wisely until we meet here again.


---
Donald W. Pendergast, Jr.
Freelance financial markets writer and online publisher of the Trendzetterz.com S&P 500 Weekly Forecast service.
Title:
Market consultant and writer
Company:
Trendzetterz
Address:
81 Hickory Hollow Drive
Crossville, TN 38555
Phone # for sales:
904-303-4814
Website:
trendzetterz.com
E-mail address:
support@trendzetterz.com

Traders' Resource Links

Trendzetterz has not added any product or service information to TRADERS' RESOURCE.
---
Click here for more information about our publications!
PRINT THIS ARTICLE