PRINT THIS ARTICLE
RSI
---
DANG: Continuation Move Down Into Cycle Low?
09/04/13 03:52:49 PM
---
by Donald W. Pendergast, Jr.
---
Shares of e-Commerce China Dangdang Inc. are down by more than 33% in the last three weeks, but could be descending into a major cycle low near an important support area.
Security:
DANG
Position:
N/A
The growth of e-commerce in China is no big secret by now, and despite the recent downdraft in the share price of China's premier e-commerce provider — e-Commerce China Dangdang Inc. (DANG) — the future for this market niche and DANG in particular look very promising. Here's a look at the current key technicals on DANG's daily chart (Figure 1).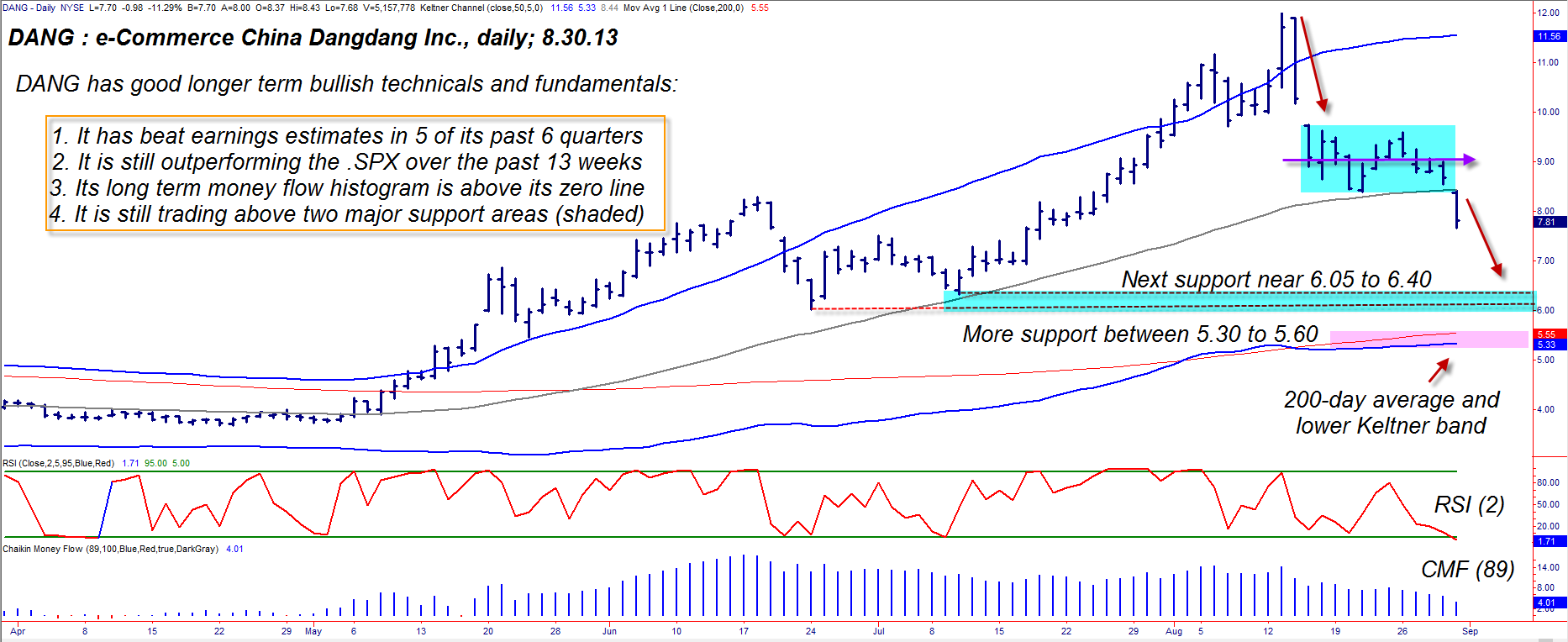 Figure 1. DANG appears to be commencing on a bearish continuation move; the blue shaded support zone could be a significant area in which to expect a bullish reversal.
Graphic provided by: TradeStation.
DANG has the capacity to truly astound with its ability to move in powerful trends, some of which can frequently push its price beyond the boundaries of its Keltner channels. Coming out of its July 10, 2013 cycle low, the stock rapidly gained ground, surging from 6.33 to 12.00 in a mere five weeks, easily breaking through the upper Keltner band (set at 5 ATR's away from a 50-day moving average) in the process. Not surprisingly, after a major run-up in the share price, a major correction is now underway, one that appears to be unfolding as part of a bearish continuation move (with the blue rectangle forming the mid-point of the entire move lower). The decline has been steep and swift, to be sure, but notice that DANG is still outperforming the S&P 500 index (.SPX) over the last 13 weeks and that its long-term money flow (based on the 89-day Chaikin money flow histogram) is still well above its zero line. DANG is also firing on all cylinders as far as quarterly earnings go, having beat Wall Street estimates in five of its last six quarters; this is likely going to be a stock that the "smart money" will be scaling into on the way down toward either of the two major support levels outlined on the daily chart. The two-day RSI indicator is extremely oversold (and can always go lower), but once DANG manages to find a meaningful support area, sharp traders and investors will want to look for a key reversal bar followed by renewed buying interest before taking a new long position.



Figure 2. DANG's 2-day RSI reading is extremely low but could actually go even lower; note that the stock is still significantly outperforming the .SPX over the past 13 weeks.
Graphic provided by: TradeStation.
Graphic provided by: TradeStation Radar Screen.
Playing a bullish reversal in DANG is probably best done with stock rather than by selling an out-of-the-money put option as the bid-ask spread on DANG puts is still too wide to provide a decent edge. To play a reversal with stock look for the following:

A. A key reversal bar or outside day bar to print at or near either of the two shaded support zones.

B. Go long on a buy stop order above the high of such a reversal bar, setting an initial stop just below the reversal bar. Risk no more than 1% of your account value on this trade.

C. Trail with a two to three-bar trailing stop of the daily lows and if the two-day RSI reading rises above 90.00 consider scaling out of half your position, continuing to trail the rest.

Fear is pervasive in the market as we enter the month of September, what with worries about Syria, Fed tapering, the debt ceiling, etc, etc, and there may be more near-term downside before the major US stock indexes bottom and bounce higher. But always remember that the "smart money" always start buying once market fear levels get to extreme levels; a final washout low in DANG could also be your opportunity to trade alongside the big boys as they begin to scoop up shares in anticipation of another surge higher in this volatile, highly trend-capable issue. Trade wisely until we meet here again.


---
Donald W. Pendergast, Jr.
Freelance financial markets writer and online publisher of the Trendzetterz.com S&P 500 Weekly Forecast service.
Title:
Market consultant and writer
Company:
Trendzetterz
Address:
81 Hickory Hollow Drive
Crossville, TN 38555
Phone # for sales:
904-303-4814
Website:
trendzetterz.com
E-mail address:
support@trendzetterz.com

Traders' Resource Links

Trendzetterz has not added any product or service information to TRADERS' RESOURCE.
---
Click here for more information about our publications!
PRINT THIS ARTICLE