First Solar, Inc. shares (FSLR) enjoyed an incredible seven-week rally earlier this year, rising by 91% between April 5 and May 21, but 75% of those gains have already evaporated in the wake of the ongoing correction that launched in June 2013. Currently testing a critical long term support level, will FSLR be able to stage a meaningful rally soon or will the weakness in the broad US markets continue to drag the stock to even lower levels? Here's a look at FSLR's daily chart for some insight (Figure 1).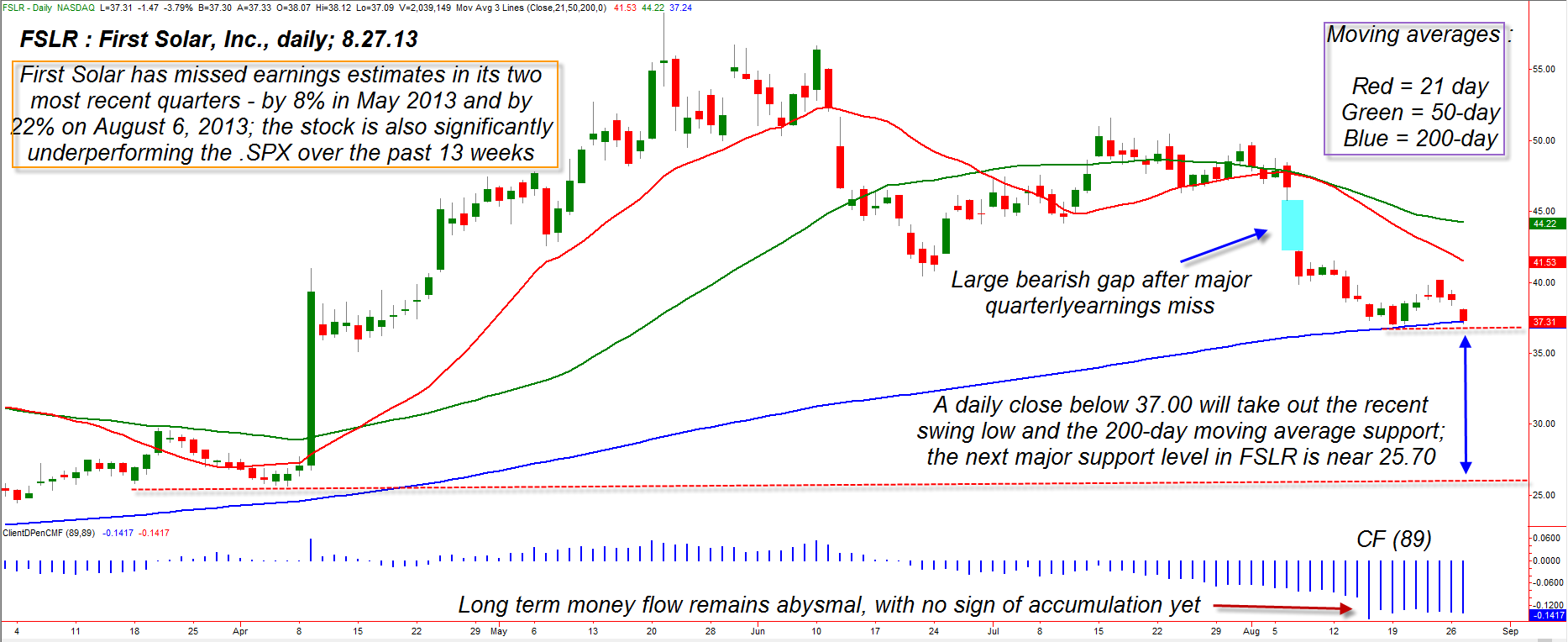 Figure 1. The earnings-miss bearish gap of August 6, 2013 really got the selling going again in shares of First Solar (FSLR). Note that the next strong support level is more than $11.00 below the stock's current price.
Graphic provided by: TradeStation.
Solar energy stocks are prone to bouts of manic price behavior, going into sudden updrafts/downdrafts with little or no warning; as with virtually all liquid stocks, earnings misses can really lead to mass selling even as earnings surprises can also lead to fast gains. In the case of First Solar, the stock has failed to meet analysts' earnings estimates for the last two quarters; the miss was minus 8% in May 2013 and an even more disappointing minus 22% just three weeks ago on August 6, 2013. The August 2013 miss led to a large bearish gap (blue box on chart) and now has FSLR down by more than 20% in less than a month. Earnings problems aside, there are plenty of technical warning signs now flashing, too:

1. FSLR's 13-week comparative relative strength versus the S&P 500 index (.SPX) is poor; this is the kind of stock that mutual fund managers lighten up on, at least until they think it's a screaming buy once again.

2. The stock is now sitting right on top of its 200-day moving average (blue line) and is only a few pennies above the last remaining chart support level until 25.70.

3. The long-term Chaikin Money flow histogram (CMF)(89) is in an extremely bearish trend, with no sign yet of any accumulation by the so-called "smart money."

Are you getting the big picture? What we see now is a volatile, high-volume tech/energy stock that keeps missing on its earnings, is greatly underperforming the broad US markets, has heavy selling pressures weighing on it, and is now sitting at its last chance area of support. If this support gives way on big volume, it could lead to another $5-$10 drop in the stock's price over the next several months.



Figure 2. FSLR has been significantly underperforming the .SPX over the past 4- and 13-week periods.
Graphic provided by: TradeStation.
Graphic provided by: TradeStation Radar Screen.
Playing FSLR here is dirt simple:

1. On a daily close below 37.00, short the shares, setting your initial stop loss (GTC) near 38.20.

2. Since the potential for a large trend-following move here is well above average, consider running a volatility trailing stop or even a pair of short-term moving averages that can help you stay in any developing move down toward that next support zone in the mid-$20 zone. A four- and seven-day exponential moving average pair can do a wonderful job of defining a short- to medium-term trend move; when the four closes back above the seven you can close the trade out, hopefully at a profit. There are many other kinds of trailing stops you can use, such as a simple moving average (try an eight-day simple moving average, for example) or even a channel trailing stop, etc.

3. You can, of course take some profits if the market is kind enough to grant you a sudden windfall, but given the crummy fundamentals, poor relative strength, and dismal money flow, it might just pay to ride this solar energy horsie as far south as she'll go before getting stopped out.
Limit your account risk to no more than 2% of your account equity, no matter how bearish you may be on FSLR at this time. Trade wisely until we meet here again.