Since late 2011 Lennar Crop (LEN) has been in a strong uptrend. The stock converted the 50-day moving average (MA) resistance to support, initiating a fresh upward rally. Thereafter, LEN followed the ascending moving average support (Figure 1). The rally made a gain of $25 in the past 18 months. The relative strength index (RSI)(14), however, began forming lower highs. The negative divergence was the first indication of a bearish reversal for LEN. As a result, the stable bullish rally turned volatile above $39 levels. The stiff vertical rally moved sideways marginally before reversing downward.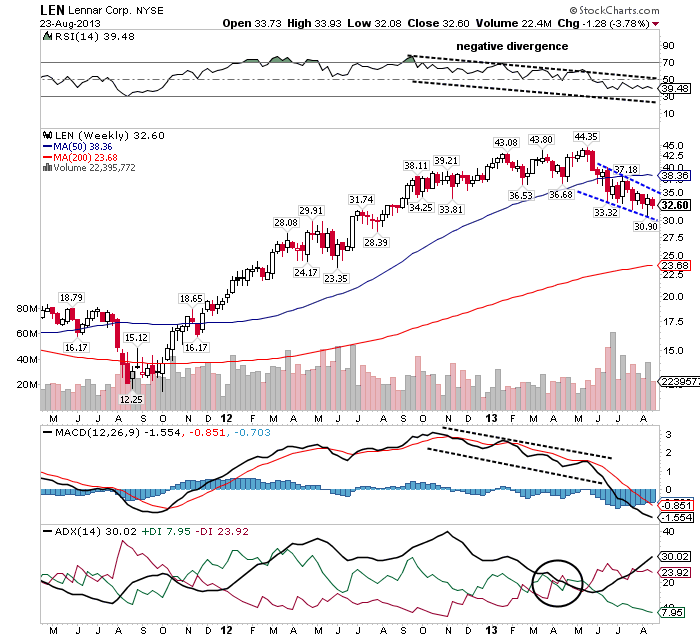 Figure 1: Daily chart for LEN.
Graphic provided by: StockCharts.com.
Apart from the negative divergence of RSI(14), a well developed uptrend turned shaky in an overheated region (above the $40 levels), and the moving average convergence/divergence (MACD)(12,26,9) began descending from positive territory. These conditions triggered a reversal rally for LEN, and soon it breached the 50-day MA support. The new downside rally developed fresh bearish pressure on the stock in Figure 1. We can see a developing downtrend and the negative MACD(12,26,9) falling below the zero line.


Currently, LEN is moving steadily in a descending channel under the 50-day MA resistance. The RSI(14) is ready to move into an oversold region, the developing downtrend is about to shift into a well developed area above the $30 level, and the MACD(12,26,9) is indicating negative momentum. On these notes, LEN is likely to continue its bearish journey.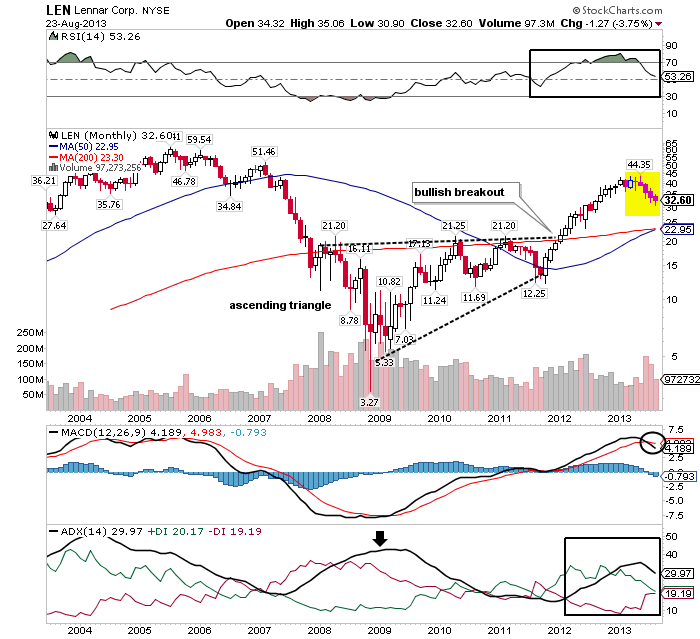 Figure 2: Monthly chart for LEN.
Graphic provided by: StockCharts.com.
Looking at the monthly chart in Figure 2, a long-term ascending triangle formed in the period 2009-2011. Price broke upwards, beginning a strong bullish rally. The downtrend on the monthly chart gradually reversed after the bullish breakout. The RSI(14) surged into a bullish region above 50 levels, and the MACD(12,26,9) turned positive. Although the breakout opened good buying opportunities for long-term buyers, the rally failed to move higher. The price action changed direction and moved south forming a rounded-top (Figure 2). Notice the evening star candlestick pattern followed by the three bearish candlesticks with lower shadows in the yellow area on the chart.


In the meantime, all three bullish indicators have turned down, reflecting the upcoming bearish pressure in the rally. In this scenario, LEN would retrace toward the converging 200-day and 50-day MA support and complete the rounded-top formation. Since this formation is a bearish reversal, the price movement at the MA support should be observed carefully. A bearish breakout of the pattern would further weaken the bullish force and attract fresh sellers. If the plunging indicators could successfully establish support at their respective bullish zones, the stock would sustain above the MA support.

To conclude, the bullish rally of LEN has been temporarily terminated. Price action near the moving average support will decide the future direction of the stock.