When was the last time you considered putting some of your retirement money in a managed futures account? If you have been paying any attention at all to the commodities markets in 2002, then your answer might well have been "mere minutes ago." Why? Because after putting in a bottom in Q3 of 2002 (like most other tradable asset classes, by the way), and testing that bottom early in 2002, the CRB Index has been on a tear. Climbing from an October 2001 low of just above 180 to a close over 227 just under a year later, the CRB Index has gained 26% with powerful bull markets in precious metals, agriculturals (mostly grains) and energies leading the way.


Gold, for example, bottomed in the spring of 2001, but its bull market did not really get going in earnest (i.e., maintaining above $300/ounce) until the bottom test in December. Gold is up some 18% from that point. Crude oil bottomed in November 2001, tested that bottom in January 2002 and is since up some 85%. The current commodities superstar is the grains group, led by wheat which finally bottomed in the late spring of 2002 and, as of early September 2002 was up 50%.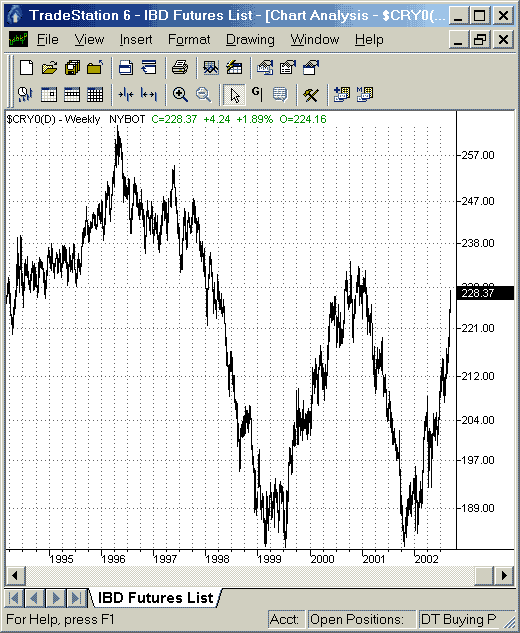 A retest of the 1999 lows in commodities sets the stage for a 2002 bull market.
Graphic provided by: TradeStation.
This level of bullishness in commodities in general (interest rate futures have also been exceptionally bullish, from 10-year Treasuries to Eurodollars), has not been since the second half of 1999 and into the first half of 2000. In fact, this last cyclical bull market in commodities lasted approximately 20 months -- a time frame that is now starting to close in on the time frame of the current commodities cyclical bull market (now in its 11th month). So, does that mean that commodities bulls can hope for at least another few months of bullishness before this cyclical move is done?


A look at the CRB Index since about 1995 puts the commodities bull market in perspective. Note how a declining trend in commodities begins in mid-1997. Interestingly, many of those who embrace the deflationary economy thesis point to the capital gains tax cuts passed by President Clinton and the Republican congress in 1997 as the spark that got the deflationary fire going. In any event, commodities markets weakened significantly over the balance of 1997 and throughout 1998 before finally bottoming in 1999. This bottom -- an almost year-long period of consolidation -- represents the base from which the 1999-2000 cyclical bull market was born. I say "cyclical" because it is important to consider that, with the CRB Index peak in mid-2000, no new high was established. What followed instead was another decline that over the balance of 2000 and for the duration of 2001 brought commodities prices back to levels of their 1999 base.


This brings us to the current cyclical bull market, the second since commodities prices topped out in the mid-1990s. The lows from the 1998-99 declines served as effective support as prices declined again from 2000-2001, and it is from this support that the current CRB Index rally advances. Unfortunately, the previous cyclical bull market also left behind a significant resistance point around 235. If the CRB Index fails to hold ground higher than this, then there could be sizable trouble for the bull markets in commodities like crude oil and wheat, as well as for the "breakouts" in commodities like cotton and cattle, which have established bottoms, but failed to turn those bottoms into new bull markets.