PRINT THIS ARTICLE
CHART ANALYSIS
---
Molycorp Inc.: Finally, A Major Low?
07/08/13 01:13:20 PM
---
by Donald W. Pendergast, Jr.
---
Down by as much as 94% since May 2011, shares of Molycorp Inc. may already be into a well developing double bottom pattern.
Security:
MCP
Position:
N/A
Basic materials sector investors and traders most likely have little trouble recalling the monumental (generational?)highs that Molycorp Inc. (MCP) made back in May 2011; that's when the stock hit its all-time high of 79.16 and the bulls were calling for even higher prices in this rare earth oxide producer's share price. However, despite the rosy expectations for further gains, within two weeks MCP had plunged by 25% (a quarterly earnings miss of more than 127% a week after the all-time high was hit surely didn't help matters, either). Since then, it's been all downhill for MCP, with the stock falling as much as 94% between May 2011 and April 2013 (Figure 1). It finally bottomed out at 4.70 on April 17, 2013 and has managed to stage a bit of a rebound rally - a rise of 30% - which brings its price up to a whopping 6.11 per share. For value investors at least, it's a hopeful sign of a longer term bullish reversal and for active, short term traders it could be great setup for a put option sale.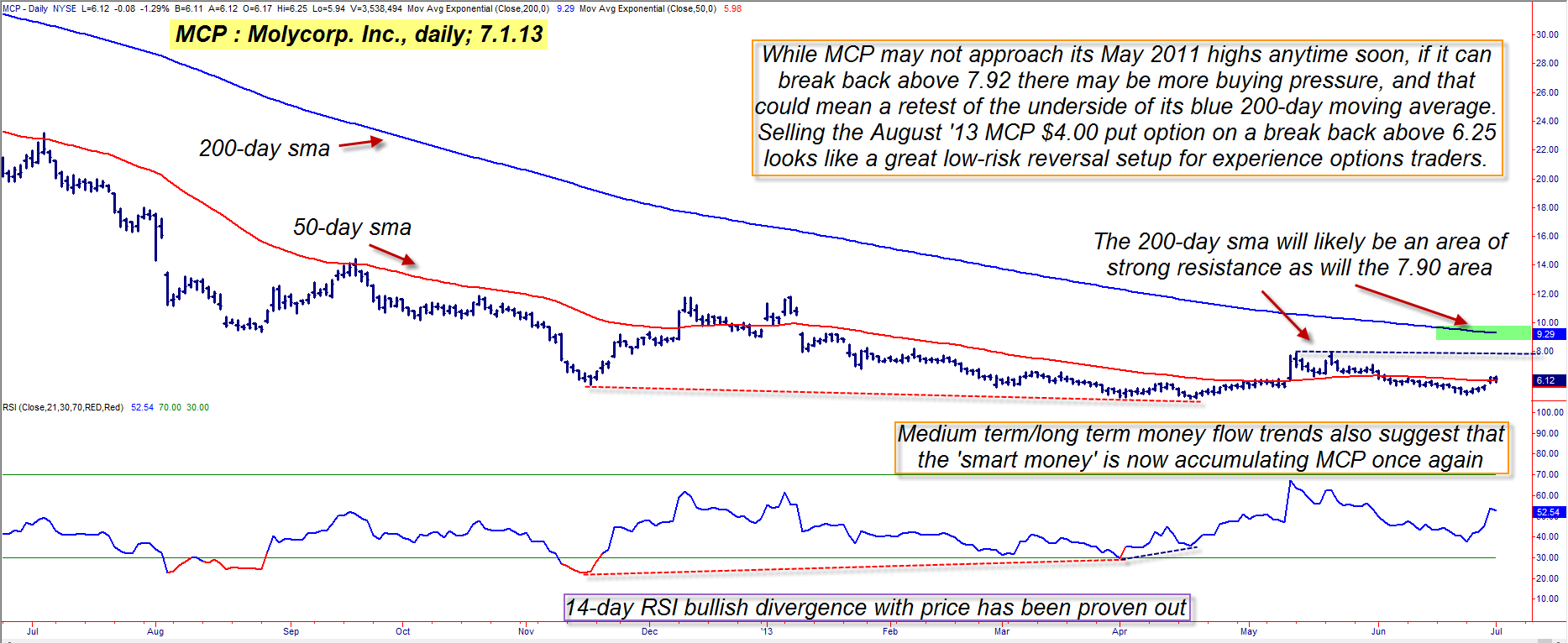 Figure 1.: Is MCP's mega-decline finally a done deal? If it is, then a near-term out-of-the-money put option sale looks like a low-risk, modest reward trade that will be of interest to skilled option traders.
Graphic provided by: TradeStation.
Looking at MCP from a fundamental perspective, it does appear that the great commodities boom from 1999 - 2011/2012 is now history and for Molycorp. Inc. investors it means they need to look at the stock from a more realistic, non-mania attitude, looking to hold for more modest swing moves rather than trying to hold out for a major trending episode. Last quarter's earnings release (on May 9, 2013) was positive, even though is showed a net loss of 15 cents per share compared to the previous quarter's 46 cent loss. This improved earnings situation is surely responsible for the final flattening out of MCP's long decline and given that the stock is also experiencing bullish momentum divergences from three indicators (the 14-day RSI and the 34- and 89-day Chaikin Money flow histograms), the odds look good for MCP to continue to slowly rise in the days and weeks just ahead.



Figure 2.: The August '13 MCP $4.00 puts have an excellent bid/ask spread, a tiny delta factor and boast a healthy open interest figure of more than 1,400 contracts.
Graphic provided by: TradeStation.
Graphic provided by: TradeStation Radar Screen.
All of the above technicals and fundamentals considered, one of the simplest ways to play MCP's new-found strength is to sell the August '13 MCP $4.00 put option. Here's the big idea:

1. Assuming that MCP's low is finally a done deal, the 4.00 strike price of the put is more than 33% below the stock's current price of 6.11; this gives the trade an enormous 'buffer' zone over the next 6 1/2 weeks till the put expires.

2. The bid-ask on this put is excellent - only a penny - and open interest is more than 1,400 contracts.

3. The delta is a very tiny (.10), which is also a huge protection factor against a premature stop out.

So if MCP breaks above 6.25, just sell the put (or as many as you can without risking more than 1% of your account value) and then plan on buying it back for a profit if it declines by 50 to 60% or if it increases in value by more than 100% (with such a small delta, it would take a very powerful decline to double the price of the put). Either way, you close the trade and then patiently wait for another good setup to appear. This looks like a great trade for savvy option traders, one that offers an above average chance for success over the next few weeks. Trade wisely until we meet here again.


---
Donald W. Pendergast, Jr.
Freelance financial markets writer and online publisher of the Trendzetterz.com S&P 500 Weekly Forecast service.
Title:
Market consultant and writer
Company:
Trendzetterz
Address:
81 Hickory Hollow Drive
Crossville, TN 38555
Phone # for sales:
904-303-4814
Website:
trendzetterz.com
E-mail address:
support@trendzetterz.com

Traders' Resource Links

Trendzetterz has not added any product or service information to TRADERS' RESOURCE.
---
Click here for more information about our publications!
Comments
PRINT THIS ARTICLE