PRINT THIS ARTICLE
SUPPORT & RESISTANCE
---
Consol Energy: Bearing Down On Key Support
07/03/13 09:54:05 AM
---
by Donald W. Pendergast, Jr.
---
Shares of Consol Energy are down markedly in the last five weeks and are now approaching a major support level.
Security:
CNX
Position:
N/A
Any time a large cap, S&P 500 index (.SPX) component stock plunges by more than 25% – in little more than a month – there must be a pretty compelling reason for its selloff; in the case of Consol Energy shares (CNX) it's not hard to see how the potential for far reaching environmental legislation could harm this company's future growth prospects (producing coal in a world largely convinced of the reality of global warming isn't exactly a politically correct niche of the US economy, after all). And while the deep near-term decline in CNX may be based more on fear than on reality, it remains that the stock's daily chart technicals look downright abysmal; traders and "value investors" may find it of great value to take a closer look at CNX now to see whether it's a great shorting candidate or if it's likely due for a well-deserved short covering rally within the next week or so. Here's a closer look.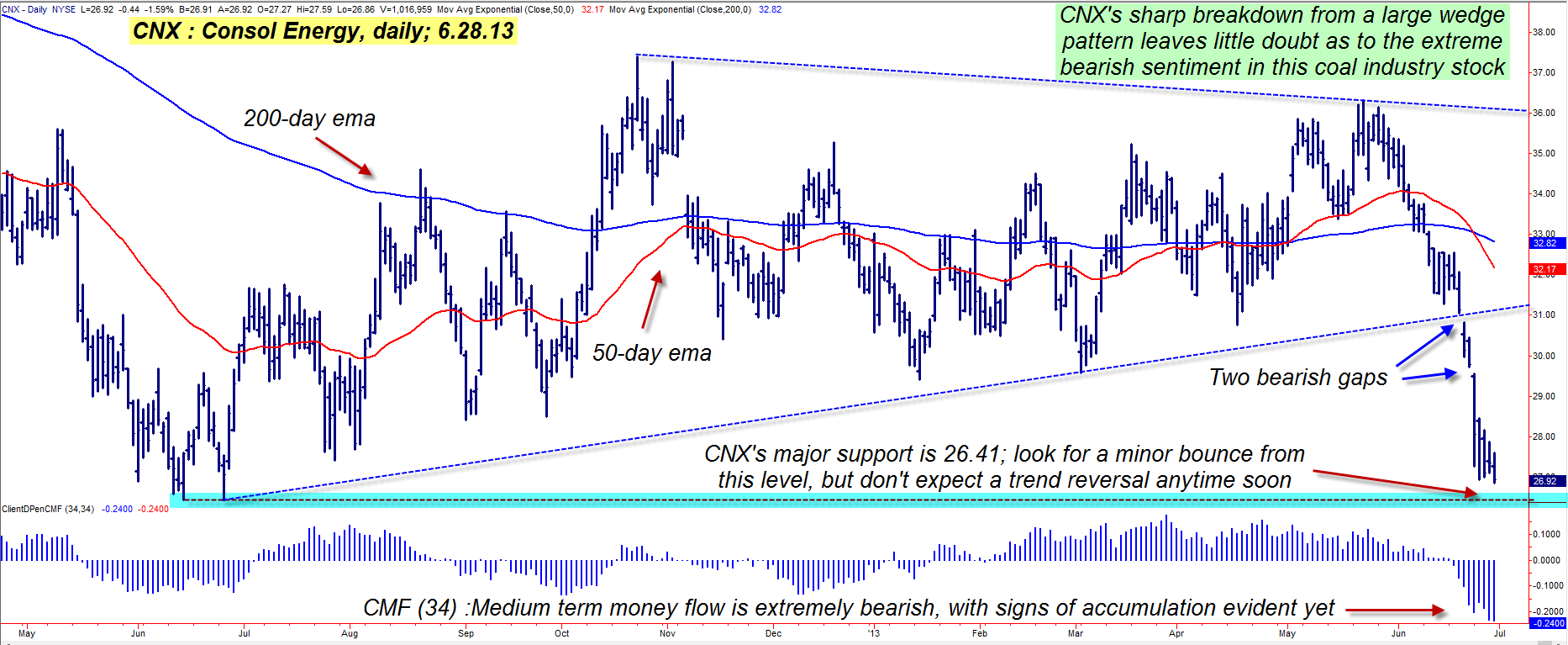 Figure 1. Although the long-term fundamentals for Consol Energy (CNX) look poor, that the stock is at an extreme short-term oversold zone (note the deep money flow histogram reading) even as it approaches key support near 26.41 could mean that a short-term bullish reversal is close at hand.
Graphic provided by: TradeStation.
CNX has been in a long-term decline for some time now; if you've been trading stocks for at least five years, you may recall that this stock was trading at more than $112.00 per share when many other energy sector stocks (along with crude oil and natural gas markets) made generational highs back in early July 2008; the years since have not been kind to "King Coal" as the daily/weekly/monthly stock charts for CNX and its main competitors (such as Peabody Energy (BTU)) reveal. Long term, it's hard to make a good fundamental case for owning coal stocks at all (the world is once again awash in crude oil and natural gas supplies, after all), but for traders, coal stocks like CNX may provide plenty of opportunity for swing trades and short-term reversal trades, like the one we might be seeing take shape on CNX's chart in Figure 1. Here's the "big picture":

1. Medium-term money flow (CMF)(34) is absolutely through the floor and is bearish.
2. The stock is down 26% since May 22, 2013 and has produced two bearish gaps so far since this selloff commenced.
3. CNX is significantly under-performing the .SPX over the past 4-, 13-, 26-, and 52-week periods and is also down more than 25% year-to-date.
4. Long-term fundamentals for the coal industry group stocks appear to be rather grim.



Figure 2. CNX is significantly under-performing the .SPX over the past 4-, 13-, 26- and 52-week periods and is also down more than 25% YTD.
Graphic provided by: TradeStation.
Graphic provided by: TradeStation Radar Screen.
To a contrarian, this looks like a great time to "think outside the box" and size up the potential for a short- term, out-of-the-money put option sale in CNX, one that stands to profit on a short covering rally up from the major support line (blue shaded area). Here's the game plan for skilled options traders:

1. Wait to see if CNX hits 26.41.
2. If the stock reverses higher and makes a daily close back above 27.59, consider selling the July '13 CNX $25.00 put option; this option has a small bid/ask spread, open interest of 802 contracts and a healthy daily time decay (theta) factor of $2 per day/per contract.
3. Manage the trade as follows — if it declines in value by 50%, buy it back for a nice short-term profit and go out and celebrate. If it increases in value by 80 to 90% or if CNX drops below 26.25, buy it back for a loss and wait for a more attractive trading setup to come along. Since this is a reversal trade, risk no more than 1% of your account value and be sure you're able to monitor the trade in real-time because the moves in this stock could be rather volatile at such a key support area.

Bearish sentiment may have gotten a bit too extreme in CNX, thus offering nimble option traders the opportunity to profit from a short-term bounce from a major support level. Trade wisely until we meet here again.


---
Donald W. Pendergast, Jr.
Freelance financial markets writer and online publisher of the Trendzetterz.com S&P 500 Weekly Forecast service.
Title:
Market consultant and writer
Company:
Trendzetterz
Address:
81 Hickory Hollow Drive
Crossville, TN 38555
Phone # for sales:
904-303-4814
Website:
trendzetterz.com
E-mail address:
support@trendzetterz.com

Traders' Resource Links

Trendzetterz has not added any product or service information to TRADERS' RESOURCE.
---
Click here for more information about our publications!
PRINT THIS ARTICLE