PRINT THIS ARTICLE
RSI
---
iRobot
05/31/13 02:25:06 PM
---
by Koos van der Merwe
---
We have all seen military robots on TV defusing bombs, cleaning floors in a house, and working in factories. Without doubt this is the trend of the future.
Security:
IRBT
Position:
Sell
iRobot Corporation is an American technology company founded in 1990 and incorporated in Delaware in 2000. It designs robots such as an autonomous home vacuum cleaner (Roomba), the Scooba that scrubs and cleans hard floors, and military and police robots, such as the PackBot. As technology advances, without doubt iRobot will be producing robots that do far more than what they currently offer. I always think of the movie I ROBOT with actor Will Smith, a movie based on a story by Isaac Asimov, where robots attempt to take over the world. Of course, that is something that could occur far into the future, unless iRobot has something up its sleeve that we are unaware of. Holding a few shares in the company is definitely a bet on the future, but with technology advancing as rapidly as it is, that bet could materialize a lot sooner than anticipated.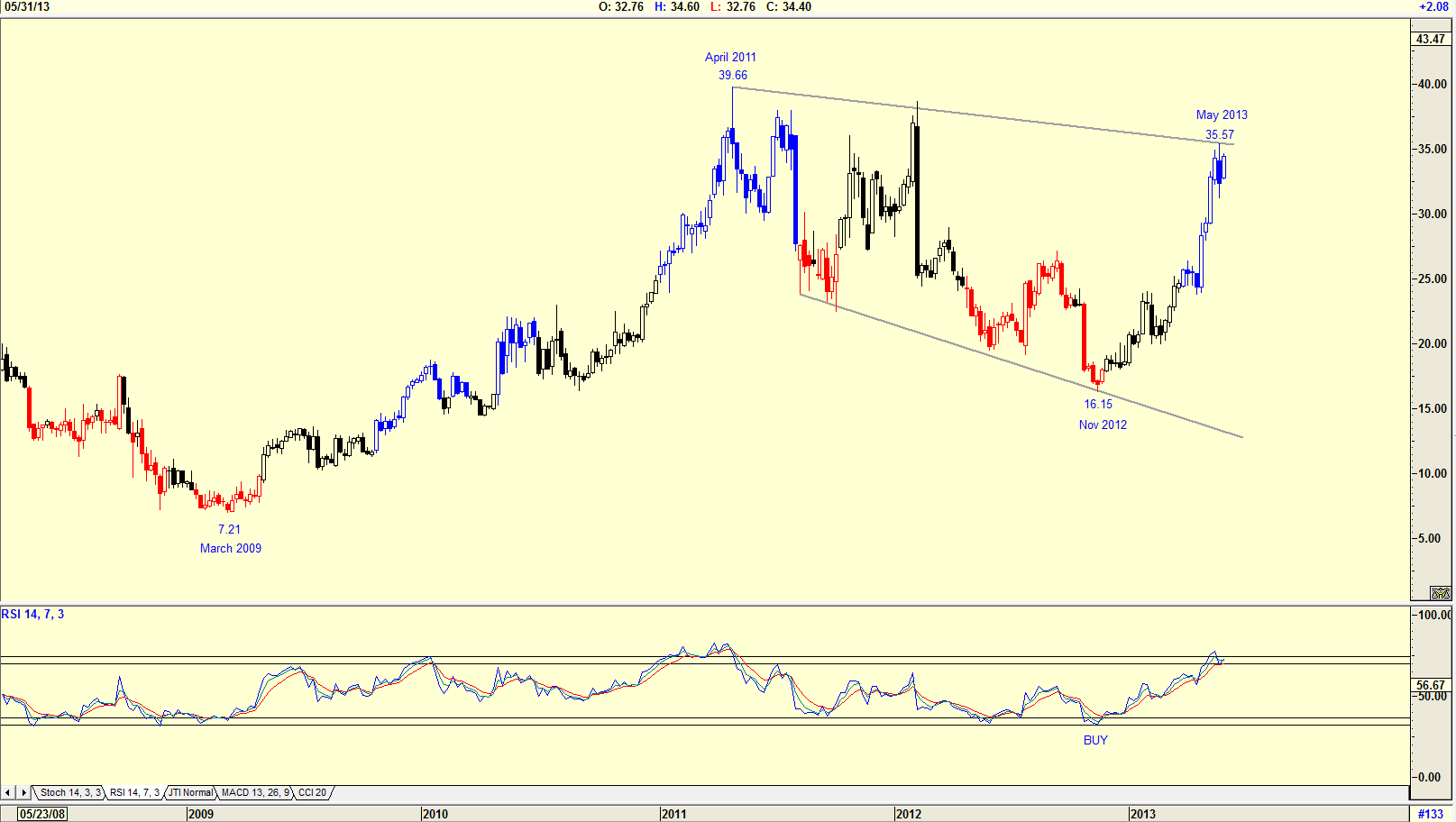 Figure 1. Weekly chart
Graphic provided by: AdvancedGET.
The weekly chart in Figure 1 shows how the price rose from a low of $7.21 in March 2009 to a high of $39.66 by April 2011. From that date it has traded down to a low of $16.15 by November 2012 in a broadening formation, suggesting uncertainty. However with the RSI indicator suggesting a buy in November, you would have bought the share that rose to $35.57 by May 2013, a return greater than 100%. With the RSI at overbought levels, you would take a profit.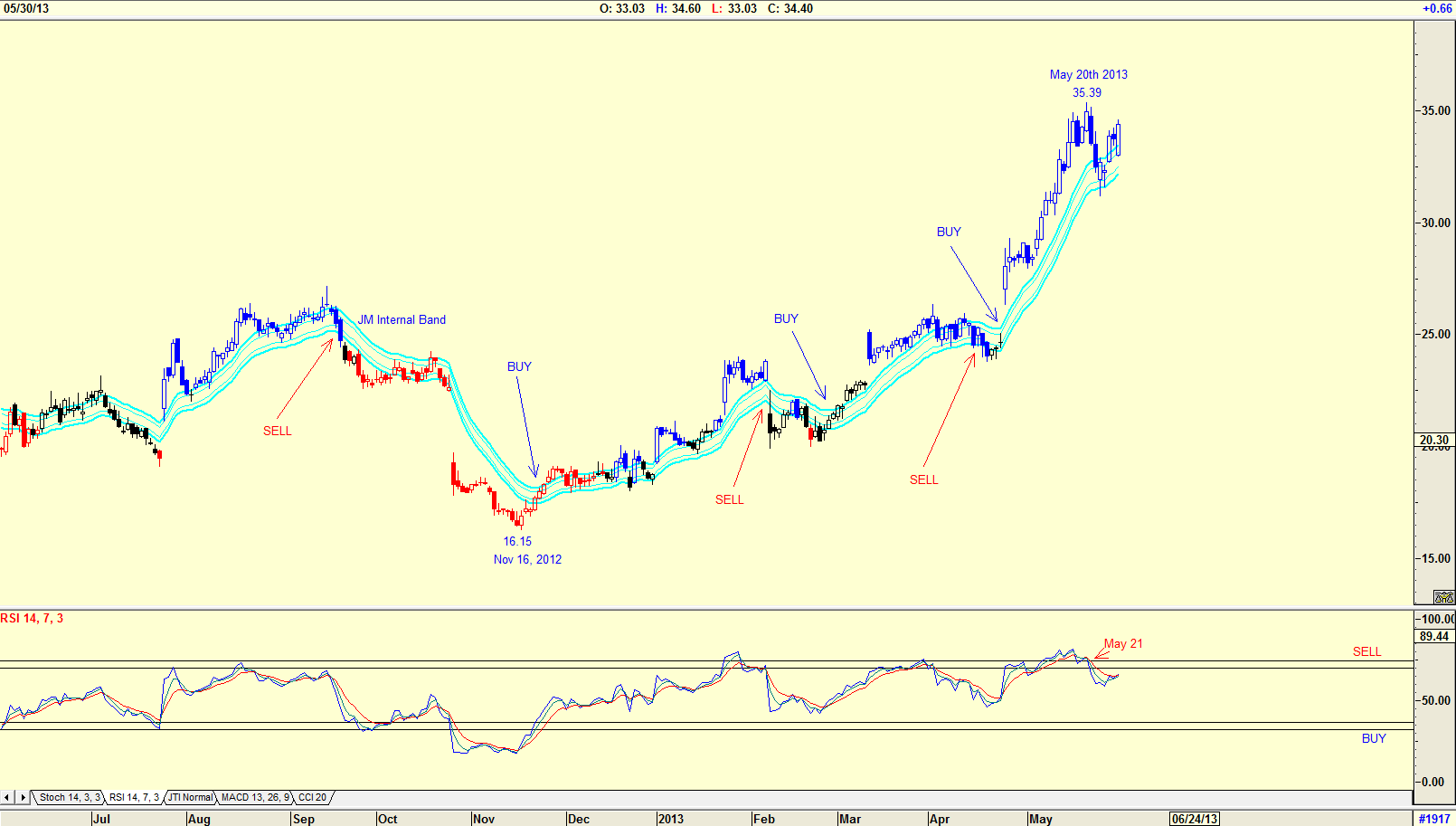 Figure 2. Daily chart
Graphic provided by: AdvancedGET.
Looking at the daily chart in Figure 2, I have shown how the JM Internal Band indicator gave profitable buy and sell signals. The JM Internal Band indicator is a 15 period moving average offset by 2% positive and 2% negative. But with the RSI indicator giving a sell signal on May 21, 2013, you would have sold out and taken profits. Previous RSI sell signals have shown that the price does drop below the lower JM Band, and it is only when the price rises above the upper band that most people buy.

iRobot should be placed on your watch list, waiting for the price to fall below the lower JM Band and then rise above the upper band giving a fresh buy signal.


---
Koos van der Merwe
Has been a technical analyst since 1969, and has worked as a futures and options trader with First Financial Futures in Johannesburg, South Africa.
| | |
| --- | --- |
| Address: | 3256 West 24th Ave |
| | Vancouver, BC |
| Phone # for sales: | 6042634214 |
| E-mail address: | petroosp@gmail.com |
---
Click here for more information about our publications!
Comments
PRINT THIS ARTICLE