PRINT THIS ARTICLE
RSI
---
Microsoft
05/06/13 03:07:50 PM
---
by Koos van der Merwe
---
Microsoft shares have been stagnant since 2000. Is the share worth looking at as a buy?
Security:
MSFT
Position:
Sell
Microsoft Corp. (MSFT) is known to one and all. If you own a computer that is not an Apple computer, then the operating system that comes with the computer is most likely a product of Microsoft Corp. We accept that as the norm. Everyone knows who Bill Gates is, and everyone today praises him and his wife for their charitable work. The company rose to dominate the personal computer operating system market with MS-DOS in the mid-1980s, followed by the Microsoft Windows line of operating systems. In May 2011, MSFT acquired Skype Technologies for $8.5 billion in its largest acquisition to date. Would I be a buyer of MSFT at the current price? Let us see what the charts tell us.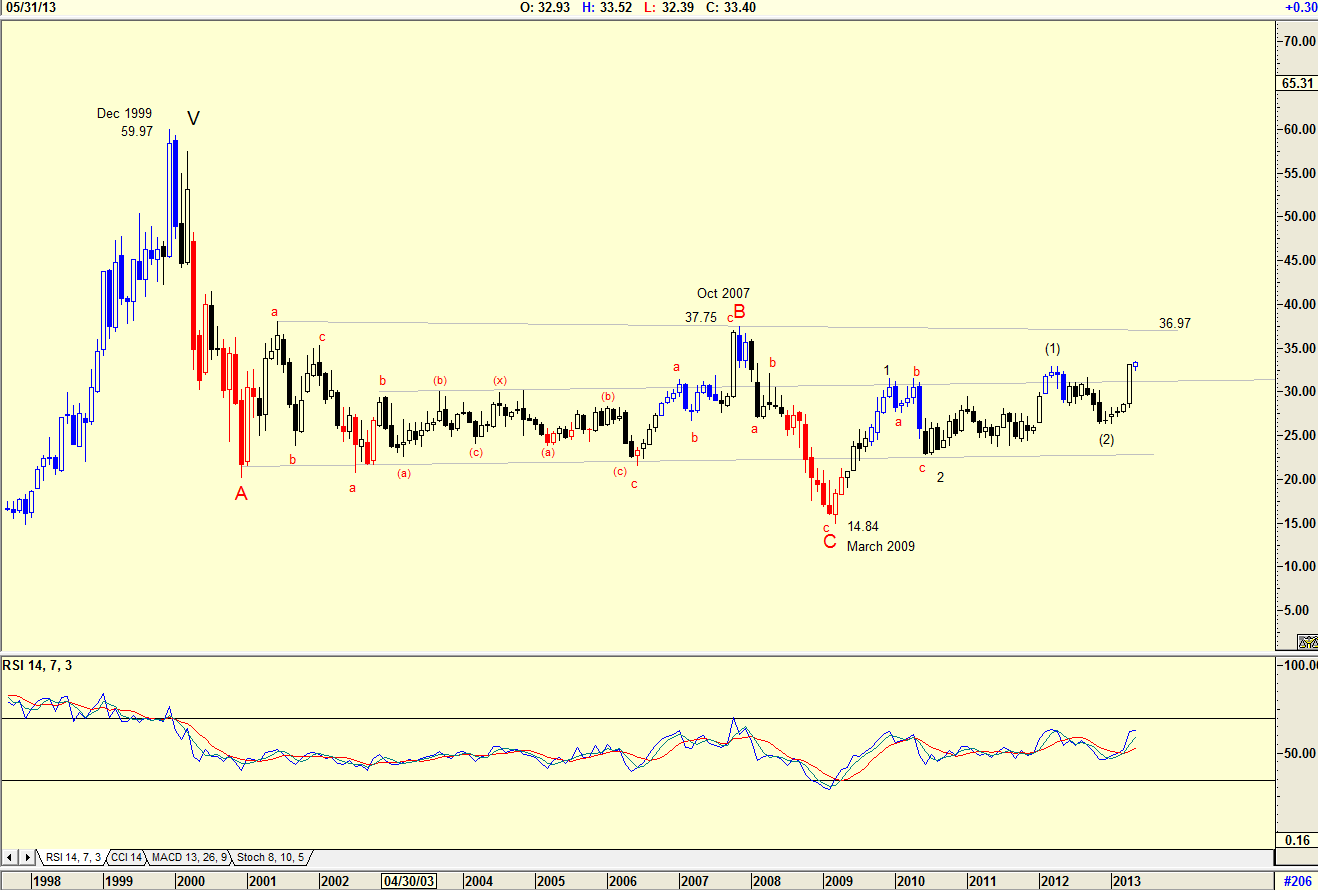 Figure 1. Monthly chart.
Graphic provided by: AdvancedGET.
The monthly chart in Figure 1 of MSFT shows how the share price fell from a high of $59.97 is December 1999 to a low of $14.84 in Match of 2009, 10 years of pain. The share price has traded mostly in a sideways trend, with $37.75 being the upper boundary. An Elliott Wave count is suggesting that the share has completed an ABC correction and could be in a new bull market, but I would only be convinced of this count should the share price rise above the upper resistance line at $36.97. Note that the RSI indicator is once again in a sideways trend whereas from December 1999 to March 2009, it was in a sideways trend after a sell signal. It is now in a sideways trend after a buy signal. This suggests that sometime in the future we could see a rise in the share price to test the $36.97 level.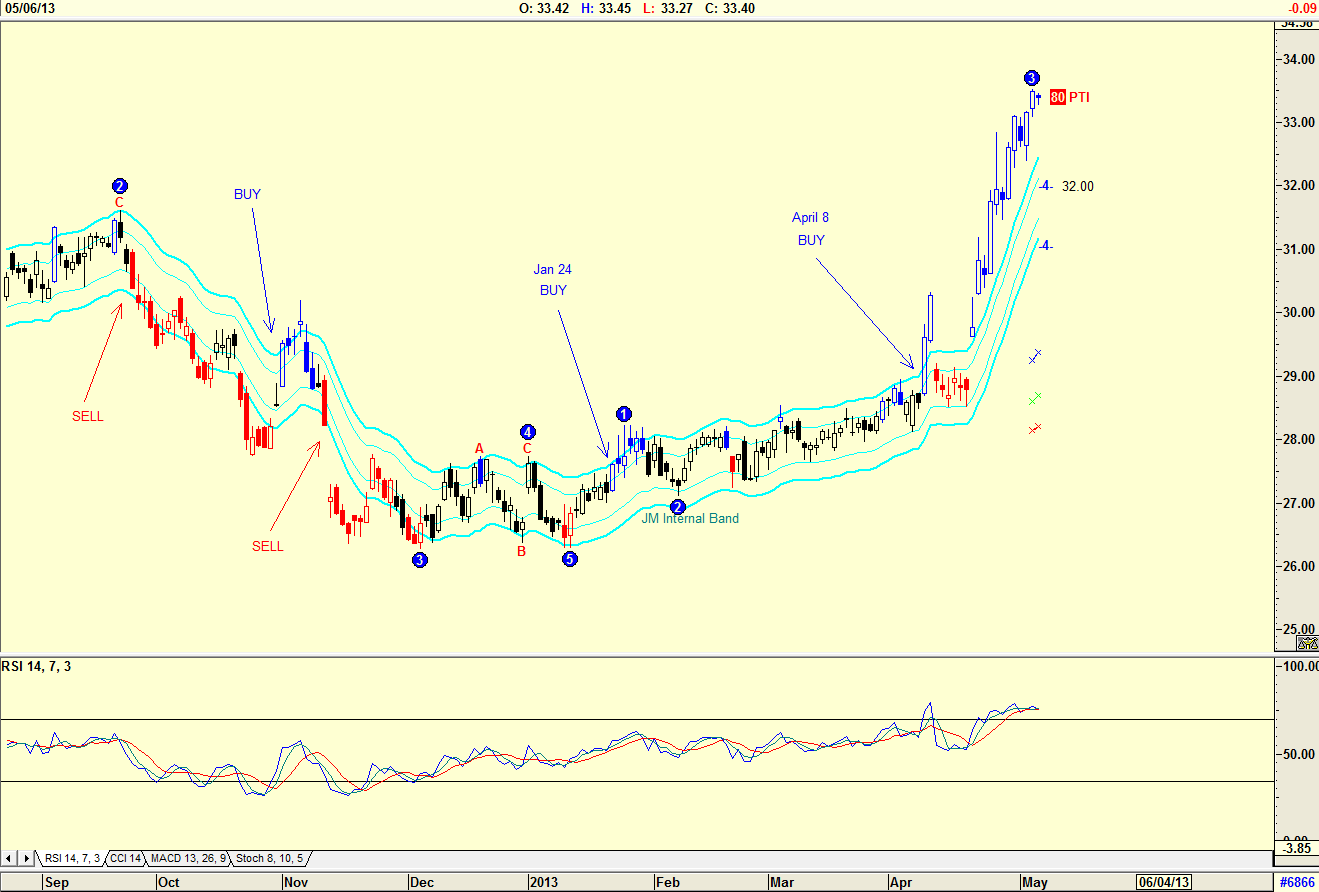 Figure 2. Daily chart.
Graphic provided by: AdvancedGET.
The daily chart in Figure 2 shows how the price gave a JM internal band buy signal on April , 2013. The JM internal band is a 15-period simple moving average offset by 2% positive and 2% negative. The RSI indicator is suggesting an overbought position, with a possible correction in price. The Advanced GET Elliott Wave count is suggesting a correction to $32.00 with an 80% Probability (PTI).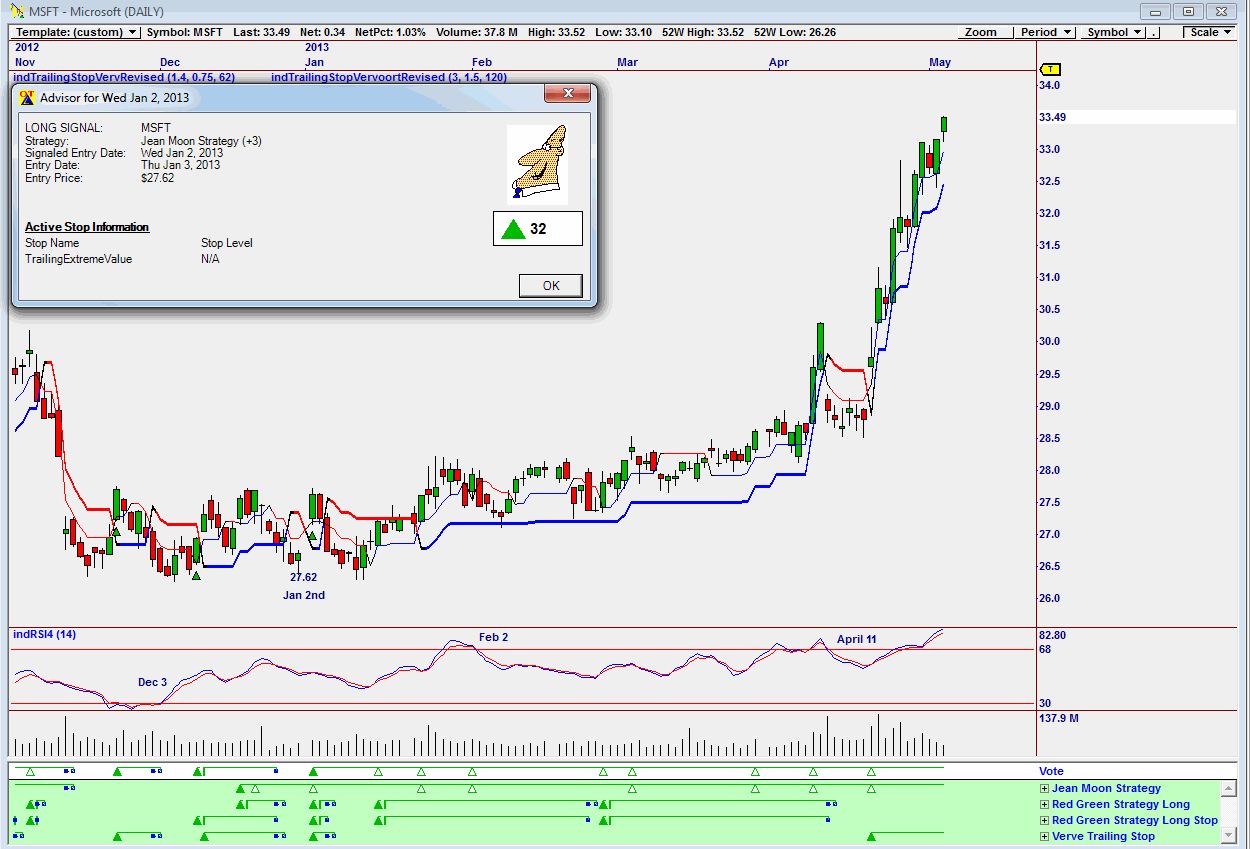 Figure 3. Omnitrader daily chart showing buy signal.
Graphic provided by: Omnitrader.
Looking at an Omnitrader chart in Figure 3, we see that a buy signal was given on January 2, 2013 when the price was $27.62. The vote signal buy is a summation of the four strategies shown in green below the vote line. The advisor rating was 32 — not a very strong signal. The share price then fell, but soon recovered. Note that the RSI indicator gave a buy signal on December 3, 2012, but gave a sell signal on February 2, 2013 and another sell signal on April 11, 2013.

With the RSI indicator at overbought levels, and with an advisor rating of only 32; with the mantra "Sell in May..." on my mind, I would not be a buyer of Microsoft shares at present. I would prefer to wait and see what happens.


---
Koos van der Merwe
Has been a technical analyst since 1969, and has worked as a futures and options trader with First Financial Futures in Johannesburg, South Africa.
| | |
| --- | --- |
| Address: | 3256 West 24th Ave |
| | Vancouver, BC |
| Phone # for sales: | 6042634214 |
| E-mail address: | petroosp@gmail.com |
---
Click here for more information about our publications!
Comments
PRINT THIS ARTICLE