PRINT THIS ARTICLE
TECHNICAL ANALYSIS
---
Southern Copper Corp.: Some More Bounce Left
04/24/13 05:05:35 PM
---
by Donald W. Pendergast, Jr.
---
Shares of Sothern Copper Corp. (SCCO) have rallied nicely since making a minor cycle low, with perhaps a bit more upside to go.
Security:
SCCO
Position:
N/A
Of the two major copper mining stocks, Freeport McMoran Copper and Gold (FCX) and Southern Copper Corp. (SCCO), it's the latter stock that seems to make the smoothest, most tradable swings over the course of a typical year — and the past year has seen plenty of solid tradable swing and/or trending moves in this Phoenix, AZ — based miner's stock. Although SCCO's daily trend is clearly down — for the time being — dropping down to its 120-minute chart reveals a strong rally still in progress, one that should provide a low-risk shorting opportunity once it fizzles out. Here's a closer look now.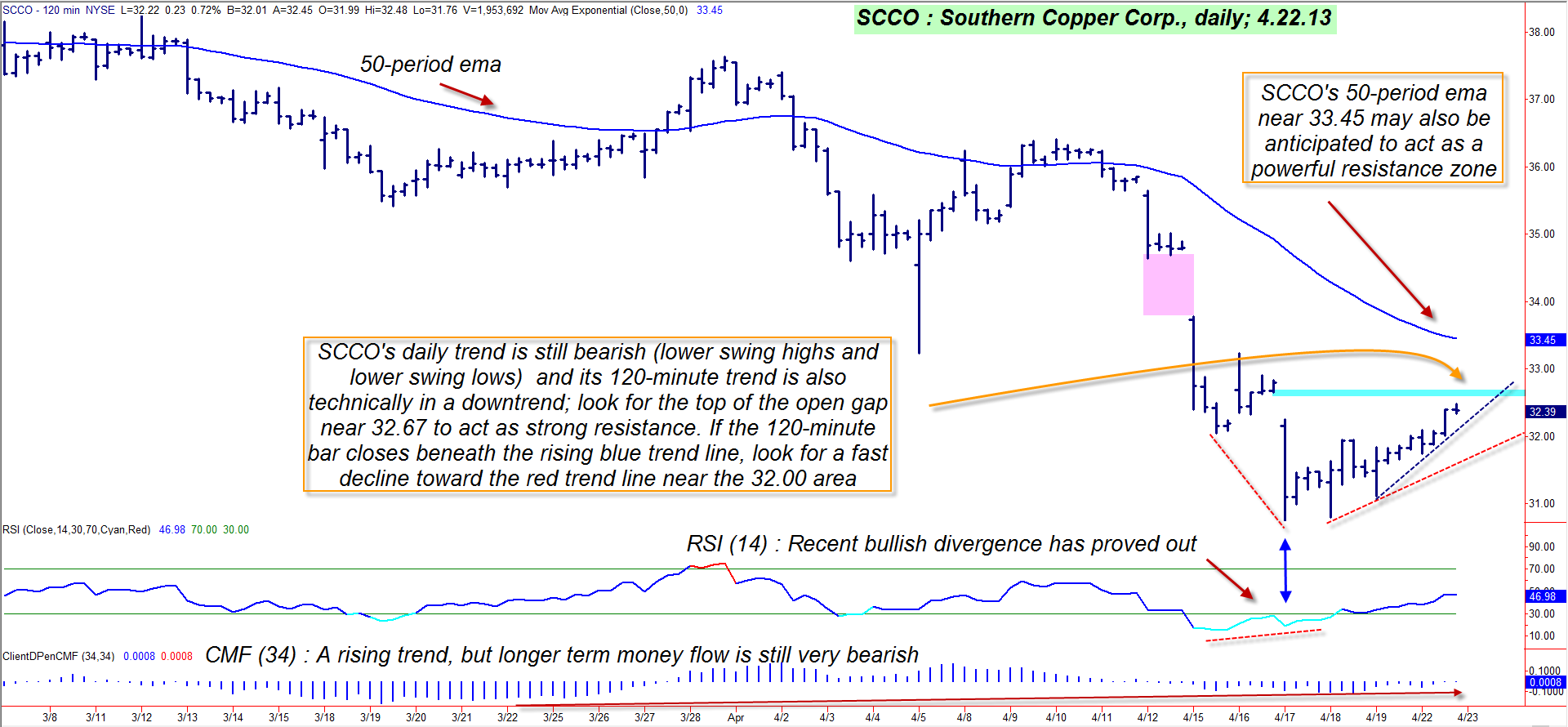 Figure 1: SCCO's latest rally may soon meet strong resistance in the 32.67 to 33.45 area before turning lower.
Graphic provided by: TradeStation.
SCCO had a very nice run higher after its major multicycle low in late May 2012; the stock charged higher by more than 51% after making that low, finally peaking out at 42.03 on January 23, 2013. Since then, SCCO has given back a lot of those gains, tumbling by about 27% into its April 17, 2013, cycle low price of 30.07. Glancing at SCCO's 120-minute chart (Figure 1), it's easy to see the steady uptrend that has developed, and to an untrained chartist it might just appear that the stock could run a bit higher from here. Skilled technicians, however, will take one look at this chart (and its daily chart - not shown) and quickly realize that SCCO's current swing move higher is likely running on borrowed time, and here's why:

1. SCCO is trading just below the upper end of its most recent bearish gap zone; typically, once an open gap is filled after a sizable rally on a particular time frame, the stock will quickly reverse direction.

2. Both the 120-minute and daily charts for SCCO confirm that its long term money flow trend is still bearish; this means that this rally on the 120-minute chart is mostly short covering rather than serious accumulation by the "smart money" interests.

3. There was a successful bullish divergence identified by the 14-period RSI on the 120-minute chart; however, there is no such positive divergence indicated by the 14-day RSI on SCCO's daily chart. All told, the charts are suggesting that SCCO is nearly certain to meet up with strong resistance somewhere around the 32.67 area (the top of the latest open gap), and if not there, then somewhere near the stock's declining 50-period EMA (blue line).



Figure 2: Most of the stocks in the metals mining group have poor comparative relative strength vs. the S&P500 over the past 12 months.
Graphic provided by: TradeStation.
Graphic provided by: TradeStation Radar Screen.
SCCO has poor comparative relative strength vs. the S&P500 (.SPX) across numerous time periods and probably isn't on too many mutual fund managers short list of "must own" stocks at the moment; in fact, once the blue uptrend line is violated to the downside (closing basis) it is likely that the stock will make a fast run south toward the red trend line near 32.00 — if not lower. So here's a basic trading plan for SCCO:

1. Go short on a sell stop market order a few ticks above the low of the bar that finally closes below the blue trend line.

2. If filled, begin running a two-bar trailing stop of the 120-minute highs.

3. If 32.00 is reached, cover half your position and let the rest run until the trailing stop takes you out of the trade.

Since this is a significantly smaller time frame than a daily chart offers, be sure to keep your per-trade risk small on this setup — preferably around .5 to .75% or so of account value at risk. Trend line breaks can be a great way to help time an effective short term trade entry, and in this example of SCCO, it looks like a trade setup that skilled traders may want to seriously consider taking. Trade wisely until we meet here again.


---
Donald W. Pendergast, Jr.
Freelance financial markets writer and online publisher of the Trendzetterz.com S&P 500 Weekly Forecast service.
Title:
Market consultant and writer
Company:
Trendzetterz
Address:
81 Hickory Hollow Drive
Crossville, TN 38555
Phone # for sales:
904-303-4814
Website:
trendzetterz.com
E-mail address:
support@trendzetterz.com

Traders' Resource Links

Trendzetterz has not added any product or service information to TRADERS' RESOURCE.
---
Click here for more information about our publications!
PRINT THIS ARTICLE