The stocks of companies involved in gold, silver, and copper mining are generally a volatile bunch, full of surprises and frequent fakeout/shakeout moves as they seek to determine their respective near-term and long-term trend directions. With the giant intraday sell-off in key gold/silver mining stocks (and in the physical gold and silver markets, too) taking the Gold Bugs index down by nearly 8% on April 15, 2013, traders are left wondering if this is "the" final, washout low prior to a substantial rebound rally or if the stocks from this group are destined to get hammered even further. Here's a look now at a giant miner's stock, one that has one foot each in the gold mining and copper mining camps.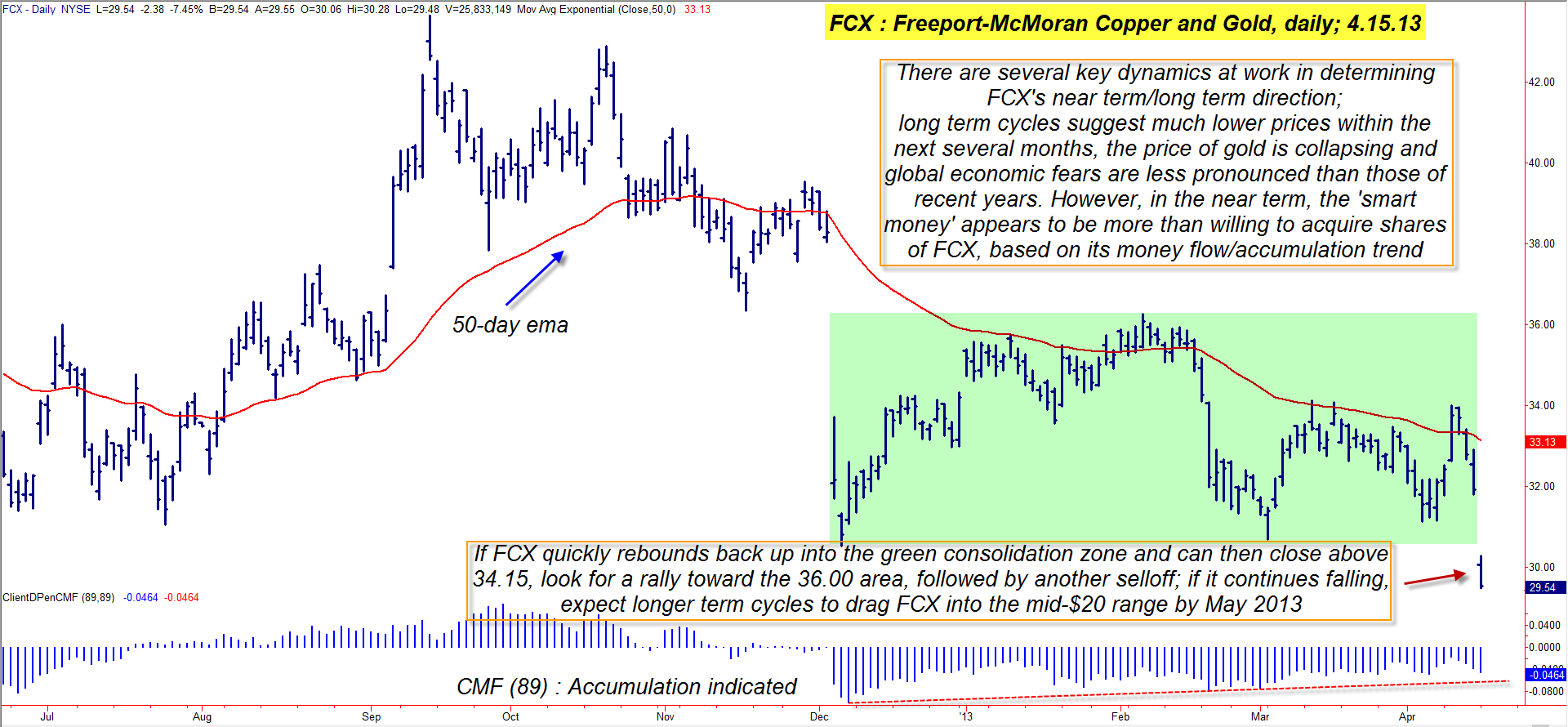 Figure 1: With FCX gapping down below its key 30.00 support level, traders need to watch the stock to see if this is a 'bear trap' prior to a rally or if it's a sign that high-degree, bearish price cycles are intent on moving FCX down to much lower prices through the spring of 2013.
Graphic provided by: TradeStation.
Freeport McMoran Copper and Gold (FCX) spends a lot of time in choppy consolidations and short-term trends, more than some of its smaller cap mining brethren, but it can and does break out into large trending moves once or twice a year, on average. The stock has spent the last 4 1/2 months in a large trading range pattern (green shaded box in Figure 1) but has now gapped lower out of the pattern, taking out a key support level near 30.00; with the price of gold and silver also off by about 7%, it's not hard to understand why traders and investors (not to mention institutions) are selling out of FCX and other gold mining shares, looking to deploy capital into safer havens. But a closer look at FCX's daily chart in Figure 1 reveals that the so-called "smart money" interests in the market had actually been accumulating FCX since it made a major multicycle low in early December 2012. The 89-day Chaikin Money flow histogram (CMF(89)) at the bottom of the chart depicts this accumulation very well, and it will be fascinating to see if this latest gap lower by FCX is simply a major fakeout/bear trap prior to a substantial rally, or not. Traders need to watch for either of these following two scenarios to unfold in FCX:

1. The stock quickly reverses from its April 15, 2013 lows and manages a daily close back in the green consolidation zone, followed soon after by a rise above its last swing high of 34.00. If this happens, the bulls will be back in firm control of FCX — for the time being.

2. If FCX continues to plummet, it means that the long term cycles in the stock — several of which are not scheduled to bottom until late May/early June 2013 — are now the dominant forces driving FCX to substantially lower prices. In such a case, any rallies will be short-lived and dangerous to trade until after these high degree cycles finally bottom out.



Figure 2: Of all the S&P 100 index (.OEX) stocks, FCX is the one being hammered the worst as of April 15, 2013.
Graphic provided by: TradeStation.
Graphic provided by: TradeStation Radar Screen.
Playing FCX here might be a bit tricky, but here are a couple of ideas you may wish to consider:

1. On a daily close above 34.00, consider selling a May '13 FCX $30.00 put option; the bid/ask spread is excellent and the open interest figure is nearly 25,000 contracts. Manage the trade by taking profits if the option declines in value by 50% or buy it back for a loss if it rises in value by 80-90%.

2. Short sellers of the stock might want to watch to see if FCX can rally back up into the green zone and then start to sell off hard again. On a drop below 29.00, consider shorting the stock, running a two-bar trailing stop of the daily highs until final stop out. If the long term cycles apply lots of pressure to FCX, there is a good chance of a profit on such a short setup. Risk only 1% of your account value if shorting the stock and remember to trade wisely until we meet here again.