In less than two weeks time, shares of Apache Corp. (APA) have taken a major hit, plunging by more than 14% since February 13, 2013. Various cyclical and money flow measures also suggest that the selling onslaught may still have a ways to go until a solid intermediate-term bottom may be seen. Here's a closer look now at this major oil exploration/production company's daily chart and technicals.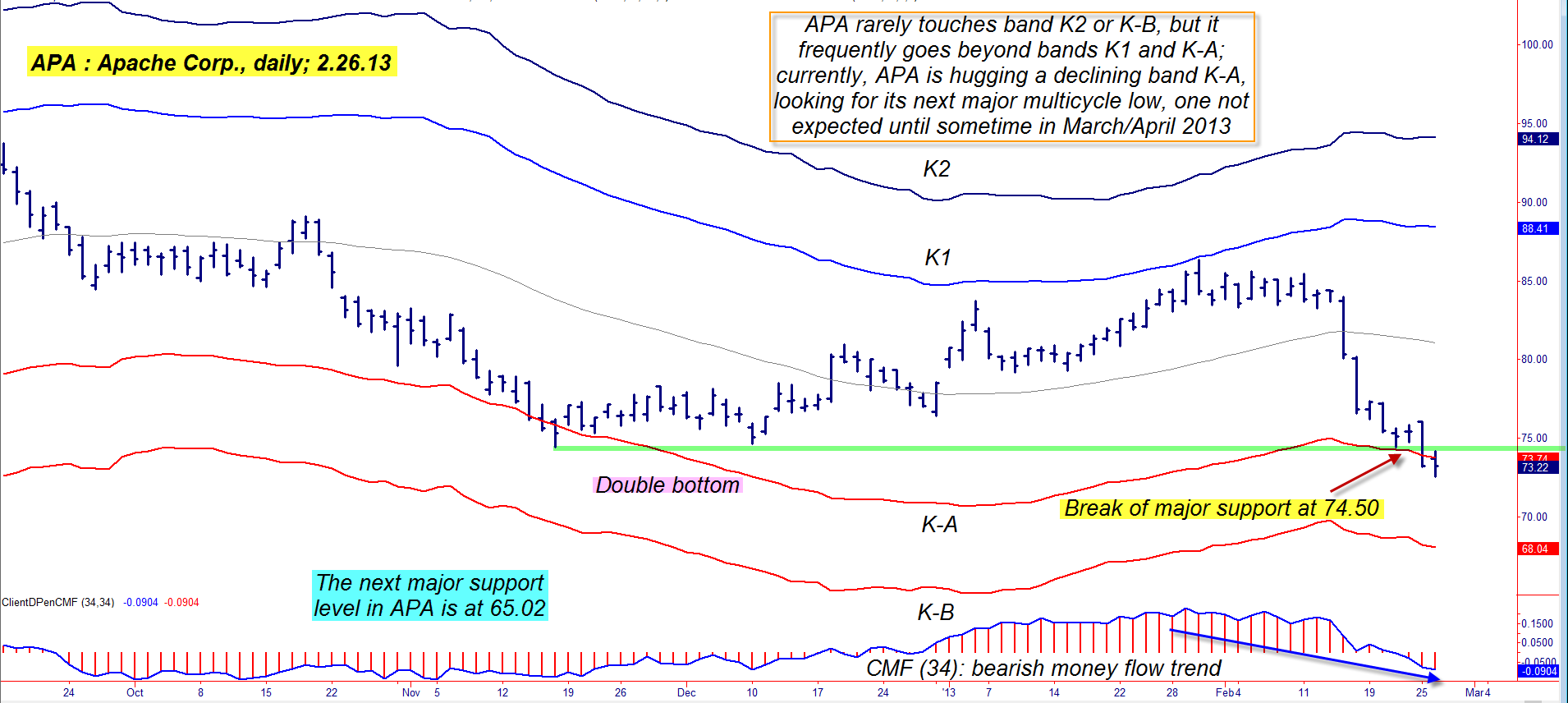 With APA now having failed to make its 40-day cycle low by February 23, 2013, it appears that the stock's 22- and 42-week cycles are the primary bearish drivers in this major energy sector issue. A major low is now anticipated sometime between late April and early May 2013.
Graphic provided by: TradeStation.
For energy sector stock bears, one glance at APA's relative strength performance table should be more than enough to entice them into getting positioned to profit from this major energy player's long-term downtrend. The stock is underperforming the .SPX in the latest 4-, 13-, 26-and 52-week time periods and is also one of the worst performers among high daily volume S&P 100 index (.OEX) issues. APA's daily Keltner band chart shows that the stock is now moving lower with band K-A, and past history shows that once this occurs, a sizable correction is underway; the recent break of prior double bottom support at 74.50 also confirms the bearish nature of APA's latest selloff. Yet another, and even more telling, bearish confirmation is that APA's plunge has completely ignored the time windows in which it was anticipated to bottom on four consecutive cycles (the 5-, 10-, 20- and 40-day nominal cycles), all of which had been forecasted to bottom together by no later than February 23, 2013. Of further note is that those cycles had each allowed for a decline as deep as 62.66, a price level not far above APA's next super support level of 65.02.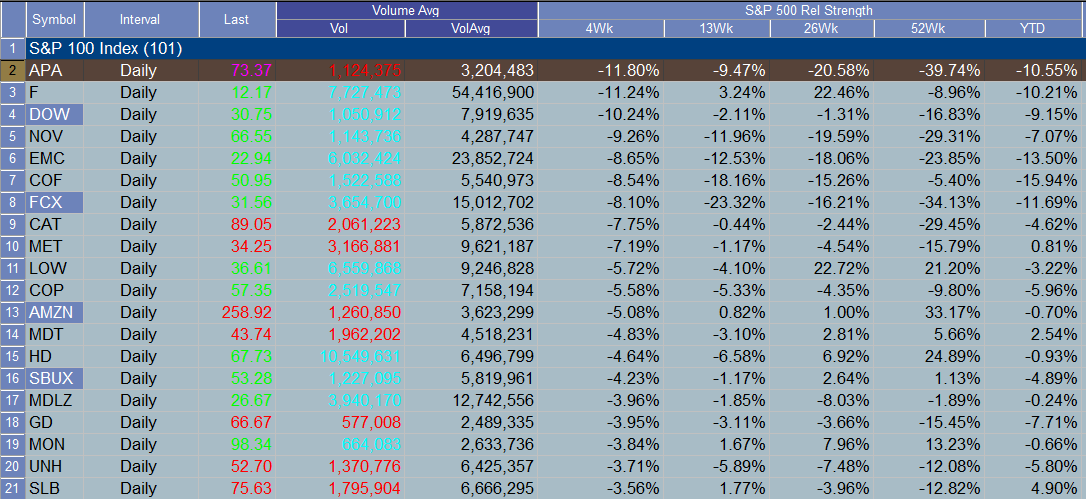 Apache Corp. (APA) is one of the worst-performing stocks in the .OEX over the past year. More downside is likely for the stock into early spring 2013.
Graphic provided by: TradeStation.
Graphic provided by: TradeStation Radar Screen.
APA's medium-term and long-term money flows are both in negative territory, so as we look at the entire technical landscape of the stock, it doesn't take much imagination to envision plenty more downside, especially since its next major cycle low combo isn't due until late April/early May 2013. Once that 'big' cycle low is finally in place, the bulls should have numerous opportunities to go long for a few months. But until then, the best way to play APA's current malaise is dirt simple:

1. On a break below 72.62, buy the April '13 APA $75.00 put option. This in-the-money (ITM) put has open interest of more than 1,000 contracts, a good bid/ask spread and daily time decay of only $2 per contract.

2. Use the 70.00 price zone as your initial profit target as three minor degree cycles are still due to bottom during the first seven to 10 days of March 2013. This would be a great price target to take full profits (conservative traders could take half at 71.25 and the rest at 70.00) as a minor rebound would not be surprising during early March 2013.

Trade management is also simple enough; use the above mentioned profit targets as a guide if APA declines as anticipated and if you see the puts decline in value by half then sell them at a loss. You can also use a 3-bar trailing stop of the daily highs if that will help you manage the position. This is a moderate-risk trade, so try to limit account risk to 1 or 1.5%, maximum, no matter how much you agree that APA is still in for some tough sledding as winter finally begins to fade.