Freeport McMoran Copper and Gold (FCX) shares are among the most volatile of all stocks in the S&P 500 index (.SPX) and if there is one thing that a trader can depend on, it is that it does not usually take too long for this widely-followed metals miner's stock to embark on a tradable swing and/or trend move. And right now, price cycle analysis is alerting traders that FCX is at or very close to completing a tradable multicycle low, one with manageable risk. Here's a closer look.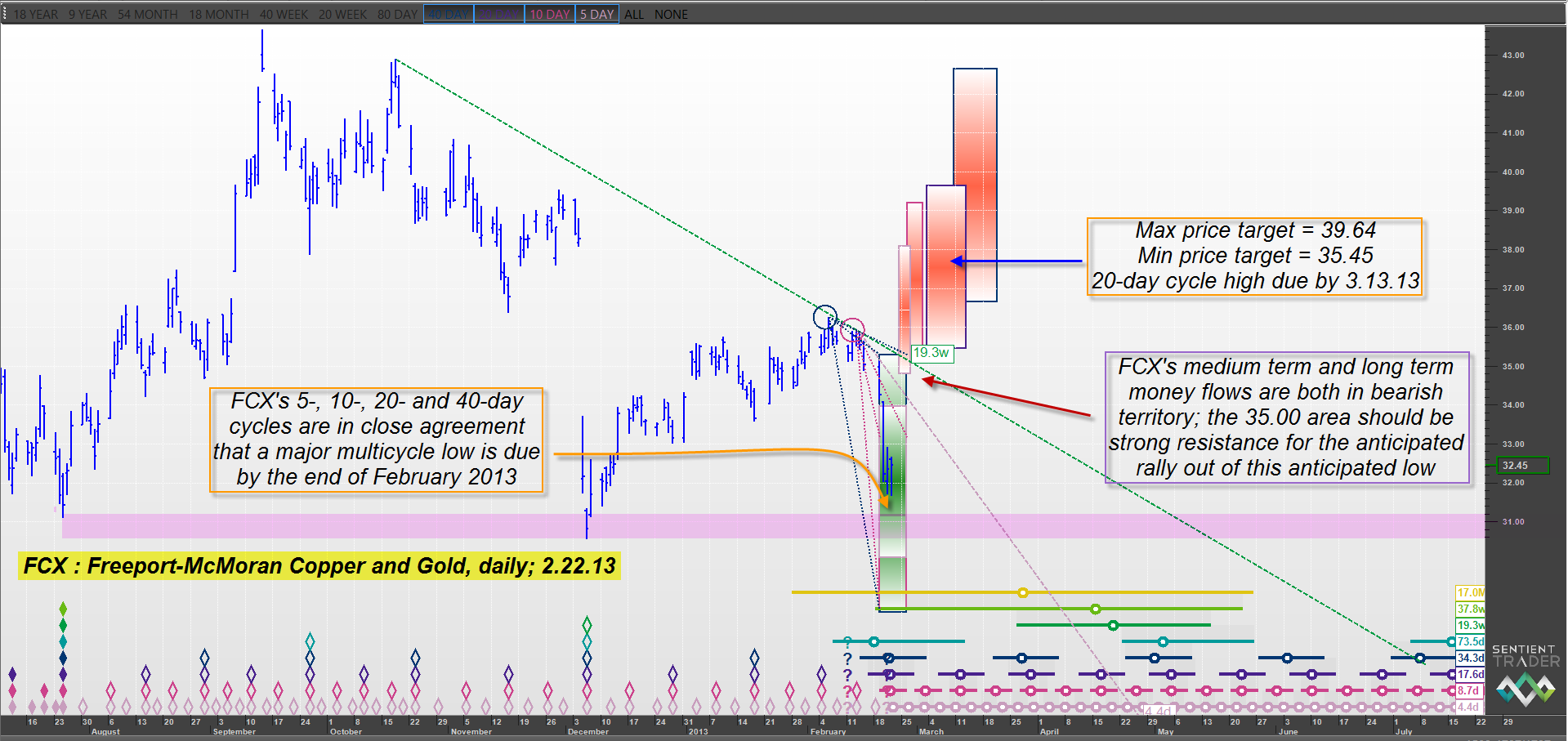 With a major multicycle low anticipated to form in the vicinity of FCX's major support level of 31.00/32.00, skilled put sellers should have little trouble in finding a near term OTM put to sell; look for the 35.00 area to present strong resistance to a rally from the lows.
Graphic provided by: Sentient Trader.
Within the past seven months, FCX completed two major multicycle lows; the first one occurred on July 25, 2012 and the next one on December 6, 2012. Both of these major lows produced several strong swing trading opportunities for bullish traders, and with yet another major swing low just about to (if it hasn't already) complete, now is a good time to size up FCX's probabilities of making yet another series of bullish swings over the next few weeks. The pink support zone confirms that the 31.00 to 32.00 area is strong support in this stock, and with its 5-, 10-, 20- and 40-day price cycles now in near-perfect agreement that a major low is due (by the end of February 2013), a very nice, low-risk put selling opportunity appears to be shaping up before our very eyes. Here are a few simple guidelines to help you set up a low-risk put sale in FCX:

1. If, by the last trading day of February 2013, FCX has respected its major support level of 31.00 and has also managed a daily close above 32.92 and

2. You also see that other key mining stocks like Southern Copper (SCCO), Newmont Mining (NEM), Hecla Mining (HL) and Agnico Eagle (AEM)have begun to bottom and reverse upward

then

3. Consider selling a near term, out-of-the-money (OTM) FCX put option like the March '13 FCX $30.00 put. The strike price is 'safely' below the major support levels of 31.00/32.00 and with a very short lifespan of 2 1/2 weeks till expiry, daily time decay will ramp up dramatically between now and March 16, 2013, which is March options expiration date. Open interest in the put is greater than 2,100 contracts and its bid/ask spread is excellent at only .01.
More aggressive traders can also opt to sell the March $31.00 put, which also has a small bid/ask spread and an incredibly large open interest of more than 17,000 contracts as of this writing.



Like many other key metals mining stocks, FCX has poor overall relative strength performance vs. the .SPX over the past year.
Graphic provided by: TradeStation.
Graphic provided by: TradeStation Radar Screen.
Trade management is simple; on a rise above 32.92, sell either of those March '13 FCX puts and look to close them out for a profit if they decline in value by half or if the
stock hits 35.00. Those selling the 30.00 put should buy it back if the option increases in price by 85% or if FCX declines below the 30.85 level. Traders selling the 31.00 put should also close it out if it increases in value by 80% or if FCX closes below 31.20. Those are general guidelines of course, but the idea with put selling is to grab profits on the first decent higher price move after selling the option, since you really cannot count on there being a subsequent rally should you fail to take reasonable, commonsense profits when they appear. Risk control is even more important in these kinds of trades; if the expected rally just isn't happening or the stock actually tries to drop back toward major support, you can't afford to let the option double or triple in price, much less close in-the-money. Aggressive, skilled put sellers may choose to risk as much as 2% on this trade, but more conservative types should risk no more than 1%, given that the medium-term and long-term money flow trends in FCX are still technically considered to be bearish. Trade wisely until we meet here again.