Like their large-cap counterparts in the oil services industry group, stocks in the fast and furious semiconductors group can also go on medium- to long-term tears that can help savvy traders and investors make a lot of cash in a very short amount of time -- but only if they can manage to stay on the "right" side of the market in the stocks they choose to trade from these groups. Here's a look at Atmel Corp. (ATML) shares; its daily chart (Figure 1) reveals that its latest rally after a sharp selloff may be nothing more than a fakeout prior to another pullback to support, while many major semiconductor stocks have put in grim performance results (versus the .SPX and other key stock indexes) over the past 26- and 52-week periods (Figure 2).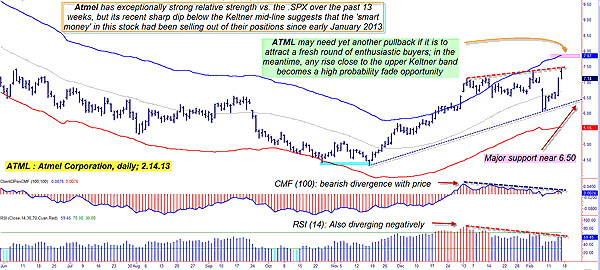 FIGURE 1: ATML, DAILY. Atmel's latest rally may have already been shot down in flames. Judging from its extremely bearish intraday reversal on Friday, February 15, 2013, the stock may now be heading for support near $6.71 and then $6.50.
Graphic provided by: TradeStation.
After shedding more than 55% of its value between February and November 2012, ATML has managed to stage a strong rebound; coming up out of its late 2012 multicycle lows, the stock cranked steadily higher, rising from $4.37 to $7.13 between November 16, 2012, and January 3, 2013. ATML consolidated in a range for the next five weeks until a sudden selloff appeared on February 7, 2013 -- a clear confirmation that the smart money had already been unloading their holdings of the stock after the run from $4.37 to $7.13 had been completed.

This can easily be confirmed with one glance of the 100-day Chaikin money flow (CMF)(100) histogram below the price chart. Note the sharp dropoff in the histogram height during the consolidation and that even as ATML quickly bottomed and surged higher -- to a new eight-month high -- that the money flow histogram only managed a pathetically low new peak. Note also that the stock's 14-day relative strength index (RSI) histogram is also confirming the negative divergence with price. ATML is reversing lower, and it is possible that one of three different trading scenarios may play out over the next week or two:

1. An intraday break below $7.00 may be the trigger that sets off even more selling, with initial strong support near the Keltner midline near $6.71.

2. The stock catches a fresh bid as it rises back above Friday's intraday high of $7.46, drawing in enthusiastic buyers who missed the great November-January rally; near the higher Keltner channel (around $7.88-7.90) the rally disintegrates, with a major trend reversal following soon afterward.

3. If either of the above scenarios manifest, the stock keeps trending lower until it arrives at the strong support offered by the rising uptrend line -- currently near $6.50.

Of course, literally anything can occur in the stock market at any time, and other outcomes are possible, but those should be three scenarios (or something very similar) that have a high probability of occurring over the next one to three weeks in this very high-beta semiconductor issue.



FIGURE 2: SEMICONDUCTORS. Many major semiconductor stocks have put in grim performance results (versus the .SPX and other key stock indexes) over the past 26- and 52-week periods.
Graphic provided by: TradeStation.
Graphic provided by: TradeStation Radar Screen.
If scenario 1 plays out, check to see if the medium- and long-term money flow histograms exceed their respective peaks made when ATML hit $7.13 on January 3, 2013. If they haven't, then you may have just found yourself a super-high probability short setup, one that can be played by shorting stock or by purchasing put options. And if you see the large-scale decline down to the trendline support area (say, $6.50 to $6.65) you'll also want to check the same money flow histograms to make sure that they're both still above their respective zero lines at that time. If they are, then you may have the beginnings of what could amount to a solid long swing trade entry.

The stock market is not always given to freely tipping off traders as to its next move, but by using wise interpretation of Keltner channels, money flow trends, and key support/resistance levels, you'll have a useful edge in nearly any market situation you may encounter. Trade wisely until we meet here again.