While many oil service industry group stocks have been enjoying terrific rallies since late 2012, shares of National Oilwell Varco (NOV) have been severely lagging the performance of not only its peers but also of the Standard & Poor's 500 (.SPX). But with the stock now due to bottom on both its 10- and 20-day price cycles, a tradable rally is becoming more likely with every passing day. Here's a closer look now (Figures 1 and 2).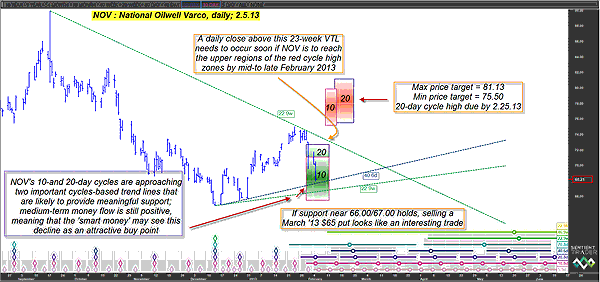 FIGURE 1: NOV, DAILY. National Oilwell Varco's (NOV) latest selloff may actually be helping set the stage for its next sustainable rally.
Graphic provided by: TradeStation.
NOV made a major cycle high in September 2012, peaking at $89.95, just before embarking on a nearly 28% decline that took 12 weeks to complete. Although the stock did manage to stage a minor rebound rally that recouped about 40% of the selloff, the bears wasted little time in selling short NOV, hitting it hard over the past three trading sessions. Ironically, this vicious selloff may actually be setting NOV up for a more sustained rally, one that could find both cycles-based and key trendline support in the area between 66.00/67.00.

Figure 1 tells this story best: the five-, 10-, and 20-day (the five-day time/price projections (TP) not shown) are all in near-perfect agreement that a multicycle low is due in NOV by February 12, 2013, and that the two trendlines intersecting the green TP boxes are most probably going to offer some amount of support -- support that a new rally may very well emerge from.

NOV's medium-term Chaikin money flow histogram (not shown) confirms that the smart money appears to be buying in on this latest decline, apparently confident of a rally higher from the 66.00/67.00 area to kick in soon. As anyone who trades oil services stocks already knows, these are equities that can stage abrupt reversals and make very sharp four- to seven-day swings that move very quickly.

For NOV to reach the upper regions of its red cycle high TP zones, the stock is really going to have to attract some heavy buying interest -- enough to enable a daily close above the 23-week VTL (see gold arrow) within the next week or so. While no one knows for sure if that will happen, short-term option traders can still make preparations to sell a near-term NOV put option once they see the stock hit and then bounce higher from either of the lower trendlines on the chart. A break above the high of the bounce bar would then become the trigger to sell a put option in hopes of snagging a quick profit if the bullish reversal gains traction.



FIGURE 2: NOV VS. OIL SERVICE. NOV has been significantly underperforming most of its oil service group peers over the past four-, 13-, 26-, and 52-week periods.
Graphic provided by: TradeStation.
Graphic provided by: TradeStation Radar Screen.
An interesting short put play for NOV might be to sell the March '13 NOV $65.00 put (only if and when you see the bounce setup previously described) (Figure 2). This put is well below both of the lower trendlines and is also beneath the lowest price projection for the five-, 10-, and 20-day cycles. This provides a measure of protection for the short put, even as its $3 per day/per contract time decay helps put even more of the odds for success in your favor.

Open interest is excellent at nearly 3,000 contracts and the bid/ask spread is very attractive, too. If filled on the short put, either buy it back at a profit if it declines in price by 50-60% or buy it back if it increases in value by more than 85%, or if NOV drops below $65.50. This is an above-average risk trade, as several key oil service group stocks may already be in the early stages of a trend reversal after more than two months of steady gains. Therefore, the account risk on this trade needs to be kept at 1%, maximum.

More conservative traders should probably take a pass on this one and wait for a more low-risk setup instead. As always, trade wisely until we meet here again.