Back when JB Hunt began his first venture into the trucking business (legend has the date circa the late 1950s), his operation was plain and simple: load trucks with the rice hulls from various Arkansas/Mississippi rice plantations and then haul them to the giant poultry farms/processing operations in Arkansas -- to be used for litter in gigantic chicken coops. As they say, somebody's got to get the job done -- and the chicken and turkey growers were only too happy to have this service available.

JB Hunt's business began to grow rapidly, and by the early 1960s, Sam Walton's Arkansas-based chain of discount merchandise stores had also begun their slow but steady path toward nonstop growth, offering Hunt's truckers an ever-increasing supply of truckload freight destined for Wal-Mart stores across the mid-South. When the trucking industry was deregulated in 1980, Hunt's truckload business really took off, and by the late 1990s, JB Hunt Transport (JBHT) had become one if the largest trucking and transportation logistics companies in the world.

While it's doubtful if Hunt knew how large the company bearing his name would eventually become, the success he was able to achieve truly shows that a person with a marketable idea, product, or service can literally write his own ticket if he works to maintain a creative, possibility-filled mindset even as he continues to fine-tune and develop his means of providing top-notch service to his customer base. (See Figures 1 and 2.)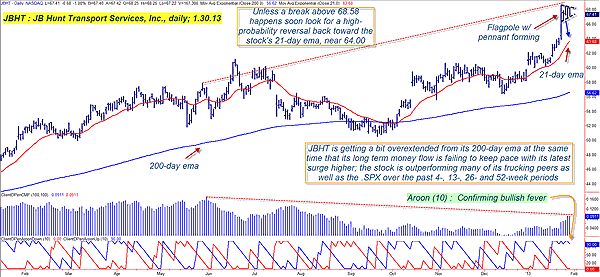 FIGURE 1: JBHT, DAILY. JBHT is manifesting bearish medium- and long-term money flow divergences, even as it has risen extraordinarily far above its 200-day exponential moving average.
Graphic provided by: TradeStation.
Needless to say, investors who got in on the initial public offering of JB Hunt shares (JBHT) back in the early 1980s did very well for themselves (especially prior to the 1987 crash), and there is still a fairly active market for the company's shares today. For the latest 50-day period, average daily trading volume has been nearly 800,000 shares per day.

JBHT has done very well over the 47 months since the entire stock market cratered in the wake of the global financial panic during 2007-08, rising from $18.14 on March 6, 2009, all the way to $68.58 on January 24, 2013 -- a rise of more than 278%. The stock's latest surge higher has formed what may eventually prove out to be a "flagpole with pennant" continuation pattern (very bullish), but for now it's too early to tack on a label.

An eventual breakout above $68.58 could bring in some additional late-stage buying even if the pattern fails to develop into a full-scale continuation move. One key technical that is warning of a possible near-term pullback is the 100-day Chaikin money flow histogram (CMF)(100); its latest peak is much lower than the one seen during the previous runup in the stock during 2012. Meanwhile, the stock is also getting a bit overextended from its 200-day exponential moving average (EMA).



FIGURE 2: TRUCKING. JBHT has been leaving many of its trucking buddies behind to eat dust, soaring over the past 52 weeks even as such competitors have actually declined in price.
Graphic provided by: TradeStation.
Graphic provided by: TradeStation Radar Screen.
JBHT has been outperforming most of its trucking peers -- as well as the Standard & Poor's 500 -- during the last 52 weeks; there is going to be a battle between the bulls and bears as this beautiful flag pattern plays out. Expect to see some fake moves in either direction before the stock truly decides its next major swing direction.

Traders may want to play "scalp the high" on a break above $68.58, looking to gain anywhere from 0.5% to 1% as late bulls pile in; a break below $67.20-67.00 may also set up a nice long put play, one using slightly in-the-money (ITM) puts with at least two to three months' time value.

The red 21-EMA near $64.00 would be a near-perfect price target for such a trade, as that's one of the first real support zones for JBHT. Whichever way you trade this key transportation issue, always remember to keep your per-trade risks small in relation to the size of your account, to follow your well-developed trading rules, and to be prepared, just in case the trade doesn't turn out exactly as planned.