After shares of State Street Corp. (STT) put in a double-bottom pattern last summer (June-July 2012), this major money center/investment banking firm's stock rallied slowly and steadily for the remainder of 2012. With the onset of the new year, however, STT printed a breakaway gap to kick off 2013 in a very bullish way, followed soon after by a continuation gap on January 18, 2013. The stock is now in the midst of a full-blown parabolic rise, one that is warning of a near-term pullback and correction. Here's a closer look now.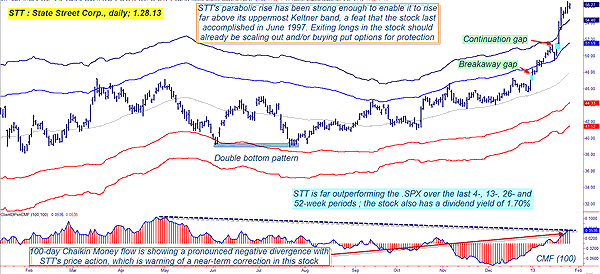 FIGURE 1: STT, DAILY. Whenever a stock goes parabolic and breaks above its upper Keltner band at the same time that its long-term money flow is showing a marked divergence from price action, you may want to prepare for a near-term pullback or correction.
Graphic provided by: TradeStation.
Keltner bands can be a very effective tool to help traders and investors identify high-probability market reversal zones, especially when combined with other technical tools. In Figure 1, a daily chart example of STT, we find that this large-cap financial sector issue has gone parabolic, breaking (and closing) above its upper Keltner band -- with seeming ease -- even as its long-term money flow histogram is failing to confirm the sustainability of its current bullish trend. The combination of these three chart/technical dynamics is shouting loud and clear that STT is due for some sort of a pullback, pause, and/or trend reversal in the days and weeks just ahead. Here's why:

1. Virtually all parabolic moves precede a sharp pullback or trend reversal; parabolic runs identify the late-stage mania in a given market, as those who missed the majority of the rally pile into the stock just before the rally terminates.

2. Moves beyond the upper Keltner channel typically do not last too long and are also reliable precursors to a pullback or correction.

3. Negative long-term money flow divergences are also good predictors of an upcoming reversal, particularly when the first two dynamics are already in place.

Taken as a whole, this chart suggests that current STT longs should already be preparing for either:

A. An exit strategy for swing traders, one that uses a fairly close trailing stop of no more than two to three bars.

B. A put option protection for buy & hold investors strategy; puts that are slightly out-of-the-money (OTM) and that have at least three months of time value look to be a wise insurance policy for those who wish to hold their STT shares longer term.

A sharp corrective move within the next two weeks would greatly inflate the value of such long puts and could offset the open losses in the stock to a large degree, particularly if implied volatility rises during such a decline.



FIGURE 2: STT VS. SPX. State Street Corp. (STT) is far outperforming the .SPX over the past four-, 13-, 26-, and 52-week periods.
Graphic provided by: TradeStation.
Graphic provided by: TradeStation Radar Screen.
The May '13 STT $55.00 puts are going for about $1.97 as this is written. The bid/ask spread is about $0.04, daily time decay is only $1 per day/per contract, and open interest comes in at 370 contracts. Not surprisingly, there is also heavy open interest at the $52.50, $50.00, and $49.00 strikes as well; apparently more than a few investors and institutional holders of STT are concerned about the likelihood of a near-term decline, too. (See Figure 2.)

If you do decide to buy puts to protect an existing long position, be sure to weigh the cost-effectiveness of such insurance and have an exit strategy in place just in case STT decides to fool all the technicians and keep on climbing for the next month or two.