Shares of The Manitowoc Co. (MTW) have enjoyed an impressive rally since emerging from a very volatile bottoming pattern in the spring and summer of 2012 and are up by more than 78% since July 24, 2012. At present, the stock is outperforming the other major players in the construction/agricultural machinery industry group over the past 26 weeks and has also been very strong during the past four-, 13-, and 52-week periods. For the year, MTW is up by 3.14%, yet another sign of strength. Here's a look at MTW's daily chart (Figure 1), where a low-risk, modest reward covered-call opportunity now exists.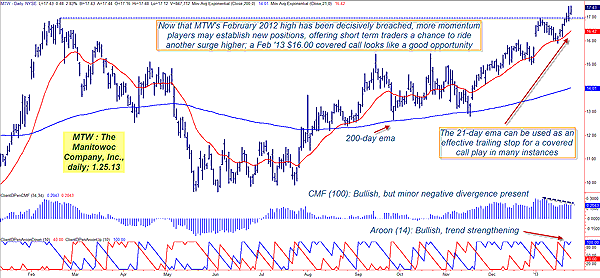 FIGURE 1: MTW, DAILY. Now that the key resistance of 16.97 has been cleared, shares of Manitowoc (MTW) appear to be offering a low-risk, near-term covered-call setup.
Graphic provided by: TradeStation.
Companies that make the machinery needed to grow and harvest food, to extract energy and minerals from the earth and to build roads, bridges and buildings frequently see their stock prices move in frighteningly fast trends -- higher or lower -- depending on the health of the various national economies that they produce and/or market their equipment in.

For example, when the price of gold, silver or copper is on a tear, demand for extraction-related machines soars, and so does the price of the stock of companies that make the trucks, drill bits, conveyors, and excavation gear needed to get the metal out of the ground. When giant oil or gas reserves are tapped for the first time, the same thing typically happens to the stock of oil service companies, and so forth. In Manitowoc's case, the demand for the heavy-duty industrial cranes and food service/food storage equipment is strong and the company's shares have reflected that by rising nearly 80% in six months.

With MTW having just cleared a significant resistance level -- the February 2012 high of 16.97 at a time of bullish long-term money flow trends -- one of the simplest, lowest-risk trading opportunities appears to be a near-term covered-call trade, one that has the power of a strong underlying trend supporting such a trading venture.



FIGURE 2: MTW. MTW has gained more ground during the past 26 weeks (vs. the .SPX) than its industry group peers.
Graphic provided by: TradeStation.
Graphic provided by: TradeStation Radar Screen.
When looking for an attractive covered-call play, you first want to make sure that your chosen stock has good average trading volume (a million shares a day, minimum), high comparative relative strength vs. the .SPX and .NDX, and high relative strength vs. its industry group peers. The stock should also be trading above its 21-, 50-, and 200-day exponential moving averages (EMA) and have a bullish long-term money flow trend. See Figure 2.

Finally, you also want to see some sort of trend strength confirmation; if a stock's 10- to 14-day relative strength index (RSI) is above 60 and/or its 10- to 14- day AroonUp indicator is at or near 100.00, then you may very well have located a suitable covered-call (CC) candidate. MTW scores high marks in each of those categories, so all that's needed is to find an appropriate covered call, one that uses a call option with three to six weeks of remaining time value.

Since it's a good idea to use a trailing/initial stop, buying a February '13 MTW $16.00 CC allows for the use of a 21-day EMA as a trailing stop for the position; more aggressive traders can opt for a 40- or 50-day EMA instead. This is an in-the-money CC, one that will turn a profit at expiration as long as MTW closes ITM on February 16, 2013.

The bid-ask spread is decent and open interest is 520 contracts. High relative strength stocks can continue to rise far beyond what novice investors and trader believe to be normal and that's part of the edge of this particular CC play. Risk no more than 1% to 2% of your account equity on this or any other trade and stay safe in the market until we meet again.