Now that shares of Caterpillar, Inc., have finally broken out of a six-month long trading range, the bulls in this large-cap machinery giant may get another chance to ride a strong trend higher, for the first time in more than a year. And with plenty of smart money already having established positions in CAT (and who also appear to be continuing to accumulate the stock) during the second half of 2012, this major industrial sector stock might very well be able to tack on gains of at least 20% within the next couple of months. Here's a closer look at the technical rationale for such a price forecast now.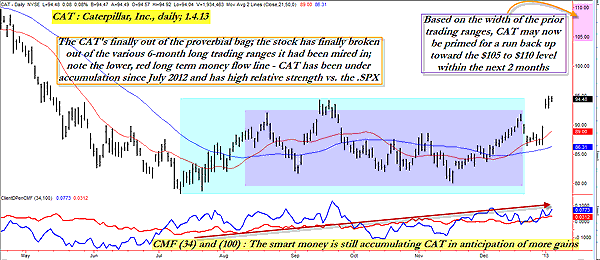 FIGURE 1: CAT, DAILY. Always check the long-term money flow trend of any stock you trade, especially on daily and weekly time frames. Here, CAT has been under steady accumulation since July 2012.
Graphic provided by: TradeStation.
For daily and weekly time frame traders, one of the better technical tools to use is the Chaikin money flow indicator. This volume/price-based calculation can help you more accurately determine the following market dynamics:

1. If a stock is under accumulation
2. If a stock is under distribution
3. If money flows are manifesting a bullish divergence with price action
4. If money flows are manifesting a bearish divergence with price action

In Figure 1, we see that CAT's red long-term money flow line (CMF)(100) is confirming a steady but slow accumulation by the smart money interests in the market. Note also that the shorter-term 34-day Chaikin money flow (blue line) indicator is trending higher, too. The strongly bullish breakaway gap on the first trading day of 2013 -- one that finally cleared CAT's large recent trading ranges (shaded areas on chart) -- is a clear confirmation that the smart money has likely already established major positions in the stock and are confident that a sustained run higher is probable.

Now, of course, most retail traders (including this writer) don't have the deep pockets needed to establish substantial positions (in the hundreds of thousands of shares or even more) in a stock like CAT, but we can learn how to piggyback on their coattails by putting on relatively low-risk covered-call trades that can benefit from the high momentum and positive money flow trends in this issue, content to make modest but steady gains with low overall risk. And even when such buy-write trades don't work out, the loss is always kept to a minimum so we can always come back and take another shot on attractive large-cap momentum/breakout plays. See Figure 2.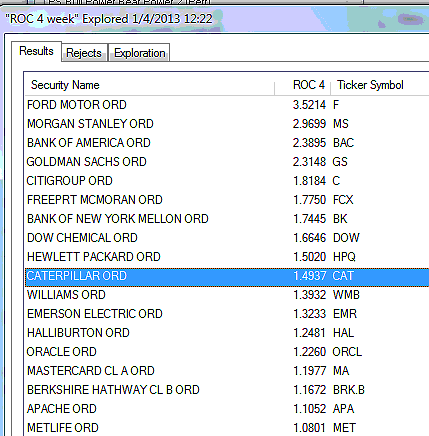 FIGURE 2: OEX. CAT is easily outperforming the .OEX over the past four weeks.
Graphic provided by: MetaStock.
Graphic provided by: MetaStock Explorer.
One of the most interesting near-term covered-call plays in CAT right now is the February '13 $92.50 setup; the calls have a close bid-ask spread, open interest of nearly 6,200 contracts and a daily time decay (theta) of $3 per contract. This is an in-the-money (ITM) call, and by using the red 21-day simple moving average (SMA) shown on the chart as your de facto stop-loss for the entire position, you'll be able to know where your get-out point is at any given time. A daily close below that 21-day SMA is your signal to close down the entire trade, no questions asked.

However, if CAT continues to grind higher into mid-February (options expiration being February 16, 2013) and you don't get stopped out, you'll most likely have the stock called away and keep all of the profits you collected from the call (about $405 as of this writing), walking away with a net profit of about $185 before commissions and slippage.


With such bullish money flow and trend characteristics driving CAT higher now, near-term covered-call plays look like a slam-dunk proposition, offering low-risk and reasonably attractive return potentials. Be sure to keep your account risks at 2% of your account value, regardless of how bullish you are on this or any other stock. Trade wisely until we meet here again.