The past few years have been especially unkind to PC and notebook manufacturers, with few getting hit harder in the value of their stock price than Hewlett-Packard Co. (HPQ). As more and more consumers rely on mobile computing devices and applications, the formerly invincible "WinTel" stranglehold on computer software and hardware now seems to be fighting for its life as its market shares dwindles. Be that as it may, notebooks and PCs aren't likely to disappear (over the next 10 to 20 years, anyway), and HPQ may still have a profitable future if it can continue to adapt and reinvent itself in a rapidly changing computing environment. HPQ has been sold off mercilessly for more than two and a half years now, but there is a very high probability of a bullish trend reversal in the stock within the next few weeks. Here's a closer look now.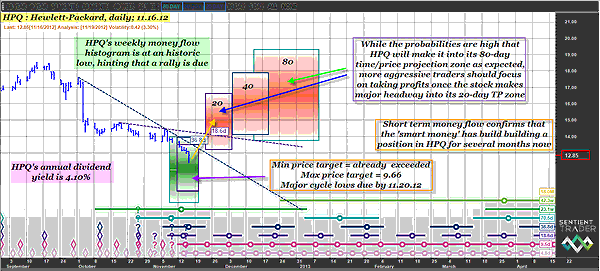 FIGURE 1: HPQ, DAILY. With the broad market giving many signs that a tradable bullish reversal is ready to commence, HPQ's chances for a rise into the various red cycle high TP zones between now and early January 2013 are excellent.
Graphic provided by: Sentient Trader.
HPQ's weekly chart (Figure 1) reveals that its 100-week Chaikin money flow (CMF)(100) histogram is at the most negative reading in more than two decades, right at a time when the stock is rapidly approaching the time window in which its five-, 10-, 20-, 40-, 80-day and 20-week price cycles are all anticipated to make a major multicycle low. Judging by the bullish intraday reversal in the stock on November 16, 2012, it's possible that the reversal is already under way.

The fact that many .OEX (Standard & Poor's 100) stocks are also forming similar multicycle low patterns is yet another reason to be prepared for the possibility of a major turn higher in HPQ; short-covering could be quite noticeable in the stock (as latecomer bears to the HPQ short-selling party get their heads handed to them), and it's worth noting that HPQ's 34-day money flow histogram is also confirming that the smart money have been building a stake in the stock for the past few months, confident of HPQ's eventual turn in a bullish direction.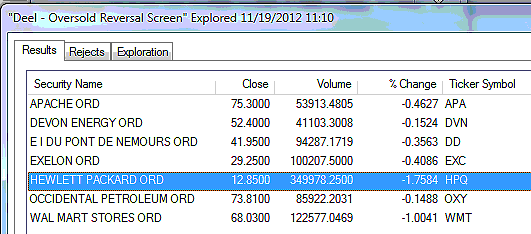 FIGURE 2: OEX. Here are the .OEX stocks identified by the Deel Oversold Reversal screen as being high-probability reversal candidates on Friday, November 16, 2012.
Graphic provided by: MetaStock.
Graphic provided by: MetaStock Explorer.
The red boxes on the chart are anticipated time/price (TP) projection zones for the next series of 20-, 40-, and 80-day cycle highs in HPQ, so here is a game plan that you may wish to consider if you'd like to take a shot at a long entry in HPQ -- especially if you are of the mind that this is indeed the start of a sustained reversal in the stock. Here we go:

1. If HPQ breaks above November 16, Friday's high of 13.10, go long with 30% of the total number of shares you wish to acquire, setting your initial stop just below Friday's low of 12.36. (See Figure 2.)

2.If HPQ subsequently breaks above the first downtrend line (currently near 13.30) on the chart, put on the next 50% of your maximum position and begin running a 2 * ATR(10) volatility trailing stop on the entire position. This will give the stock some room to back and fill as it seeks to claw its way higher in the reversal process.

3. Finally, if HPQ breaks above 14.20, put on the final 20% of your position, keeping the same volatility trailing stop in place for the duration of the trade. A daily close below the trailing stop is your signal to liquidate the entire trade; note that the conservative way that positions are entered is designed to prevent you from having a full position on in the event that the initial break higher in the stock proves to be a fakeout. It's better to only have on a small portion of your ultimate desired position on during a fakeout that stops you out than it is to have the whole position on, causing a loss much greater than it needs to be. The volatility trailing stop can also help give a trader the staying power to stay with a developing reversal or trending move, making the decision to exit the trade an emotion-free process.



More aggressive, shorter-term traders might want to use a similar entry process, but instead of using the trailing stop, a three-bar trailing stop of the daily lows can be used instead. The upper end of the 20-day cycle TP zone should be the area in which you take at least partial profits and or running a tighter stop; 16.62 is the maximum target price for the 20-day cycle, with this cycle expected to peak no later than December 4, 2012.

Astute traders and investors who take a little time to scan their charts will likely find dozens and dozens of key large-cap stocks from every sector forming patterns similar to HPQ now, and with a bit of creativity you may also be able to adapt the above trading plan to fit your own needs as this major, marketwide bullish reversal starts to gain momentum.