Since making a major multicycle low on November 25, 2011, shares of eBay, Inc. (EBAY), are up by more than 80% even as they have gone on to make another multiyear high. Seven significant price cycles (ranging from six days to 16 months in length) formed simultaneous troughs at that important November 2011 low, thus preparing the foundation for the incredible rally that the stock is still enjoying today.

With a new bullish price/volume breakout on October 18, 2012, reaffirming strong buying interest in the stock, what are its probabilities of rising further in the weeks ahead? Here's a closer look at EBAY, using its daily cycles chart for guidance (Figure 1).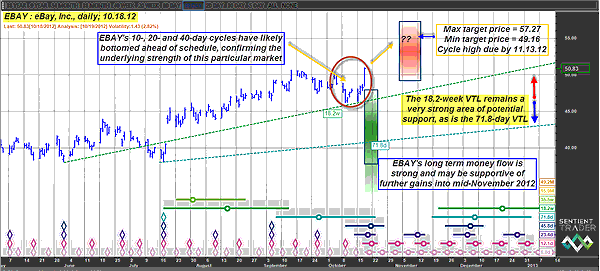 FIGURE 1: EBAY, DAILY. EBAY's 10-, 20-, and 40-day cycles appear to have bottomed together, all slightly ahead of schedule. Long-term money flow is bullish, increasing the probabilities of a sustained swing move into the red time/price projection zone.
Graphic provided by: Sentient Trader.
Money flow analysis can be a valuable ally to those who trade according to repetitive price cycles in a given market, including those who regularly make swing or position trades in stocks like EBAY. Since price cycle lengths tend to expand and contract, the timing of precise trade entries isn't very practical with cycles (most of the time, anyway), but time/price projection ranges can still be determined beforehand. When used with other analysis tools such as support/resistance lines, relative strength analysis and money flow trends and mechanical system buy/sell signals, trading and investing performance results are likely to be enhanced.

We see a couple of these dynamics at work on EBAY's daily cycles chart; note the two long-term uptrend lines and how EBAY recently bounced strongly higher after touching the top trendline just before it was anticipated to drop into its anticipated 40-day cycle low time/price (TP) projection zone -- this may be suggesting that the 40-day cycle low has already bottomed and that the stock is intent on making a sooner move higher into the red shaded 40-day cycle high TP zone.

Also note the lower trendline, which intersects with the lower portion of the green TP zone. Had EBAY actually descended into that area, the trendline would have been a very likely point of strong support for the 40-day cycle low. Since these lines are plotted well in advance of any current trading activity, they can often be used to determine whether a cycle is a bit early, late, or right on time (which is rare).

If we also look at the long-term money flow trend in EBAY, we find that its 100-day Chaikin money flow (CMF)(100) histogram (not shown) is well above its zero line and is rising strongly. This helps us confirm that EBAY has likely completed its 40-day cycle low (along with its 20- and 10-day cycle lows, too) and that a swing move up into the red TP zone is also a high-probability occurrence.



FIGURE 2: EBAY. EBAY experienced a powerful price and volume breakout on Thursday, October 18, 2012.
Graphic provided by: MetaStock.
Graphic provided by: MetaStock Explorer.
EBAY is now projected to make its next 40-day cycle high between November 3 and November 13, 2012, somewhere in the price range of 49.16 to 57.27, and this forecast is also in general agreement with the 40-day cycle high projections for the .OEX and .SPX. EBAY's 10- and 20-day cycles have slightly more modest price projections than its 40-day cycle, but all are in complete agreement that a strong tradable rally has begun in the stock.

Playing EBAY on the long side here is simple: place a buy-stop order a few ticks above Thursday's high of 50.93 (Figure 2) and use a two- to three-bar trailing stop of the daily lows until the final stopout. If you are still long EBAY and price enters the red TP zone before stopping out, consider booking at least a partial profit, letting the balance run until you have a daily close below the lowest low of the prior two to three daily bars.

As always, risking 2% or less on every trade is critical to your long-term trading success, so resist the urge to put on too large of a position in relation to your account size. Trade wisely until we meet here again.