Any stock that has managed to sustain a 14-plus month uptrend is worth a serious look whenever it issues a new buy signal, especially if its money flow trend is in positive territory. According to this logic, Pfizer Inc. (PFE) shares are definitely worth a second look and appear especially attractive as a short-term momentum trade setup, although its longer-term prospects for major gains is more doubtful. Here's a closer look now.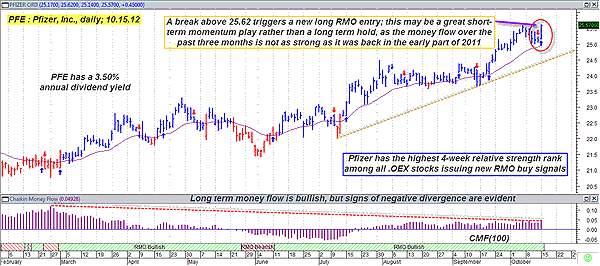 FIGURE 1: PFE, DAILY. Pfizer's current uptrend is more than 14 months old now and is anticipated to make a simultaneous 40- and 80-day cycle low sometime between October 19 and November 9, 2012. Long-term money flow clearly confirms that distribution is under way prior to a correction.
Graphic provided by: MetaStock.
Graphic provided by: RMO trading system indicators from MetaStock 11.
PFE made a major multicycle low on August 9, 2012, bottoming out at 16.63 per share after the eurozone scare rocked the global financial markets earlier that summer (Figure 1). The stock has managed a nice 35% gain over the past 14-plus months as its solid business model and earnings potential became more important to investors and traders than any bad news emanating from the European Union, Washington DC, or Wall Street. Currently trading at a new multiyear high, PFE seems to be in fine technical shape, but only at first glance. There are a few potential trouble spots on the horizon for the stock, not the least of which are:

1. PFE's negative long term price/money flow divergence
2. Its 40- and 80-day price cycles, both of which are in agreement that the stock is due to make a significant pullback, finding support in the 23.00 to 24.00 area no later than November 9, 2012.

Now, it's awfully hard to argue against a new RMO (Rahul Mohindar) swing buy signal -- like the brand-new one we now see on PFE's daily chart -- but only if traders and investors treat it as a short-term momentum play rather than as a covered-call or even long-term entry opportunity (Figure 2). Since PFE's current long-term money flow histogram [based on the 100-day Chaikin money flow (CMF)(100) indicator], although in nominally bullish territory, is manifesting such a noticeably bearish price/money flow divergence, it is not wise to put on anything more than a short-term swing or momentum trade at this point. This cautious trading logic is also supported by the very real potential for a simultaneous 40-and 80-day cycle lows that might be witnessed anytime betweeen October 19 and November 9, 2012, in this market.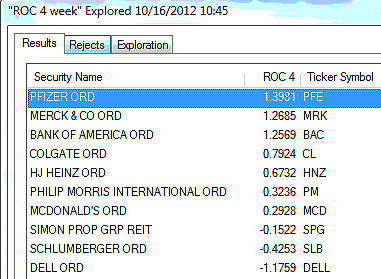 FIGURE 2: ROC FOUR-WEEK. Of all .OEX components firing RMO swing buy signals for October 15, 2012, PFE has the highest four-week relative strength ranking against that index.
Graphic provided by: MetaStock.
Graphic provided by: MetaStock Explorer.
While it is true that the .SPX and .OEX are both projected to run higher into late October or even into early to mid-November 2012, traders still need to be aware of the individual money flow and cycle status of those indexes component stocks, including PFE. Playing PFE for short-term gains here might look something like this -- buy on a rise above Monday's high of 25.62 and then run a two-bar trailing stop of the daily lows until final stopout. Risk no more than 1% of your account equity because of the very iffy money flow and cycles situation in the stock and also consider taking at least partial profits should the market give you a nice, fast open profit, running a closer trailing stop all the way.

Once PFE finally peaks and rolls over and descends into anticipated 40- and 80-day cycle lows (by November 9, 2012), you may be offered yet another opportunity to buy PFE at a discount from its current lofty level. PFE offers a nice 3.5% annual dividend yield, so buyers probably won't be too hard to attract once the pullback ends. Trade wisely until we meet here again.