Costco's (COST) common stock rose by more than 27% between May 8 and October 10, 2012, with the stock making yet another in a series of multiyear highs in the process. At first glance, the stock appears to be in fine technical shape, but when you start to examine its long-term money flow and price cycle studies, it becomes clear that COST's long-running uptrend may be much closer to its end than to its beginning. Here's a closer look now.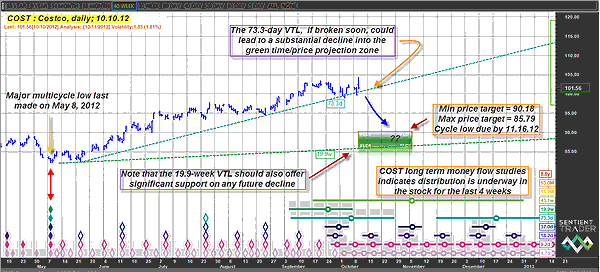 FIGURE 1: COST, DAILY. Traders and investors need to watch the upper trendline on this chart, as a daily close below it could be the trigger that unleashes the selling pressure required to drive prices lower into the 80-day cycle low zone (green box) anticipated between now and mid-November 2012.
Graphic provided by: Sentient Trader.
The May 8, 2012, swing low in COST was affected by the combined power of no less than six separate price cycles (ranging from five days to 20 weeks in length, respectively) all bottoming out at the same time. Since this was considered a major low (as compared to a multicycle low composed of only two or three cycles), it wasn't surprising to see the stock launch into a sustained rally soon thereafter. In fact, the latest five-month-long rally is merely an extension of the ultrabullish, multiyear bullish run that the stock has enjoyed since March 2009, and there always seemed to be willing buyers on each decline to the stock's 21- and 50-day exponential moving averages (EMA), allowing for numerous profit opportunities for COST bulls. See Figure 1.

The upcoming decline in COST is likely to throw such long-term "buy the dips" crowd into a tizzy, especially if the stock actually declines into its projected 80-day cycle low (see green box on chart) zone between now and November 16, 2012. The anticipated price range for this cycle low should be in the area between 85.79 and 90.18, which are respective declines of 13.6% and 17.6% from the October 10, 2012, swing high of 104.43.

Declines of that degree are not uncommon after such a strong multimonth/multiyear bull run, but note the speed at which such a decline might take place. If COST does reach 85.79 by November 16, 2012, it would mean that 83% of the gains the stock made over the previous five months would be wiped out in a period of only five weeks. We all know that bear markets can quickly take away what a bull market took months (or even years) to produce, so if this 80-day cycle assessment for COST is valid, then it would be very wise for existing longs in the stock to buy protective puts and/or to begin scaling out of their positions. See Figure 2.



FIGURE 2: COST. Costco Wholesale trades lower during the morning session of October 11, 2012.
Graphic provided by: TradeStation.
Long-term money flow analysis in COST is providing evidence of distribution by the smart money interests in the market. They are likely starting to offload some (if not all) of their long COST positions into the grabby hands of the latecomers to this long-running multimonth/multiyear rally, and the sharply bearish intraday reversal in the stock on October 12, 2012, may very well be the "everybody out of the pool" signal for existing COST longs.

Aggressive shorts might consider buying long puts if COST makes a daily close beneath the upper trendline on the chart (currently near 101.00), holding them in anticipation of a 100% gain but always ready to sell them if they decline by 50%. Use puts with three to six months of time value for this sort of speculative play, and if you have a solid mechanical short sell signal in conjunction with a break below 101.00, so much the better. Risk no more than 1% of your account value on such a play, no matter how bearish you may be on COST at the moment.