Stocks in the energy sector tend to be more volatile than the broad market as a whole, offering skilled traders and savvy investors the opportunity for outsized gains on a regular basis. And one of the best long-term performers in the sector since the March 2009 lows has been Williams Cos. (WMB); the stock rose from 9.52 on March 6, 2009, and ran as high as 35.39 on September 14, 2012 -- a gain of more than 271%.

That rate of return certainly beats a money market fund or certificate of deposit at a commercial bank, but the ride higher has had plenty of corrections along with a few short-lived trading range zones that tested the patience of investors and traders alike. Looking back at the entire 42-plus month rally, it appears that it has evolved in some sort of sloppy and slightly misshapen five-wave Elliott wave impulse pattern, one that could be getting near its final apex before a really big trend reversal kicks in, one that could offer short-sellers a chance to get their licks in on the way back down. Here's a closer look at WMB's daily chart now (Figure 1).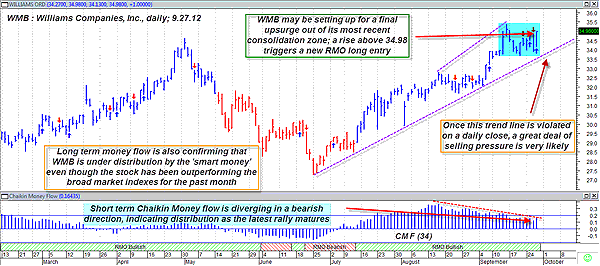 FIGURE 1: WMB, DAILY. With WMB under distribution on both a near-term and long-term basis at the same time that a three-month rally (and possibly a 42-month rally, too) are nearing their ultimate exhaustion points, existing longs need to be protecting existing long positions and or actively scaling out of them.
Graphic provided by: MetaStock.
Graphic provided by: RMO trading system indicators from MetaStock 11.
Long-term trend analysis aside, WMB's most recent (and rapidly maturing) rally was birthed in the June 25, 2012, swing low of 27.25, with the stock up nearly 30% in three months. WMB is attempting to break higher from a small rectangle pattern (blue box); a rise above 34.98 will trigger a new RMO (Rahul Mohindar) long entry, one that could help the stock make yet another multiyear high -- if enough new buyers can pile in, that is.

The short-term Chaikin money flow (CMF)(34) has been deteriorating rapidly for the past seven weeks, indicating that the smart money is quietly distributing their holdings of WMB into the hands of less-savvy latecomers to this powerful rally: long-term money flow also confirms steady distribution, warning of an impending trend reversal or sizable correction just ahead.

For now, WMB remains safely above its recent uptrend line, but when and if this key support level breaks on a daily close, the selling pressure in subsequent sessions could be substantial. See Figure 2.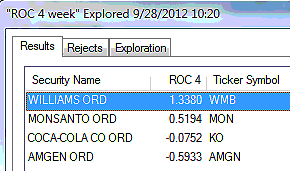 FIGURE 2: SWING BUY SIGNALS. Of the four .OEX components firing long RMO swing buy signals on Thursday, September 27, 2012, only two are outperforming their parent index over the past four weeks.
Graphic provided by: MetaStock.
Graphic provided by: MetaStock Explorer.
Price cycle studies are suggesting that WMB is due to make a major multicycle low by late February or early March 2013, one that may correct the massive 2009-12 rally in the stock by a proportional degree. Expect at the very least a 24% correction, if not a 38% one by that general time window. If this analysis proves prescient, then we could be looking at a price range for WMB in the area between 25.56 to 29.42 by late winter 2013.

If the entire move up from the 2009 lows is indeed a five-wave Elliott wave impulse pattern, one that is in a fifth of a fifth wave, then a break and close below 33.65 (the area of the current uptrend line) is going to attract plenty of attention from well-informed technicians, investors, and traders who will be well-positioned and prepared for a period of sustained weakness in this key energy sector issue.

The January '12 WMB $35 puts look very interesting. With nearly four months of remaining time value and a close bid-ask spread, these puts could give bears some real staying power because of the low rate of daily time decay (theta). The break of the recent uptrend line on a daily close might be a great time to initiate a long put trade in WMB; hold the put(s) until they either double in price or until they lose half of their value, whichever happens first.

This is an intermediate-term trade with a high probability of success, so short-term profit targets are not recommended. However, the use of modest position sizing (the number of options you buy) and a modest amount of account risk you take (no more than 1% to 2% of your account value) is most definitely advised, no matter what your personal bias about this stock's direction may be.