eBay (EBAY) has long been considered a very trendworthy stock, and its recent bullish run certainly confirms that belief. Since October 4, 2011, the stock is up nearly 80%, even including the last few days of bearish price action for the issue. All trends eventually come to an end, but for now, price cycle analysis confirms that while EBAY is still projected to fall lower in the near term before making a meaningful -- and tradable -- cycle low, the same cycles are also anticipating that the stock will also have a final surge higher between late October and early November 2012. Here's a closer look now.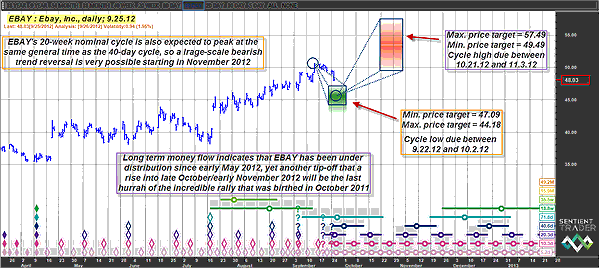 FIGURE 1: EBAY, DAILY. With EBAY being under long-term distribution since May 2012, any subsequent bounce back up into the red time/price projection zone might just turn out to be the final run higher of the massive rally that launched in October 2011.
Graphic provided by: Sentient Trader.
Let's face it, an 80% gain in a large-cap, widely followed stock in less than a year is pretty big news, and once the investing public starts getting interested in a big way (usually during the final third of a given move, long after the major opportunity for gain is gone), there is usually room for a bit more gain, which is typically followed by a nasty selloff and one final push higher. On Ebay's daily cycle chart (Figure 1), we see the most recent selloff already under way; the nominal 40-day cycle is still projecting more losses, at least until October 2, 2012.

The green time/price projection (TP) box illustrates the anticipated window in which the stock should find support. The price range for the cycle low spans from 44.18 to 47.09. Long-term money flow (not shown) had been deteriorating for more than four months (as the smart money began distributing their shares to the lesser-informed traders and investors) by the time EBAY peaked at 50.65 on September 14, 2012, so this latest downturn isn't surprising at all.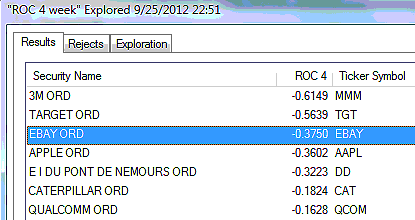 FIGURE 2: LARGE CAPS. Several large-cap .OEX issues that are underperforming the .NYA (NYSE Composite Index) over the past four weeks.
Graphic provided by: MetaStock.
Graphic provided by: MetaStock Explorer.
Still, the long-term money flow is still well above its zero line, and that's what makes the next cycle study even more valuable, for it's also projecting that EBAY will run higher again (see the red T/P box) after it finds meaningful multicycle support to possibly as high as 57.49 by November 3, 2012.

The earliest that a peak may be expected is October 21, 2012, and the minimum price target is 49.48. So if these cycle projections are reasonably accurate (and they do tend to call significant market turns with regularity), then we will have two different trade setups to pursue; the first one is already partially complete, of course, but skilled option traders might want to buy the November '12 $48.00 EBAY puts, but only on an intraday bounce higher to support (near 48.70). The price target for the trade will be the top of the 40-day cycle's green T/P zone near 47.09 and the stop-loss trigger should be set at 49.25, give or take a few pennies. See Figure 2.



Concerning the second trade setup (a bounce higher to the red T/P zone), if you see EBAY decline well into the green zone and you get a mechanical buy signal from your favorite trading system close to the end of the time window of the box, consider a long swing trade entry, trailing it with a two-bar stop of the daily lows. Risk no more than 1% to 2% on either of these trades, no matters how bearish/bullish you may be on EBAY right now.