Emerson Electric (EMR) shares have repeatedly attempted to exceed the swing high they made in February 2012, but the resistance level created by that high at 53.78 remain unchallenged, despite three major attempts to rally since that high was made. EMR now appears to be giving up, ready to begin the process of descending into a major multicycle low along with the rest of the broad markets. Here's a closer look now.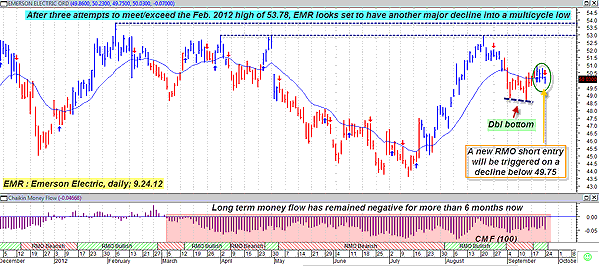 FIGURE 1: EMR, DAILY. With negative long-term money flow values for more than six months straight, it's little wonder why EMR has been unable to meet much less exceed its February 2012 swing high of 53.78.
Graphic provided by: MetaStock.
Graphic provided by: RMO trading system indicators from MetaStock 11.
As far as sustained trending moves go, EMR is not exactly as aggressive as, say, a gold or silver mining stock, but it can and does make decent swings every so often -- and the stock might just be near the start of what could turn out to be a very tradable short sale setup. The reasons for this include several declining price cycles, horrific long-term money flows (as measured by the 100-day Chaikin money flow histogram (CMF)(100), and an abysmal four-week comparative strength ranking versus the .OEX (Standard & Poor's 100).

All of these factors take on even more significance because of the repeated failure of EMR to meet, much less exceed its previous swing highs made in February, April, and August of this year. The bulls are weary of trying to drive the stock higher, only to have it reverse and make significant declines on three separate occasions over the past seven months. See Figure 1.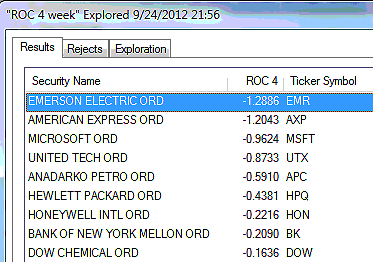 FIGURE 2: SWING SELL SIGNALS. The .OEX component stocks firing RMO swing sell signals for September 24, 2012. EMR has the weakest four-week relative strength versus the .OEX among these stocks.
Graphic provided by: MetaStock.
Graphic provided by: MetaStock Explorer.
Looking at the price action since the most recent swing high was made on August 21, 2012, we see that EMR sold off from late August to mid-September 2012, making a small-scale double bottom pattern with a low of 48.61. With the new RMO (Rahul Mohindar) swing sell signal ready to be triggered on a decline beneath 49.75, it is very likely that EMR will quickly drop to 48.61 -- and perhaps further -- into a multicycle low that is projected to bottom out within the price range of 45.06 and 47.86. (See Figure 2.)

Cycle analysis of EMR also reveals that once the anticipated cycle low is made, the stock has a high probability of having a rebound into mid- to late October 2012. These cycles are less in agreement on the timing of a post-pullback bounce than they are on a near-term decline, however.


Playing a short in EMR is no more complicated than setting a sell-stop market order at 49.74 and then running a two-bar trailing stop of the daily highs for the life of the trade. Conservative traders might also want to take half profits near the double bottom low of 48.61, just in case the pullback isn't going to be as deep as anticipated.

Put options can be used in much the same way here, using the same stock price trigger to initiate their own long put trades. The December '12 $52.50 puts are going for about $3.70 and have nearly three months of time value remaining. Therefore, option time decay will be only a minor issue to deal with. If the put doubles in price, sell the entire position and wait for another "shooting fish in the barrel" trading setup. And if it withers away to half of what you paid for it, well, do the same thing; sell it, take a modest loss and wait for sunnier days and better trading opportunities.

Keeping your emotions out of your trading and your account risks small are also major factors in successful trading, so make sure you do these things too, especially if you plan on being a successful, long-term trader.