PRINT THIS ARTICLE
DATA
---
Toll Brothers A Buy Or A Sell?
09/20/12 08:39:33 AM
---
by Koos van der Merwe
---
Is this home builder a sell or a buy?
Security:
TOL
Position:
Sell
Toll Brothers (TOL) build homes, and with the recovery in the US building industry, they are starting to cash in as new homes are being built. Of course, they cater to the rich, and their ads show homes that only the rich can afford to build. But the fact that new homes are being built, that banks are beginning to offer mortgages again, and that jobs are being created is a sure sign of a recovery in the US economy. So, does one buy stock in Toll Brothers?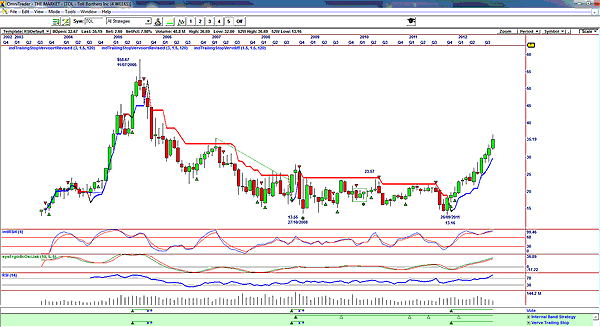 FIGURE 1: TOL, MONTHLY
Graphic provided by: OmniTrader.
Figure 1 is a monthly chart and shows how the price dropped from a high of $58.67 on July 11, 2005, to a low of $13.55 by October 27, 2008. From that date the share moved sideways in a range from $13.55 to $23.57, dropping back to $13.16 on September 26, 2011.

On that date, the vote line gave a buy signal based on the internal band strategy and the Verve trailing stop strategy. The buy signal was a good one, as can be seen.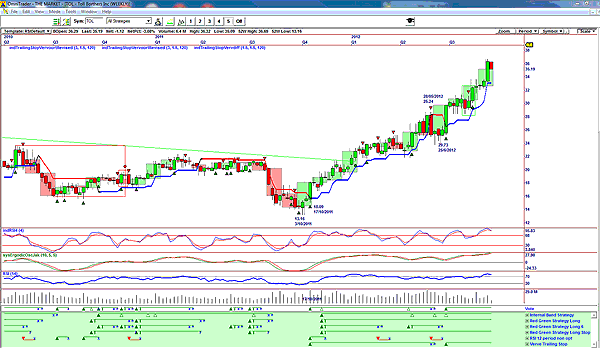 FIGURE 2: TOL, WEEKLY
Graphic provided by: OmniTrader.
The weekly chart in Figure 2 shows the vote line giving a buy signal when the price was $18.09 on October 17, 2011. A sell signal was given on a trailing stop on May 28, 2012, when the price was $25.24, but a buy signal was given on June 25 at a price of $29.73 and is still in force.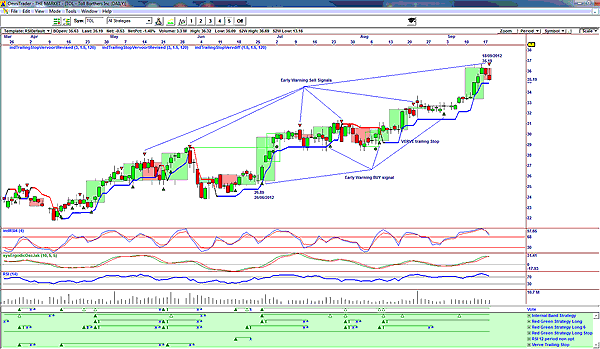 FIGURE 3: TOL, DAILY
Graphic provided by: OmniTrader.
The daily chart in Figure 3 shows a buy signal given on June 26, 2012, at $26.89. On the chart I have shown early warning sell signals, and had we followed those signals and then bought back when a buy signal is given, we would have scored handsomely.

At the moment, an early warning sell signal has been given, even though the vote line is still positive. We could sell at the current price of $35.19 and buy back when an early warning buy signal is given, or we could hold until the vote line gives a sell signal or when the price drops below the Verve trailing stop line.

I would not be a buyer of TOL at the present price. I would wait for the three indicators shown on the chart to reach oversold levels or for an early warning buy signal. This is a share that should be watched.



---
Koos van der Merwe
Has been a technical analyst since 1969, and has worked as a futures and options trader with First Financial Futures in Johannesburg, South Africa.
| | |
| --- | --- |
| Address: | 3256 West 24th Ave |
| | Vancouver, BC |
| Phone # for sales: | 6042634214 |
| E-mail address: | petroosp@gmail.com |
---
Click here for more information about our publications!
PRINT THIS ARTICLE