Oracle shares (ORCL) made a major multicycle low on May 18, 2012. After that, it embarked upon the amazingly straight and steady uptrend in which it is still embraced; the stock is up by more than 30% in only four months and remains within the well-defined boundaries of a standard error channel (red lines on Figure 1). Things just really couldn't get much more bullish for ORCL, and that's why it might be time to start preparing for a possible change in trend in this widely followed large-cap tech issue. Here's a closer look now.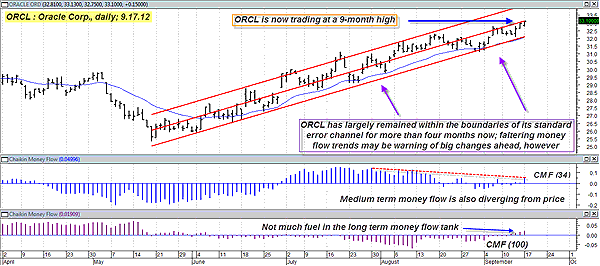 FIGURE 1: ORCL, DAILY. With steadily deteriorating money flows and a multicycle low expected soon, existing longs in ORCL should already be making plans on how to lock in accumulated gains even as they begin to scale out of their long positions in the stock.
Graphic provided by: MetaStock.
The uptrend in ORCL over the past four months has been pretty remarkable, and the tendency for traders and investors is to simply assume that the good times will continue indefinitely. While it's true that the standard error channel (rooted in the May 18, 2012, low of 25.32) has provided the de facto visual identification for the uptrend, it's equally true that visual analysis of the stock's twin money flow histograms -- the 34-day and 100-day Chaikin money flow (CMF) histograms -- is suggesting that this multimonth rally is getting dangerously low on the volume-derived fuel that it needs if it is to continue ever onward and upward.

In the case of the near-term money flow (CMF)(34), note the bearish divergence of the histogram with the upward trajectory of the stock within the channel. This confirms that a modest amount of distribution (stock being sold by smart money interests into the hands of less-informed investors and traders) is taking place. And the long-term money flow histogram (CMF)(100), although barely in positive territory (above its zero line), is confirming that the rally has been persisting despite the lack of heavy volume.

To demonstrate this, just look at the left side of the chart, at the lower money flow histogram -- it was in the 0.04 to 0.06 range for all of April 2012 and half of May 2012, which is two to three times higher than its current reading of 0.01909. The bottom line here is that ORCL is likely in the final stages of this multimonth rally and that the stock is very likely to break down out of its uptrend channel, seeking out its next multicycle low.



FIGURE 2: PUTS. The December '12 ORCL $35 puts could be the weapon of choice for bears convinced of a near-term pullback in ORCL.
Graphic provided by: Interactive Brokers TWS.
In terms of price cycles, here too we find that ORCL is looking very ripe for a near-term pullback. The stock's five-, 10-, 20-, and 40-period cycles are all due to bottom simultaneously between now and September 24, 2012. The expected price range for this anticipated pullback is between 32.05 and 29.05. The fact that so many cycles are due to bottom soon even as money flow wanes in the late stages of a long-term rally only paints that much clearer a picture of the most likely near-term price direction for ORCL.


The December '12 $35 puts look interesting (Figure 2). These options are in-the-money (ITM) and are selling for about $2.61 as this is being written. Implied volatilities are fairly low, meaning that these puts aren't overpriced. A sharp correction into those upcoming cycle lows, however, could inflate their values substantially, making daily time decay less of a factor, especially for a short-term long put play with a defined profit target.

Be sure to risk no more than 1% to 2% of your account equity, no matter how you decide to play ORCL here.