Although shares of Wells Fargo (WFC) made a meaningful low on October 4, 2011, along with the rest of the broad market, it wasn't until November 25 that the stock truly launched into the uptrend that it is still enjoying today. Since then, WFC is up by nearly 53% and has just made a successful quadruple-top buy breakout pattern, one that certainly looks very convincing.

The first of the four highs occurred on April 23, 2010, at 34.35 and the next on February 11, 2011, at 34.25, with the third top made on March 23, 2012 at 34.59 (this turned out to be a failed triple-top buy setup) prior to a short-term pullback and then the quadruple-top buy signal made on August 1, 2012.

Thursday's massive bullish surge in WFC now confirms the validity of the breakout, and all looks very positive in some regards. WFC is outperforming the .OEX over the past four weeks and the stocks from the banking industry are also outperforming in the near term. See Figure 1.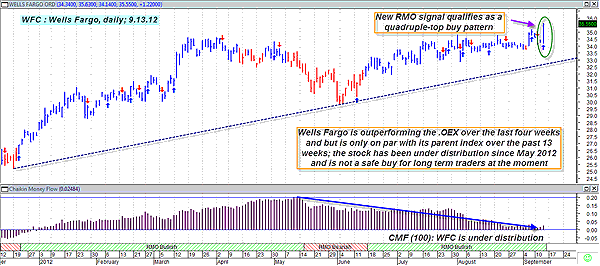 FIGURE 1: WFC, DAILY. Although the recent bullish surge in WFC is impressive, savvy traders and investors already see that the smart money has been unloading their shares to lesser-informed market participants for the past four months.
Graphic provided by: MetaStock.
Graphic provided by: RMO trading system indicators from MetaStock 11.
When a reality check is pursued here, though, the picture painted is one of a widely held, large-cap stock that has been under distribution since early June 2012. Sure, the stock has gained ground since making a multicycle low on June 4, 2012, but the money flow histogram keeps trending lower even as the stock keeps trucking ever higher.

Even worse for the long-term bulls in WFC, its negative volume index has been going sideways for more than four months now. What this means is that the rallies along the way since then have not been made on increasing volume and that at some point, the bulls will exhaust their ability to prop the stock up.

At that point (approaching sooner rather than later, it would seem), the stock will begin to correct and seek a support level that will attempt to draw in a fresh influx of buying power.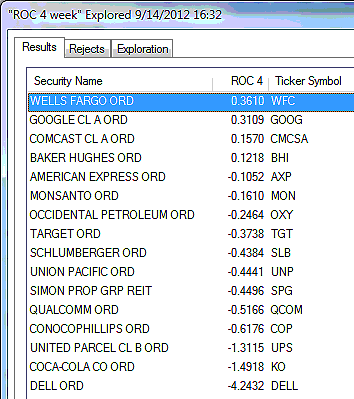 FIGURE 2: OEX. WFC has been outperforming the .OEX over the past four weeks.
Graphic provided by: MetaStock.
Graphic provided by: MetaStock Explorer.
Price cycles in WFC paint a similar picture, suggesting that the stock is due to make a multicycle low sometime this autumn. Traders (and even investors) should always rely on a good mechanical trading system to get in and out of their trades, but it's still good to be able to accurately ascertain the general technical state of a given market, especially before a substantial correction is anticipated.

Traders may want to consider buying the January '13 $35 puts in anticipation of a sizable correction in WFC (Figure 2); these puts are a little out-of-the-money at the moment, so you may want to buy them if WFC prints a one-day key reversal pattern in the next week or so. WFC has reasonable support near 32.64 and then 31.91 and those could serve as achievable profit targets on a selloff. Keep your account risks small, at 1% or 2%, tops, if you choose to actually make this trade.