Thursday's powerful price/volume breakout in Bank of America shares (BAC) is extremely bullish, confirming the output of several price cycle studies in the stock. Here's a closer look now.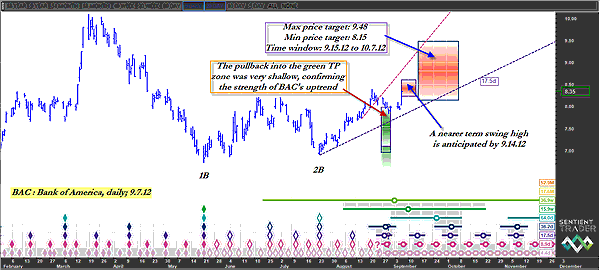 FIGURE 1: BAC, DAILY. Given that BAC merely dipped into the upper quarter of the 20- and 40-day cycle low projection zones (green boxes) before rocketing higher, it certainly appears that the stock will have little trouble in making it to the top end of one or even both of its red cycle peak projection zones.
Graphic provided by: Sentient Trader.
BAC had a rough springtime in the market, plunging from its March 19, 2012, high of 10.10 to its May 21, 2012, low of 6.72. That's a nearly 34% drop in two months, a noticeable percentage decline in a large-cap stock.

Cycles analysts knew, however, that BAC would eventually form a major low and then have some sort of a rebound rally. After BAC finally formed a confirmed double-bottom pattern between mid-May and mid-July 2012, the stock began to attract more buyers and proceeded to recoup a bit more of its springtime losses.

Cycles studies had already projected that BAC was very likely to make a simultaneous 20-day and 40-day cycle low between August 26 and August 31, 2012. The price range for the 20-day cycle was 7.99 to 7.10 and for the 40-day cycle it was 7.80 to 6.96. As it turned out, the timing of the pullback was spot-on, even though BAC only dipped down into the upper quarter of the expected pullback price range (see the green time/price [TP] projection zones on Figure 1).

With the ensuing bullish break higher after the shallow pullback, this cycle low for the 20- and 40-day cycles can now be safely assumed to be in place. The lower trendline held during the pullback and wasn't even hit in the first place, which is another bullish confirmation.



FIGURE 2: EXPLORER. The Equis price volume breakout exploration from MetaStock 11 located this powerful price/volume breakout in BAC on Thursday, September 6, 2012.
Graphic provided by: MetaStock.
Graphic provided by: MetaStock Explorer.
While the 20- and 40-day cycles agreed on a common time window for a multicycle low, they offer decidedly different outlooks for their respective cycle highs; the red TP boxes offer the most current projections for the next cycle highs for both time periods. The 20-day cycle is due to peak between September 6 and September 14, 2012, somewhere in the range of 8.23 to 8.60, while the longer 40-day cycle is due to peak between September 15 and October 7, 2012, in an even wider range spanning from 8.15 to 9.48. See Figure 2.

Granted, these are projections and not pinpoint predictions set in stone, but they still have a useful forecasting value. Long-term and short-term money flows in BAC are bearish, so it's quite possible that the smart money folks in the market will be busy selling into BAC's newfound strength, even as the stock rises into one or both of the red TP zones on the chart. Since that is most likely what's going to happen, it behooves traders to keep a very short-term trading mindset if choosing to go long BAC here.


A break above 8.40 might just launch a continuation of BAC's Thursday rally, and since the stock has an extremely high probability of running higher for at least the next week (as its 20-day cycle high peaks), traders might want to either buy slightly in-the-money calls (the November $8.00 calls are selling for $1.06 and offer a tight bid-ask spread and an open interest of 54,524 contracts), running a two-bar trailing stop of the daily lows until either the upper price target of 8.60 is hit, or BAC gets stopped out by the trail.

More aggressive traders might want to hold out for the higher profit target of the 40-day cycle peak (near 9.48), but that's always a risky gambit in the world of long call options -- a world that includes daily, ever-increasing time decay! Better to keep this long call trade on the conservative side, since BAC has a very good chance of hitting the more conservative target in a timely manner.