Whenever a large-cap, widely followed stock makes a new all-time high, the investing public will certainly devote an inordinate amount of attention to the event, possibly overlooking the potential pitfalls that may prevent the stock from surging higher. Cycles analysis reveals that Amazon (AMZN) may be preparing to make a multicycle low before moving on to even higher prices. Here's a closer look now.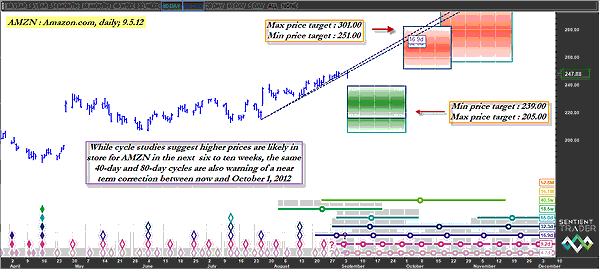 FIGURE 1: AMZN, DAILY. Strong bull markets tend to have violent, short-term shakeouts every now and then. Such occurrences help purge the market of excesssive speculation and allow for a firm base to be installed to support a run to even higher highs.
Graphic provided by: Sentient Trader.
AMZN rose from 166.97 on December 29, 2011, to 251.00 on September 4, 2012, a gain of 50.13% in a little more than eight months and is very much the center of attention of savvy traders, retail investors, and money managers. While it's always dangerous to attempt to pick tops or bottoms in strongly trending markets, there are times when the cycles analysis can warn that a powerful trending move is anticipated to pull back and correct before it continues even higher.

Such is the case now with AMZN. Its 20-, 40-, and 80-day price cycles are all in agreement that the stock is likely to pull back between now and October 1, 2012. The 40- and 80-day time/price (TP) projection zones for AMZN are displayed on Figure 1 (the 20-day TP zone was omitted for the sake of clarity). The two higher-degree cycles are in perfect agreement that a pullback is due within the next three weeks, although the 80-day cycle has a pullback price range of 205.00 to 232.00 and the 40-day cycle has a slightly narrower range of 215.00 to 232.00.

Bull markets tend to have violent, short-term shakeouts from time to time even as they go on to recover and make higher highs, so this anticipated pullback in AMZN is not a major cause for alarm for long-term bulls in this innovative online retailer's stock.

It is interesting to note, however, that AMZN is under distribution and that the 80-day cycle high may be the high point in the stock for the rest of 2012.



FIGURE 2: COMPONENT STOCK. The single .OEX component stock making a new multiyear high on September 5, 2012.
Graphic provided by: MetaStock.
Graphic provided by: MetaStock Explorer.
The anticipated rally subsequent to the pullback also has a relatively wide price target range, spanning the zone from 251.00 to 301.00 and the time window for this multicycle peak is expected sometime between September 30 and October 22, 2012, for the 40-day cycle high and between October 17 to November 19, 2012, for the 80-day cycle. Not surprisingly, it's easier to project the upcoming low rather than the subsequent high right now, but once the low is made it will become much easier. See Figure 2.

Playing AMZN now might be best done by buying puts on a drop below 244.66 and then holding them until the minimum pullback price targets of 239.00 or 232.00 is reached. The January '13 $245 puts are going for about $17.25 ($1,725 per contract before commissions and slippage) and have more than four months of time value until expiration. Bid- ask spreads are good on this put and the open interest is 787 contracts.

AMZN may or may not pull back, according to these cycle studies, but it would still be a good idea to prepare your trading contingency plan now just in case the stock decides it needs a break from its recent bullishness and decides to start heading south in the next week or two.