All but the first six weeks of 2012 have been tough going for shares of Dell (DELL). After peaking at a price of 18.36 on February 21, 2012, the stock began to slide and then slide some more. As of this writing, the stock is trying to hammer out some sort of an interim low in the mid-$10 range but is still having a hard time of it. Here's a closer look now as we look at some of the clues that DELL is now providing as far as a rebound rally is concerned.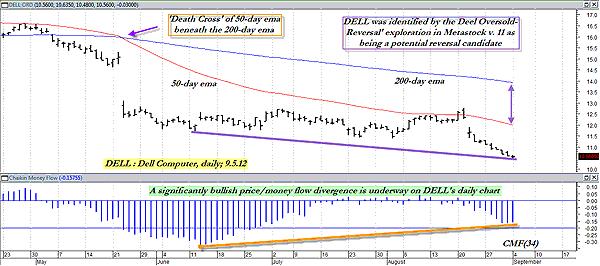 FIGURE 1: DELL, DAILY. With DELL closing in on a major multicycle low, one anticicpated to form by mid-September 2012, savvy put sellers will begin to design appropriate scale-in strategies now.
Graphic provided by: MetaStock.
One of the first things that should be stressed as being of major import as you glance at this daily chart of DELL is this bit of trading/investing wisdom: "Fundamentals really do matter." (See Figure 1.)

The rate at which consumers are shifting their technology purchase budgets toward mobile computing platforms is spelled out as you see the devastating plunges that not only DELL but also Hewlett Packard (HPQ) have endured in 2012. The market for home PCs and even notebook computers has been steadily eroding, which means less revenue and less earnings for these two giants in the PC/notebook business.

And since earnings (or the lack of them) are so important in the upward/downward movement of stock prices, it's not surprising to see both stocks so far down in the dumps. For what it's worth, always check out the earnings and general health of the companies that you regularly trade and try to trade in that general direction.

With that said, take a look at the noticeable price/money flow divergence on DELL's daily graph; it's been under way since the end of June 2012 and has become the 800-pound gorilla in the room; the 34-period Chaikin money flow histogram (CMF)(34) is definitely confirming that some sort of accumulation is underway by the smart money interests in the market. The Deel oversold-reversal screen from MetaStock 11 was the exploration responsible for locating this potential reversal setup. See Figure 2.




FIGURE 2: DEEL OVERSOLD REVERSAL SCREEN. The Deel oversold reversal screen identified DELL as a potential reversal candidate on September 5, 2012.
Graphic provided by: MetaStock.
Graphic provided by: MetaStock Explorer.
Aggressive traders might want to consider selling near term out-of-the-money (OTM) put options in anticipation of the stock making a multicycle low within the next few weeks. DELL's five-, 10-, 20-, 40-, and 80-day cycles are all anticipated to bottom sometime between today and September 16, 2012, so this looks like a fairly low-risk idea for skilled put sellers. The maximum low is targeted to be no more than 7.70, so if DELL continues to decline and gets into the lower $9 or upper $8 range in the next week, it could be a great time to start scaling in to the October 2012 $8.00 or $7.00 puts.

Traders choosing this method may want to scale in to positions gradually and need to have an exact entry, stop-loss and profit target guideline before even considering selling a single put option. See Figure 3.

Risk control is especially critical for short put sales, so make sure you risk no more than 1% or 2% of your account value, leaving a bit of room for error in case things don't go exactly as planned.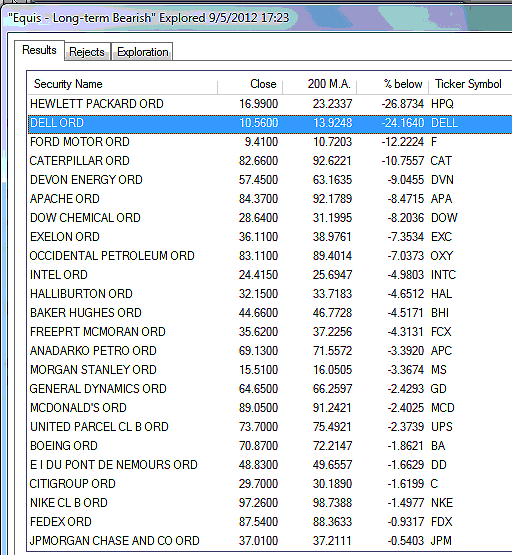 FIGURE 3: COMPONENT STOCKS. A partial list of S&P 100 component stocks that are trading below their respective 200-day exponential moving averages (EMA) as of September 5, 2012.
Graphic provided by: MetaStock.
Graphic provided by: MetaStock Explorer.