PRINT THIS ARTICLE
CHART ANALYSIS
---
Flags and Bakbone Software
07/15/02 12:16:03 PM
---
by Gary Grosschadl
---
The chart of this software company may be coming to a crucial stage.
Security:
T.BKB
Position:
N/A
Bakbone Software has had a somewhat labored climb from its low of $1 last year. It was caught in a 5-month trendless trading range until it formed a continuation pattern consisting of the first of two bull flags. A flag is a small rectangle pattern that slopes against the previous trend. If the previous move was up, then the flag would slope down. If the move was down, then the flag would slope up. In this case it is a bullish continuation pattern. Ideally they last one to four weeks but can go as long as 12 weeks as seen in this first flag.


Flag patterns are characterized by "flag poles" that take the form of heavy volume advances from the previous resistance area to the high of the subsequent flag. The length of the flagpole can be used to roughly measure the next rise.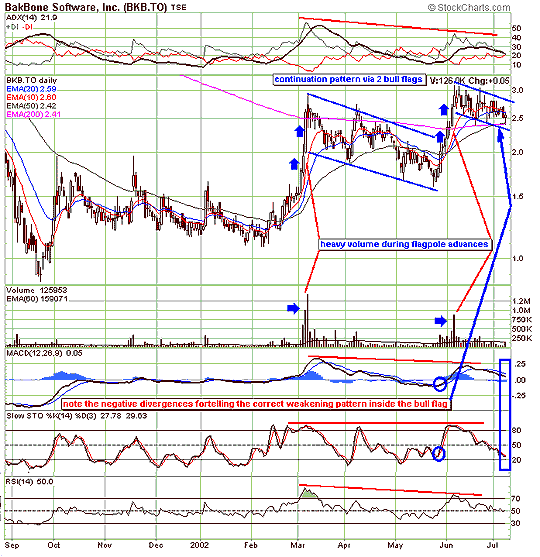 Using the displayed indicators - ADX, MACD, stochastics and RSI, the alert trader had evidence of the peak forming in the next potential flag formation.


The stock appears to be at or very near a crucial point. The stock has good support from its important 200-day EMA and this could be an ideal launchpad for the next advance. Preferably another heavy volume advance as in the past, possibly setting up another continuation pattern.

On the other hand, a move below this 200-day EMA would be potentially very bearish as a trend change. A bullish tipoff, besides increased volume, could happen as before in the form of MACD and stochastic crosses (see circled areas). These would be early signals before the really big volume kicks in.


The fact that this tech company has held up this well during the current mahem by staying above its 200-day EMA could bode well in the near future. But a move below 2.40 negates the bullish view, while strength above this line combined with bullish crosses for MACD and stochastics, paves the way for more upside.


---
Gary Grosschadl
Independent Canadian equities trader and technical analyst based in Peterborough
Ontario, Canada.
---
Click here for more information about our publications!
Comments
Date:
 07/16/02
Rank:
 5
Comment:
Date:
 07/17/02
Rank:
 4
Comment:
PRINT THIS ARTICLE