Google (GOOG) began to get known on a widespread basis in 2002 and quickly became the most recognized name brand among search engines not long afterward. Not surprisingly, its stock price benefitted handsomely, eventually rising to 747.24 on November 7, 2007.

The financial market turmoil of 2007-09 hit share prices hard, even though the company's business model and earnings growth was very strong, and the stock finally came to rest at an enduring low of 247.30 on November 21, 2008. It has been in a long-term bull market since then, making many tradable swing moves over the past 45 months.

With the stock now trading at a multiyear high, is its latest break upward another solid opportunity for bulls to make money, or is it a last-chance fakeout prior to a significant correction and/or trend reversal? Here's a closer look at GOOG's recent action for some answers (Figures 1 and 2).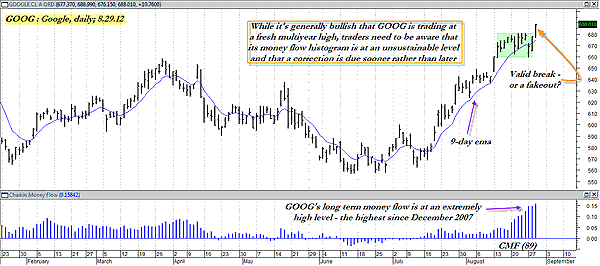 FIGURE 1: GOOG, DAILY. Cycle analysis suggests that GOOG could run well up into the mid-$700 range by early October 2012, but the extreme peak of the money flow histogram is strongly suggesting that the stock has gotten a bit ahead of itself and that a short-term correction may occur before another leg higher can commence.
Graphic provided by: MetaStock.
The last time that GOOG's long-term money flow (based on the 89-day Chaikin money flow (CMF)(89)) histogram made a peak as high as the one it just achieved, the price of the stock tumbled by nearly 42% per share in less than three months (December 27, 2007, to March 10, 2008).

While no one knows if the same kind of correction will happen to GOOG this time around, common sense would seem to be advising at least some caution to bulls right now. The stock has pretty much made a 45-degree rise since July 12, 2012, staying above its nine-day exponential moving average (EMA) for nearly all of that time. This extended swing is likely to take a breather soon -- possibly in the form of a minor pullback or even a trend reversal -- even if it's just a minor one that will get the histogram down to more sustainable levels.



FIGURE 2: OEX COMPONENT STOCKS. The two .OEX component stocks making new multimonth or multiyear highs as of August 29, 2012.
Graphic provided by: MetaStock.
Graphic provided by: MetaStock Explorer.
Conversely, price cycle analysis is suggesting that GOOG may actually have an upper target price of 783.43, one that must complete no later than October 4, 2012, even though the stock has already achieved its minimum price target of 670.23. Those time/price targets are based on the nominal 40-day price cycle in GOOG (actually a 37.8-day cycle to be precise), by the way.

To put all of this technical stuff into plain English, it appears that GOOG has the potential to run anywhere from $25, $50, or even $100 higher by early October 2012, but in the near term, the stock is looking extremely vulnerable to a pullback against its existing trend. At the very least, look for a near-term pullback to the 21-day EMA (currently near 660.00 or for a deeper pullback to the 50-day EMA (currently near 635.00) before mounting another swing thrust up into at least the lower half of the 700.00 to 780.00 range before a major trend reversal hits.


Playing GOOG here after it has already enjoyed such a terrific six-week bull run could be tricky. You should consider using some sort of a short-term mechanical trading signal or trigger from a system that you know and trust, being sure to keep close stops and profit targets just in case the trades don't work out as intended.

GOOG is, after all, capable of making extended trend moves and you certainly don't want to get caught on the wrong side of such an emerging move without having a logical, emotion-free exit strategy in place.