Running the Equis - Long-Term Bearish exploration in MetaStock 11 is a quick way to find the stocks in your database that are, in most cases, underperforming the broad market indexes. There are many reasons for locating such stocks. For example, you can use the output to do further analysis to determine:

1. Which stocks may be approaching major, multicycle lows so that you can either:

A. Sell out-of-the-money put options
B. Scale into new positions using reverse pyramid strategies

2. Which stocks may be experiencing short-term rebounds into key resistance levels and which may be ready to fire new short signals

3. Which stocks may be breaking down even further, thus making them attractive long put purchases.

Of course, there are many ways to use such a screen. Since Starbucks appeared on this list of weak stocks, it seemed like it was a good time to check out the current price cycle analysis in the stock, Knowing if SBUX was likely due to make a major, tradable low would be very valuable information, indeed -- in the hands of a skilled trader, of course.

So here is the cycle chart analysis for SBUX, which offers some extremely useful information for those who trade and/or invest in this issue (Figures 1 and 2).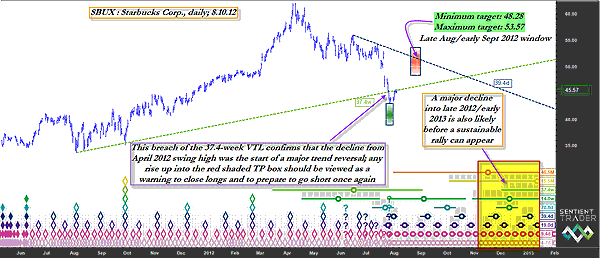 FIGURE 1: SBUX, DAILY. While SBUX has managed to stage a bullish reversal in recent trading sessions, cyclical analysis confirms that the stock is still in a bearish mode. Any rally into the red TP box should be a warning to sell longs and/or to prepare to go short.
Graphic provided by: Sentient Trader.
Obviously, SBUX's recent decline of nearly 30% from its April 2012 highs is the most striking feature of this daily cycle chart. When the stock dropped below the 37.4-week valid trendline (VTL), it confirmed that the April 2012 high was of the major variety and that a bearish trend reversal was already well under way.

The other item of major importance is that while SBUX dropped into the anticipated time window for it to make a bullish bounce higher -- depicted by the green time/price (T/P) box -- it barely fell far enough to meet the minimum price target for the decline, which was 38.84. Therefore, the current bullish rebound in SBUX must be viewed with at least a bit of skepticism, at least until it manages to close back above the same 37.4-week VTL that it previously breached to the downside.

If this happens, then the stock has a good shot at making it up into at least the minimum price target of the red T/P box, which is 48.28 sometime between August 26 and September 6, 2012. The stock's 46.5-month, 15.5-month, 14-week, and 19-day cycles are all falling, however, so even if SBUX can manage to make it into the red TP box, the odds are very high that this former high-flyer may resume its downtrend, falling down into the mid- to lower $30 range sometime between November 2012 and January 2013 (see the large shaded yellow box on Figure 1).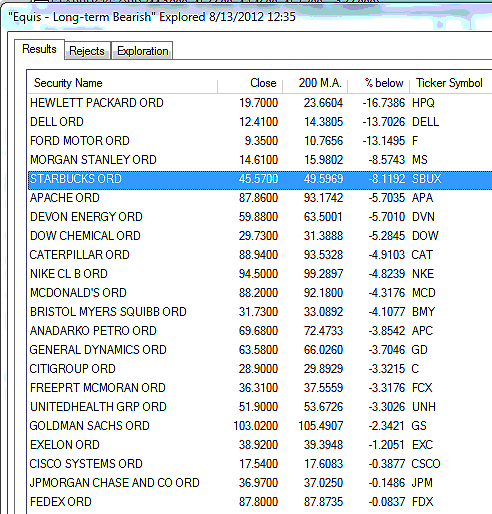 FIGURE 2: OEX COMPONENTS. The .OEX components that are trading below their 200-day exponential moving average (EMA) as of the close on Friday, August 10, 2012.
Graphic provided by: MetaStock.
Graphic provided by: MetaStock Explorer.
The .OEX and .SPX are still looking as if they have enough cyclical firepower to rise for the next couple of weeks (Figure 2), so it will be interesting to see if SBUX can be one of the main drivers moving the large-cap indexes to their next multicycle high in the near future.

If you are considering playing a rebound in SBUX, make sure the stock closes above 46.00 and that you run a fairly close trailing stop on any long position you take, risking no more than 1% to 2% of your account equity.