The .OEX (Standard & Poor's 100) finished Thursday's trading session at $644.66, closing up by a mere 0.007%, continuing to pause after rising strongly in prior sessions. Technically speaking, what is going on is a tug of war between the combined dynamics of several key price cycles in this biggest-of-the-big large-cap index. In the near term, the 34-week, 61-day, and 21-day cycles are all in ascending mode and appear to have enough steam left to propel the .OEX higher for the next few weeks, whereas the 17.9-month, 16-week, 41-day, and 10-day cycles are all moving lower in unison.

Since the 34-week cycle is expected to peak by early September 2012, the odds favor a correction through September and into early October 2012, especially once the 34-week cycle joins the previously mentioned bearish cycles as they drag the index down to test key support. Possible major support levels may be found near 610.00-615.00 and 595.00-600.00 for the anticipated September/October cycle low.

Figure 1 shows us the strongest four-week relative strength (RS) performers in the .OEX; energy sector stocks continue to own this list, with Baker Hughes (BHI), Halliburton (HAL), and National Oilwell Varco (NOV) managing to post more gains today. Sprint Nextel (S) is increasing its rate of outperformance versus the .OEX; not surprisingly, profit-takers caused a midday reversal in S, but the stock did manage to rebound somewhat by the end of the trading session.

Look for this stock to be hit fairly hard as the unexpected (but you as a faithful Pendy's Picks reader already know that most major market turns are anything but unexpected) correction in the .OEX catches latecomers to the Sprint Nextel party by surprise -- and in a big way. Walgreen's (WAG) has been on the top RS list for a month and continues to be a prescription for market gains, at least until the markets correct again. Run closer stops in this and any other long position you currently own.

There isn't too much change in the rest of the list. One new addition, however, is Emerson Electric (EMR). At this late stage in a 10-month-old bull run, you need to pick your new long positions wisely, so make sure you are comfortable with the output of your favorite short-term mechanical trading strategy and try to stay away from holding long-term positions now that we are within weeks of a noticeable trend reversal in the broad US markets.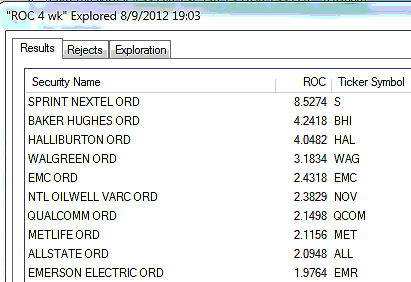 FIGURE 1: STRONGEST COMPONENTS. The 10 strongest S&P 100 (.OEX) components over the past month, as of Thursday, August 9, 2012.
Graphic provided by: MetaStock.
Graphic provided by: MetaStock Explorer.
Figure 2 is a look at the weakest four-week relative strength performers in the .OEX. Starbucks (SBUX) still looks like it needs a major dose of caffeine before staging a bullish reversal; Bristol Myers Squibb (BMY), CVS Caremark (CVS), and United Health Group (UNH) are also looking satisfied with their accommodations here on the worst of the biggest stock RS list.

United Parcel Service (UPS) and FedEx (FDX) appear to need some stimulus of their own in order to get their wheels turning, so as to make an exit from this parking lot of shunned stocks. Verizon Communications (VZ) has quickly dropped from the weak RS list, being replaced by General Dynamics (GD).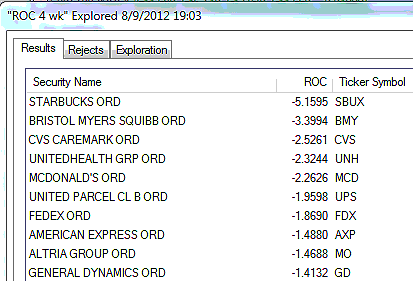 FIGURE 2: WEAKEST COMPONENTS. The 10 weakest S&P 100 (.OEX) components over the past month, as of Thursday, August 9 2012.
Graphic provided by: MetaStock.
Graphic provided by: MetaStock Explorer.
Figure 3 are the S&P 100 components giving RMO swing sell setup signals; 6% of the .OEX components issued new RMO swing sell signals on Thursday. There were also four new swing buy setup signals in American Electric Power (AEP), Raytheon (RTN), United Parcel Service (UPS), and United Health Group (UNH). These will trigger long entries on breaks above their respective highs made on Thursday. Among the sell setup signals, Norfolk Southern (NSC) and Union Pacific (UNP) are the most interesting; transports sometimes lead the DJIA, S&P 500, and S&P 100 lower, and with the trucker/airfreight stocks like UPS and FDX already in downtrends, this could be yet another warning sign of the impending cyclical correction in the large-cap stock indexes.

Pfizer (PFE), American Express (AXP), and Visa International (V) are other biggies to watch, especially since financials and health-care stocks make up such a large percentage of the .OEX and .SPX.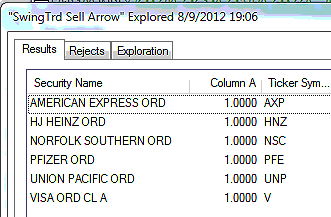 FIGURE 3: SWING SELL SIGNALS. The S&P 100 (.OEX) components issuing RMO swing sell signals at the close of trading on Thursday, August 9, 2012; 6% of all .OEX components fired swing sell setup signals during this session, with four new swing buy setup signals being issued.
Graphic provided by: MetaStock.
Graphic provided by: MetaStock Explorer.
One exchange traded fund (ETF) flashed swing buy setup signals on Thursday, the iShares US Healthcare Providers Index (IHF); this ETF will trigger a new long entry on a rise above its Thursday high of 64.81. There was one new swing sell setup in the iShares Transportation (IYT) ETF (Figure 4). With NSC, UNP, UPS, and FDX all flashing sell setups and/or belonging to the weak RS list, look for a further decline in IYT to start to make the broad market indexes far more vulnerable to a trend reversal.



FIGURE 4: SWING SELL SETUP SIGNAL. The one ETF that fired a new RMO swing sell setup signal as of the close of trading on Thursday, August 9, 2012. There was also one new RMO swing buy setup signal on Thursday.
Graphic provided by: MetaStock.
Graphic provided by: MetaStock Explorer.
The .OEX stalled again on Thursday; as mentioned in yesterday's edition of Pendy's Picks, the 10-day cycle in the index peaked and has begun to turn lower. However, several higher-degree cycles are continuing to rise, and the balance of the technical evidence is still weighted toward higher valuations in the .OEX through the end of August 2012.

With crude oil back in the mid-$90 range again, it might pay to stick with the best-performing stocks from the oil services and oil exploration/production groups for as long as the .OEX continues to rise. However, as the volume of freight carried by railroads, truckers, and airlines falls off, so will the demand for gasoline, diesel fuel, and jet fuel, thus helping keep a lid on crude oil prices, if not causing a correction in the price of the aforementioned transport fuels, and also causing the recent run higher in energy sector stocks to reverse lower. As always, trade wisely until we meet here again.