PRINT THIS ARTICLE
MOMENTUM
---
Allstate : Early Warning of Cycle High?
08/13/12 10:39:42 AM
---
by Donald W. Pendergast, Jr.
---
Bearish divergences have begun to appear on Allstate Corp's daily chart; is the ten-month old rally nearing completion?
Security:
ALL
Position:
N/A
Shares of Allstate Corp. (ALL) have had a strong bullish run for more than ten months now, along with many other large cap stocks from a wide variety of industry groups and market sectors, but a close examination of several key technical measures suggest that ALL may be nearing the terminal phase of its massive rally that launched in early October 2011. Here's a technical interpretation of ALL's daily chart now.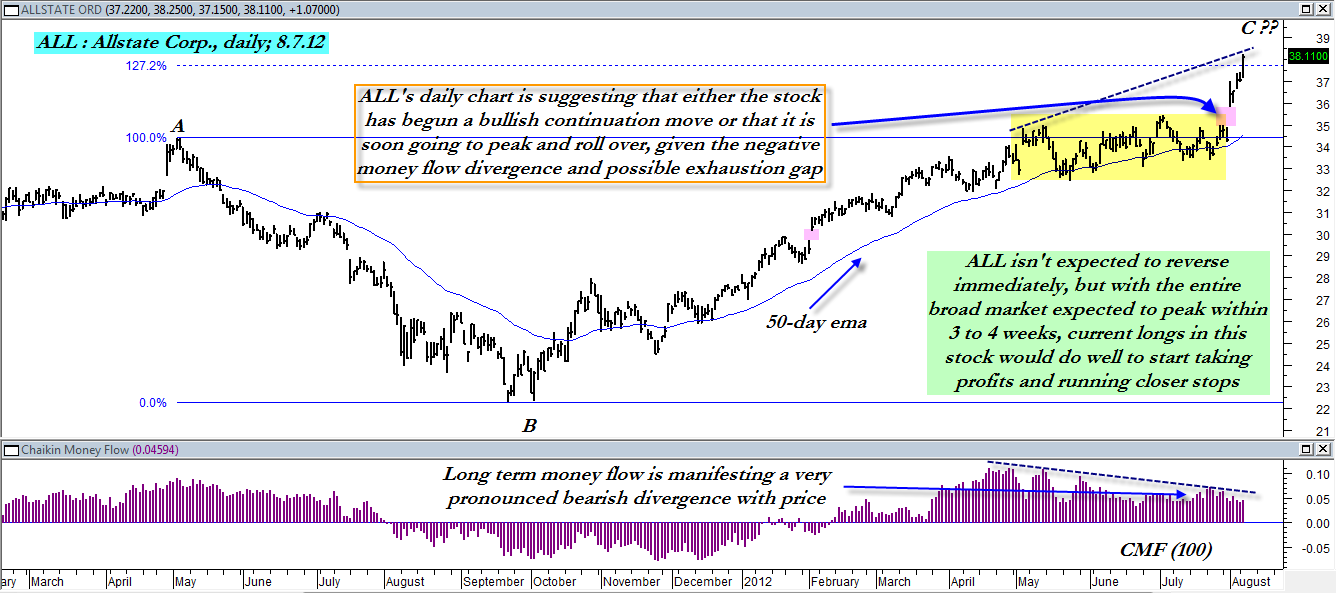 Even though this chart seems to suggest that the current bullish continuation move still has plenty of room to run, closer analysis reveals that several cycles in ALL are soon to peak even as its long term money flow trend confirms that distribution is already underway. Note the recent bullish gap - which may actually be an exhaustion gap.
Graphic provided by: MetaStock.
The major US stock indexes have enjoyed a terrific bullish run since October 4, 2012, and shares of Allstate have done just dandy, rising from a low of 22.34 all the way to 38.11 as of August 7, 2012. A nearly 71% gain in ten months suggests that a powerful combination of price cycles have continued to pull ALL ever higher; however, we now see a number of key technical factors combining to suggest that the stock may be nearing the final phase of this long running rally. First off, note that the 100-day Chaikin Money flow (CMF)(100) histogram has been steadily declining since late April 2012 even as ALL consolidated and then continued ever higher. Also note the recent bullish gap (pink box) as the stock emerged from the consolidation (yellow shaded area) zone; given that several cycles are soon to peak in this key insurer's stock even as money flow is confirming that distribution is already underway, it might be very prudent to scale back any existing long positions in ALL and/or to begin running much closer trailing stops.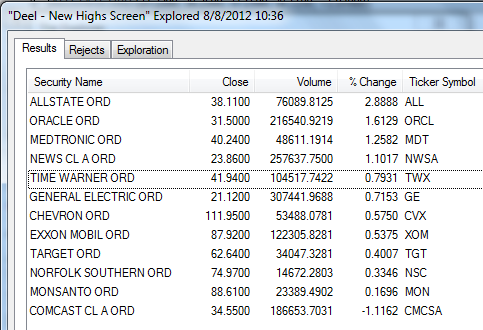 The large cap .OEX components identified by the Dell New Highs screen in Metastock v.11 as of August 7, 2012.
Graphic provided by: MetaStock.
Graphic provided by: Metastock's Explorer.
Note that although ALL's powerful upward momentum has enabled it to exceed the Fibonacci 127% retracement level of swing AB - which is a bullish development in and of itself - the image on the chart is one of a stock that has begun to go parabolic just prior to a major blowoff top and/or trend reversal. The .OEX, .SPX and .NDX are all expected to make major multicycle highs within the next three to four weeks, so now is a good time to play a good defense to protect your open long positions as well as to prepare for some low-risk shorting opportunities once the upcoming trend reversal has been confirmed. Here are some strategies that you may wish to consider if/when all of these indexes begin to turn lower in the near future.

1. Buy liquid put options with 2 to 3 months of time value, using the dominant market price cycles to more accurately time your entries and exits.

2. Sell near-term, out of the money call options on ALL and other large caps that are manifesting similar parabolic, blow off surges.

3. Use mechanical trading system signals in conjunction with price cycle analysis to time 'in and out' short sales in large cap stocks whose key cycles have peaked and begun to turn lower.

Many times, the major stock indexes will give traders and investors several weeks of advance notice before a major multicycle high or low is due; this certainly appears to be one of those times, and wise market players will attempt to put this knowledge to good and profitable use in the near future.



---
Donald W. Pendergast, Jr.
Donald W. Pendergast is a financial markets consultant who offers specialized services to stock brokers and high net worth individuals who seek a better bottom line for their portfolios.
Title:
Writer, market consultant
Company:
Linear Trading Systems LLC
Jacksonville, FL 32217
Phone # for sales:
904-239-9564
E-mail address:
lineartradingsys@gmail.com

Traders' Resource Links

Linear Trading Systems LLC has not added any product or service information to TRADERS' RESOURCE.
---
Click here for more information about our publications!
PRINT THIS ARTICLE