Running the Deel new highs screen in MetaStock Explorer is a very effective way to locate stocks that are being driven higher by any number of factors, such as upward revisions in earnings growth projections, increasing sales and market share, dividend increases, and so forth. As a key member of the Standard & Poor's 100 (.OEX), Coca-Cola Co. (KO) never ceases to amaze; if you've ever read Napoleon Hill's classic "Think And Grow Rich," then you already know the humble, yet miraculous origins of this Atlanta-based corporate behemoth more than 125 years ago and are well aware of the factor that persistence, faith, and commitment all played in building this company into the success story that it truly is. Apparently, modern-day traders and investors are still impressed with the financial performance of Coca-Cola and are more than willing to bid the price of the stock ever higher. Here's a closer look an KO's current bull run now (Figures 1 and 2).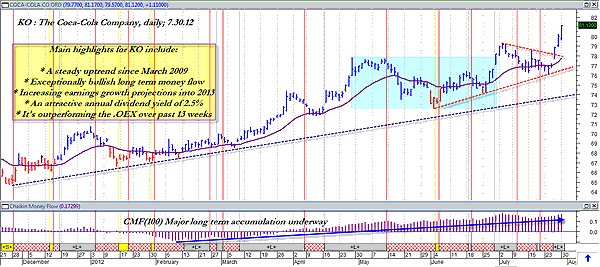 FIGURE 1: KO, DAILY. There are numerous technical and fundamental factors driving the price of KO higher, and the stock appears to be offering traders a low-risk, moderate-reward covered-call play.
Graphic provided by: MetaStock.
Graphic provided by: CS Scientific expert from MetaStock 11.
Unless you're a new trader, you probably already know that the major multicycle low that the broad US markets made in early March 2009 was the launchpad for one of the most incredible bull runs ever in the .OEX, .SPX, .NDX, and .RUT. Despite some hiccups along the way (such as last summer's euro-driven panic selloff), some stocks have continued to grind higher since March 2009, and KO shares are still looking as if they have plenty of more upside before a major correction of the entire three-and-a-half-year rally finally occurs. When looking at stocks making new highs, one of the first tasks is to determine its long-term money flow's trend and absolute value.

One of the best indicators to use to determine this is the 100-day (if using a daily chart for analysis) Chaikin money flow histogram (CMF)(100). In the case of KO, we see the steadily rising trend of the histogram bars indicating a stock under heavy, persistent accumulation. And then when we look at the absolute value of the histogram, we see that it is far above its zero line, which is yet another important bullish clue, particularly for near-term covered-call (CC) traders and swing traders.

A large-cap stock under heavy, long-term accumulation is one that is more resistant to the effects of random selloffs in the broad market and is also a great candidate for CC selling, particularly if the stock is in a confirmed uptrend (a series of higher swing highs and higher swing lows), as is certainly the case for KO.

Savvy CC traders will also want to ensure that their candidate stocks are outperforming the .OEX and .SPX over the past 13 weeks; once again, KO makes the grade here, too. Finally, they'll also want to ensure that the stock under consideration possesses good earnings growth potential (use the fundamental screener of your choice to do this; Zacks Research has some of the best fundamental research available for stocks, as does "Investor's Business Daily"). KO does just fine here, too, so let's take a look at some near-term CC plays that might make sense for a large-cap stock that features so many attractive technical and fundamental qualities.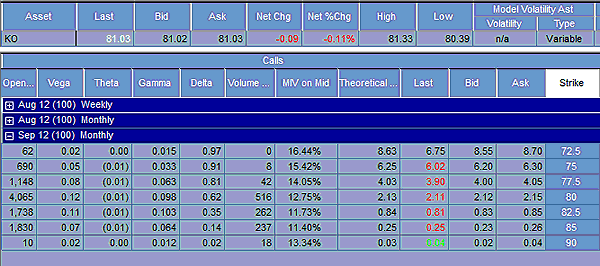 FIGURE 2: OPTIONS. The 80.00 calls have excellent open interest and bid-ask spread characteristics and look like a good choice for traders confident that KO's current near-term rally can extend into September.
Graphic provided by: TradeStation.
As this is being written, KO's September 2012 call option chain reveals that the $80.00 calls are worth a look; with an open interest of more than 4,000 contracts, a delta of 0.62 and a close bid-ask spread of only three cents, these slightly in-the-money (ITM) calls have a lifespan of approximately seven and a half weeks and look like a good choice for a CC play designed to capitalize on KO's recent bullish momentum within the context of a long-term, multiyear uptrend.

Try to put the entire trade on as a buy-write package, paying no more than $78.95 for the entire CC. If filled at this price (or better), just use the stock's 21-day exponential moving average (EMA) -- currently near $75.63 -- as your trailing stop for the entire position. While a $5.40 per share stop might seem a bit wide, remember that you need to give a high momentum play like this some room to breathe so that minor pullbacks against the main trend won't stop you out of your position prematurely.

The big idea is that KO will expire in-the-money ($80.00 or above) at option expiration, with the stock being called away. You lose some money on the stock but keep all of the option premiums, thus producing a decent net profit on the trade. If KO sputters and reverses lower, just liquidate the entire position on a daily close beneath the 21-day EMA and wait for a better opportunity. Remember to risk no more than 1% to 2% of your account equity on this or any other trade, no matter how strongly you feel about a stock or exchange traded fund's (ETF) future direction.


With the .OEX and .SPX anticipated to stairstep higher over the next few weeks, putting on a near-term CC play in KO may be seen as a low-risk, moderate reward stock/option play in a large-cap issue.