Unlike the majority of large-cap stocks, Amazon.com (AMZN) didn't make its last major, multicycle swing low until December 29, 2011, bottoming out at $166.97 nearly three months after the broad market indexes made their major lows on October 4, 2011. Since the end of 2011, the stock has rallied substantially, consolidated nicely, and as of July 27, 2012, has begun to rally again, breaking higher on wide range and on massive volume. Here's a closer look at the current action in one of America's favorite online retailer's stock.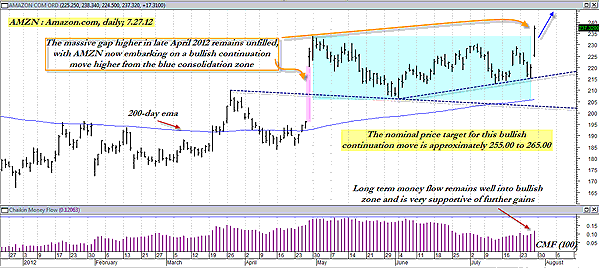 FIGURE 1: AMZN, DAILY. The latest price/volume bullish breakout in shares of Amazon appear to be the next phase in a continuation move; the first price targets are $255.00 and $265.00, respectively.
Graphic provided by: MetaStock.
Essentially, what has developed on Amazon's (AMZN) daily chart (Figure 1) is a very large bullish continuation pattern, one that may eventually play out with AMZN rising up toward the $255 to $265 area. The rise from $166.97 to $233.84 took only four months -- with about half of that gain coming from a huge breakaway gap on April 27, 2012. Glancing at the chart, you'll see the extremely strong long-term Chaikin money flow histogram (CMF)(100); this all-important volume-based indicator has actually been above its zero line since January 2009, with the stock up by about 375% since then, believe it or not.

With the new price/volume breakout on July 27, 2012, looking as if it may be the next stage in a giant continuation pattern, having the long-term money flow in such a bullish posture is great encouragement for traders and investors who may soon be deciding to put on new long positions.

One of the major factors behind the scenes in AMZN's surge higher is the continued strength of key bullish price cycles in the .OEX and .SPX. As these cycles are not expected to peak until the very end of August 2012, AMZN bulls appear to have a lot of technical firepower on their side as they decide what kinds of strategies to use to take advantage of AMZN's newfound strength.



FIGURE 2: OEX COMPONENTS. The four .OEX components making large bullish price/volume breakouts on July 27, 2012.
Graphic provided by: MetaStock.
Graphic provided by: MetaStock Explorer.
Covered calls look like a good idea on AMZN right now. The August $230.00 calls have good volume and open interest figures and are selling for about 9.70 ($970 before commissions and slippage) as this is being written; the calls have a delta of 0.64 and a daily time decay of about $17.00 per contract.

One way to put this trade together is to buy 100 shares if AMZN breaks above Friday's high of $238.34 and then to immediately sell the August '13 $230.00 call. You can then run a 21-day exponential moving average (EMA) of the daily closes as your trailing stop on the entire position; a daily close by AMZN below the EMA would be your signal to sell the shares and buy back the short call, thus closing out the entire trade before too much damage can be done to your account.

If the stock stays above the 21-day EMA, then just keep holding the stock; your ultimate goal is to have your 100 shares (or multiples thereof) to expire in the money and then have them called away. That way, you may make some money on the stock even as you keep all of the option premiums that you collected at the time of the $230.00 call sale. See Figure 2.

While this trade is relatively low risk, please note that this fact doesn't excuse you from using wise position sizing, no matter how bullish you may be on AMZN right about now. Keeping risk at a level of 1% to 2% of your account value is a good risk control benchmark to use when putting on any kind of position in the market and those traders who regularly adhere to this guideline are generally the ones who go on to have a very successful trading and investing career, with fewer equity drawdowns along the way.