Sometimes, you come across a combination of technical dynamics and price patterns on a stock chart that almost looks as if it came right out of a textbook on how to trade the financial markets. Here's a look at the incredibly bullish continuation move that appears to be just getting started in shares of National Oilwell Varco (NOV), one that could be very appealing to swing traders and covered call traders.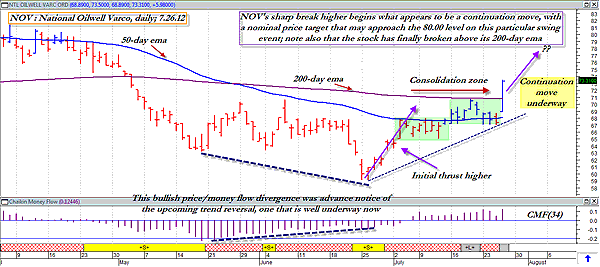 FIGURE 1: NOV, DAILY. Shares of National Oilwell Varco (NOV) are tracing out what appears to be a textbook-quality continuation pattern.
Graphic provided by: MetaStock.
Graphic provided by: CS Scientific expert from MetaStock 11.
After peaking on February 22, 2012, at 87.72, shares of NOV began a steady decline, one that lasted just over four months, dropping in value by more than 32% in the process. Given that this stock hails from the volatile oil services industry group, such declines (or advances) aren't all that out of the ordinary, and skilled traders would seem to have little, if any, difficulty in locating prime long/short setups in such a high-beta energy sector stock.

For that matter, even value investors seemed to know a potentially good deal when they saw it on NOV's daily chart (Figure 1); note how the medium-term money flow (based on the 34-period Chaikin money flow (CMF)(34) histogram) was continuing to rise even as the stock was making its final descent into its ultimate swing low in late June. This is a typical advance warning of an impending bullish trend reversal, all else being equal, and the reversal has been a success so far. Observe how NOV rose up from the June 25th low and then paused, creating two small congestion zones before suddenly launching higher on Thursday, June 26, 2012 -- gaining more than 8.8% from Wednesday's close of 67.33.

Daily volume that Thursday was more than 52% higher than the average daily volume of the previous 50 trading sessions, with the bulls in total control for the entire session. As you take in the big picture related to this bullish reversal, you can see that the reversal has unfolded in three distinct stages: first came the sharp rise up from the June 25th swing low (driven by short-covering and the exchange of stock from "weak hands" to "strong hands"), which was then followed by a two-tier consolidation phase (green shaded area on chart) of three and a half weeks' duration.

The fact that NOV didn't sharply pull back after the rise up from the ultimate swing low (but rather traded in a range) was a clue that the stock may have had its sights set on higher prices. Then with the major break higher on Thursday, we have now witnessed the start of what may very well turn out to be a successful continuation move. The move up from the lows was about 10 points, so if we add 10 more to the midpoint of the trading range, we can see that NOV has a reasonably good shot at making it to 78.00 to 80.00 as the bullish cycles in this stock help draw it higher in the weeks ahead.



FIGURE 2: OEX COMPONENTS. The two .OEX components fired bullish price-volume breakouts on Thursday, July 26, 2012.
Graphic provided by: MetaStock.
Graphic provided by: MetaStock Explorer.
Playing NOV here might take a couple of pathways:

1. Traders might consider using a near-term covered-call trade, one relying on in-the-money call options set to expire in August 2012; the 72.50 calls have a good bid-ask spread and an open interest of more than 3,600 contracts. Running a 21-day exponential moving average (EMA) is a simple and effective way to manage covered-call trades with three to six weeks of maximum time value, so be sure you check this out if you do put this trade on. See Figure 2.

2. Swing traders can simply go long on a buy-stop of 73.50 and then run a three-bar trailing stop of the daily lows until final stopout; since this looks like a high-probability continuation move, it might be best to just let the trade run rather than to take profits at an arbitrary price target.

Make sure you keep your account risk at no more than 1% to 2%, no matter how attractive this particular chart pattern may look to you; playing a good defense is always your first concern as you travel the path toward ever more profitable trading and investing.