PRINT THIS ARTICLE
RSI
---
Is It Time To Buy JP MorganChase?
08/01/12 10:05:04 AM
---
by Koos van der Merwe
---
Is it time to start trusting the banks and buying their shares?
Security:
JPM
Position:
Buy
We all know that the banks have been blamed for the current market meltdown, and when a bank like JP MorganChase admits to losing a few billion dollars in trades, we must wonder whether the market will ever trust them again. I must admit though that Jamie Dimon did present a very good image when he appeared on TV, apologizing for the loss.

However, recent statements that only eight banks were involved in causing the meltdown -- so why should approximately 200 smaller banks share in the blame? -- is an obvious attempt to squash the Dodd-Frank bill. With a statement of this nature, can we truly trust the banks enough to invest in them? What do the charts say?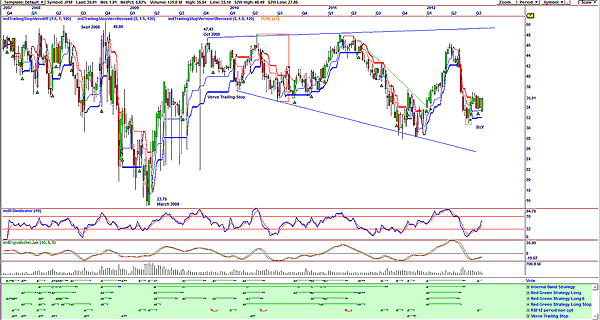 FIGURE 1: JPM, WEEKLY
Graphic provided by: OmniTrader.
Figure 1 is a weekly chart of JP MorganChase. The first thing that strikes me is the collapse in the price from a high of $49.00 in September 2008 to a low of $23.75 by March 2009. Since then, the share price recovered to a high of $47.47 by October 2009 and has now moved into what appears to be a trumpet formation, a sign of uncertainty.

A look at the relative strength index (RSI) does show that the buy signals given have been pretty accurate. With the ergodic oscillator indicator acting as confirmation, buying on the RSI signal would have been very profitable. The more adventurous could have bought and stopped out using the vote signals on the chart, a summation of the various strategies shown in green below the vote line. We would sell when the price broke below the Verve trailing stop, or when the vote line stopped out, whichever came first.

At the moment, the vote line has given a buy, based on the RSI 12 period strategy.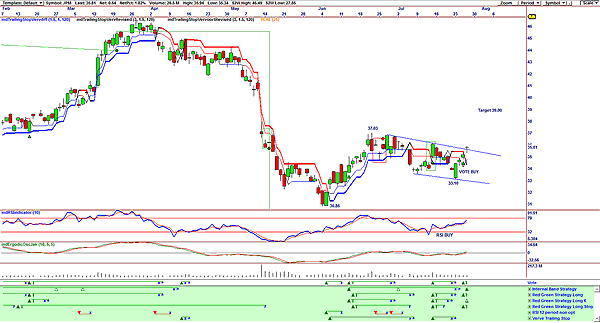 FIGURE 2: JPM, DAILY
Graphic provided by: OmniTrader.
The daily chart shown in Figure 2 has given an RSI buy and a vote line buy. The price also appears to have broken out of a flag pattern, suggesting a move up to the $39 level (37.03 - 30.86 = 6.17 + 33.10 = 39.27).

Appearing Wednesday, July 25, morning on CNBC, Sanford Weill surprised everyone, including his interviewers, by announcing that the wall should be rebuilt between a bank's deposit-taking operations and its risky trading businesses. "What we should probably do is go and split up investment banking from banking," he said. "Have banks do something that's not going to risk the taxpayer dollars, that's not going to be too big to fail."

Sanford Weill, formerly of Citigroup, used the repeal of the Glass-Steagall Act to help usher in the era of huge banks, which grew bigger as their banking and trading arms became more intertwined. For him to change his mind could act as a negative to investing in banks. With the Dodd-Frank bill, I would think twice before investing in banks for the long term. Yes, buy JP MorganChase shares, but watch those stops.



---
Koos van der Merwe
Has been a technical analyst since 1969, and has worked as a futures and options trader with First Financial Futures in Johannesburg, South Africa.
| | |
| --- | --- |
| Address: | 3256 West 24th Ave |
| | Vancouver, BC |
| Phone # for sales: | 6042634214 |
| E-mail address: | petroosp@gmail.com |
---
Click here for more information about our publications!
Comments
PRINT THIS ARTICLE