Xerox (XRX) has traded in a $2.29-wide trading range since the major, market-wide October 4, 2012, low. The stock has had several tradable swing moves since then and is currently moving sharply lower. Trading at only $6.70 per share, the stock is relatively low priced for such a large Standard & Poor's 100 (.OEX) component and features an annual dividend yield of 2.5%. Despite the scary-looking plunge in the stock last Friday, XRX has actually been identified by the Deel oversold reversal screen (a standard exploration in MetaStock 11) as a stock that has a high probability of attempting a bullish reversal in the near future. Here's a closer look at the daily chart dynamics of XRX now (see Figures 1 and 2).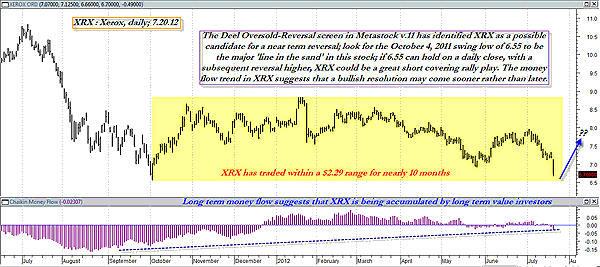 FIGURE 1: XRX, DAILY. Despite the scary drop in XRX on Friday, July 20, 2012, savvy long-term traders and investors will take note of the very bullish money flow trend in the stock.
Graphic provided by: MetaStock.
The yellow shaded area on the chart highlights the most recent trading range of XRX since it made a major low in early October 2012, and what's most important to traders and investors in this stock right now is this:

1. Will the key support level of $6.55 hold or simply buckle due to the heavy bearish momentum in the stock?

2. If the support does hold, is a significant bullish reversal a possibility, due to the long-term accumulation taking place by value and other long-term investors?

Those who have read "Pendy's Picks" (PP) already know that XRX has absolutely awful four-week relative strength versus the S&P 100 (.OEX), so nobody is suggesting that the stock has to necessarily stage a massive bullish reversal today or tomorrow. However, the Deel oversold reversal screen does tend to identify stocks that are likely to reverse ahead of time; the best way to use the output of this screen is to put the stocks it finds onto your personal watchlist and then wait for mechanical buy signals from proven trading systems to get you into your desired trades.

However, there is another great way to use the screen's output, too. For example, in the case of XRX, you can look to create a put selling trade -- one based on selling an out-of-the-money (OTM), near-term put option(s) with a strike price below the critical $6.55 support level in this stock.

Currently, the $6.00 September puts are fetching $0.11, and the delta is a mere -0.19. No, it doesn't offer a very exciting rate of return for an eight-week trade (if held until options expiration) right now, but if you see the stock drop again and test that $6.55 support level, the option can be sold for more money -- and with more confidence, since the stock actually ran down to test $6.56 earlier today, making a successful retest a low-risk trade inception point.

If you can sell the put for $0.13 on a retest of $6.55, the potential return on the trade will be about 12% annualized if XRX expires OTM at September option expiration. As far as trade management goes, it's pretty simple -- if the put doubles in price, just buy it back and close out the trade, and if it withers down in price to $0.03 or $0.04, simply buy it back at a profit and be thankful.




FIGURE 2: LARGE CAPS. The two large-cap stocks from the S&P 100 (.OEX) issuing Deel Oversold Reversal screen signals at the close on July 20, 2012.
Graphic provided by: MetaStock.
Graphic provided by: Deel Oversold Reversal Screen from MetaStock 11.
As in any trade, no matter if it involves stock or options, it's always important to limit your risk to no more than 1% to 2% of your account value, regardless of how bullish or bearish your opinion of a given stock may be.

All the traders who survive their first few years of trading will generally tell you that the primary key to their survival was their ability to keep their risk exposure small on each trade. You need to do the same thing, and as your ability to get into winning trades increases, you will be very glad that your ability to control your emotions and limit your risk will enable you to go on to enjoy a long and satisfying trading career.