The dollar index (DX) is a trade-weighted basket of currencies that is used by futures traders to get exposure to the dollar. Forex traders also follow the dollar index as a background indicator that helps them determine the major trend in the markets they follow. DX is heavily weighted to the euro (about 60%) and moves with a high degree of negative correlation to the euro.

This is where it can get confusing for many traders. Many argue the dollar is being deflated by the easing actions of the Federal Reserve and, after losing more than 90% of its value over the past 100 years, is locked in a long-term downtrend. The euro, as many of these traders argue, is also in a downward spiral because of the long-term macroeconomic factors that are causing so many problems in the euro zone.

Since there is a sound argument to sell both currencies, there is some confusion about why the dollar is going up. In simple terms, it is doing so because the euro is falling faster. This trend will change at some point, probably because of the actions of the Federal Reserve or the European Central Bank. Fortunately, traders can ignore all this and follow a simple and time-tested strategy.


The Donchian strategy, or channel breakout system, is a well-known futures trading system that has been written about since at least the 1970s. It was developed by market analyst Richard Donchian, usually acknowledged to be among the first to publish complete trading system rules.

There are a number of variants that are possible for the system. In its most basic form, it is always in the market. Long trades are signaled when the price moves to a new four-week high and traders reverse to a short position when the price falls to a new four-week low. Traders can use weekly data or daily data, in which case, a 20-day unit is used to signal trades. Figure 1 shows the system rules applied to a daily chart of DX, which went long on July 6.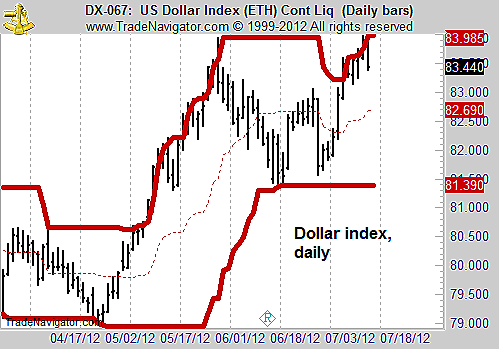 FIGURE 1: DX, DAILY. Buy signals are generated at 20-day new highs. Sells are signaled on 20-day new lows.
Graphic provided by: Trade Navigator.
This is a trend-following system. Over time, these types of systems tend to perform well in the futures market when used with a basket of futures as a diversified investment. Trend-following systems generally have winning trades only 40% to 50% of the time. In DX, 44% of the signals are winners, but the system has been profitable in testing on all available data back to 1986.

Another market in the news right now is corn, and the Donchian strategy is long in that market as well (Figure 2). Although only 39% of the historical trades are winners in this market, the strategy has a profitable track record since 1971.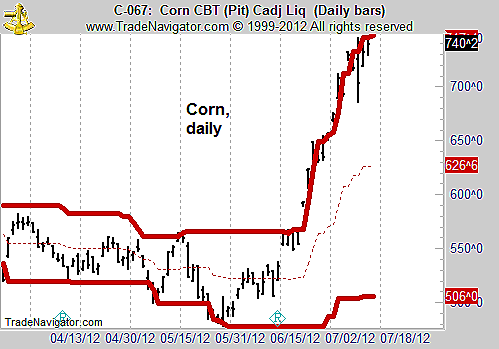 FIGURE 2: CORN, DAILY. Corn is an example of a market where the trend goes to extremes that are difficult to predict with fundamental analysis.
Graphic provided by: Trade Navigator.
Figure 3 shows a current short trade in feeder cattle. The market is related to corn (inversely correlated) because cattle feed prices are based on grain prices.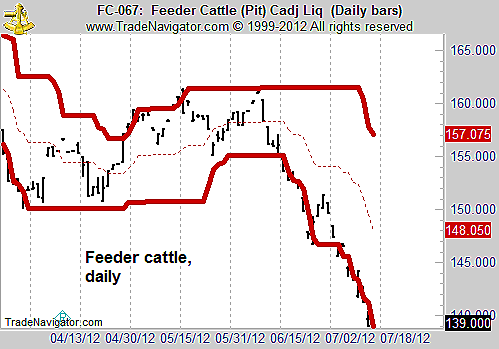 FIGURE 3: FEEDER CATTLE, DAILY. Short signals are also easy to spot with the Donchian breakout strategy.
Graphic provided by: Trade Navigator.
This simple strategy, buying new highs and selling new lows, can be used with a variety of markets, and although it has a low percentage of winning trades, it has stood the test of time and is profitable.