Running the Deel New Highs Screen in MetaStock 11 is a great way to find large-cap stocks that might be good candidates for covered-call plays; running this exploration with the Standard & Poor's 100 (.OEX) index components reveals that five large caps are now at or are near their highest prices of the last 52 weeks. In the case of Amgen (AMGN), the stock is trading at levels not seen since late January 2007 and still appears to have enough fuel in its tank to surge even higher. Here's a brief look at AMGN's daily chart now (Figure 1).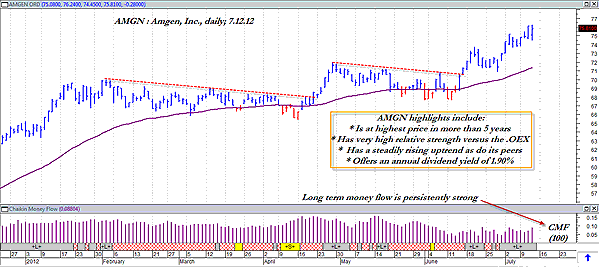 FIGURE 1: AMGN, DAILY. Shares of Amgen, Inc., keep stair-stepping higher, buoyed by a persistently bullish long-term money flow trend.
Graphic provided by: MetaStock.
Graphic provided by: CS Scientific expert from MetaStock 11.
Once the Deel screen has returned a list of stocks at new yearly highs, you still need to do some further analysis to make sure they are decent covered-call (CC) candidates; while there are many ways to do that, one great tactic to use is to apply the CS Scientific Hybrid Trade screen to the stocks on your CC list. This is one of the expert advisor templates that come standard with MetaStock v.11 and it provides a color-coded way to identify stocks that are in bullish, neutral, or bearish trends, and if you're a CC trader, the first thing you want to look for is the gray ribbon from the CS Scientific screen to be beneath the most recent price bars of the stock, as this indicates that the stock is in a strongly bullish trend.

CC traders need bullish trends in order for their trades to make money, and if this expert is showing a gray ribbon, then you've already got the first step of your analysis done. The next thing you want to do is make sure that such a stock possesses strong relative strength versus the .OEX and/or .SPX over the past 13-week period; big mutual funds like to deploy cash into such strong performers, and you should do this too.

The next step is to check the earnings growth rate of the stock, determining if this critical fundamental measure of a company's health is expected to do well over the next six to 12 months. Earnings growth is a powerful driver of stock prices, so you always want to be on the right side of this vital fundamental measure of a company's health. Finally, check to see if the stock is in an uptrend (a series of higher highs and higher lows) or is otherwise breaking higher from a defined consolidation zone, rising off of a double or triple bottom, and so forth. You can also check to see if the stock pays a dividend, which is a nice kicker that can at times help you earn even more money on your CC trades.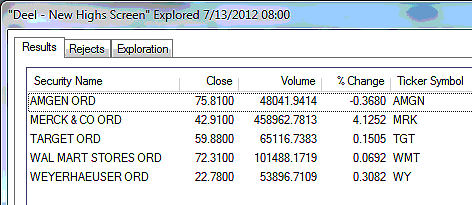 FIGURE 2: LARGE-CAPS. The large-cap stocks making new highs as of the close on Thursday, July 12, 2012.
Graphic provided by: MetaStock.
Graphic provided by: MetaStock Explorer.
Playing AMGN here might involve nothing more complex than putting on an August 2012 AMGN 75.00 covered call (Figure 2); the calls are going for about 2.40, they're slightly in-the-money and they will give you a bit of staying power to hold the trade until expiration on August 18, 2012.

Using a 21-day exponential moving average (EMA) as your trailing stop can be a simple and easy way to manage such a covered-call position during the life of the trade. The EMA is far enough away from the current price of the stock to allow it some back and fill room (very important when buying stocks that are at or near new highs) and will automatically adjust itself with each new trading session.

To further limit your risk and anxiety level when putting on such a trade, you should also limit your risk to no more than 1% to 2% of your account value. AMGN is in a terrific uptrend, but you still need to wisely manage risk, just in case its uptrend decides to reverse unexpectedly.